Availability allows staff to indicate the days, times, locations, and services for which they are available to meet with students. Staff can choose whether the availability active duration is for a specific term, a specific set of dates, or forever. Staff can set availability for appointment scheduling, drop-in visits, and/or appointment campaign purposes.
It is important to sync your professional calendar to the Navigate platform so that appointments can flow between your Navigate and professional calendars, blocking off that time and preventing double booking.
To sync your professional calendar to the Navigate platform, select the calendar icon from the left-hand navigation bar.

If you have not yet set up sync, you will see the image below.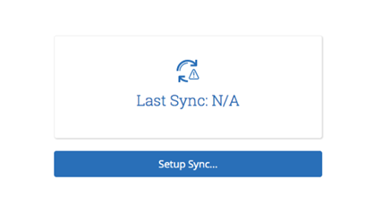 Select "Setup Sync". The calendar settings setup page will open. From here select Outlook Service Accounts and the sync will automatically begin. Allow Navigate up to ten minutes to complete the full sync of your calendar.
Note: Items that sync from your professional calendar to the Navigate calendar will appear as "Busy" on the Navigate calendar.
Note: You only need to sync your calendar once. After the first time you set it up, it will continue to sync automatically.
On the Staff Homepage, select the "My Availability" tab and then "Add Time" from the Actions drop down menu. 

The Add Availability window will appear, and you can enter your availability details. The options are described below. 
How long is this availability active? 

Current Term: Availability will be active for the duration of the current term.

A Range of Dates: Pick a specific range of dates to offer the availability.

Forever: Availability will always be active 

Add to your personal availability link? 

Check this box if you would like to add this availability to your personal meeting link that you can provide to students. 

What type of availability is this? 

Appointments: Select this option when you want students to be able to make appointments with you during this time. 

Note: Appointment availability has pre-set appointment lengths determined by administrators. So, if you put in appointment availability between 9am and 12pm, that time slot will automatically be divided into predetermined 15, 20, 30, or 60-minute slots for students to choose from depending on the service you are offering. 

Drop-ins: Select this option if students will be dropping in.  

Note: This only applies to departments/offices using kiosks or computers to sign students in for drop-in appointments using Kiosk Mode. 

Campaigns: Select this option if you would like to use that availability in a campaign. 

Meeting Type 

In-Person 

Virtual 

Phone 

Note: You CAN select multiple meeting types per one availability. 

Care Unit, Location, Services 

Select your desired care unit, location and service. Options will vary depending on which care unit you select. 

URL/Phone Number 

In this field enter your phone number, or WebEx/Zoom/etc. personal meeting link. 

Special Instructions for Student 

Special instructions are the most important step of the availability. The information you enter here will tell the students about how they will be attending the appointment. After scheduling the appointment, the student will receive a confirmation email that lists the "Additional Details" that you enter here. Without the special instructions, students will not know where to access/attend the appointment. See below for a Special Instructions template. 
Below are three templates to use within your special instructions. Be sure to use one, two or all three of these depending on how many meeting types you add to your availability. 
Option 1 – In-Person: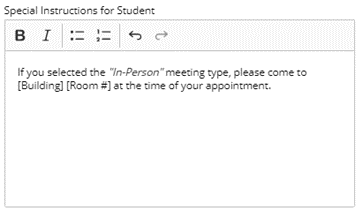 Option 2 – Virtual: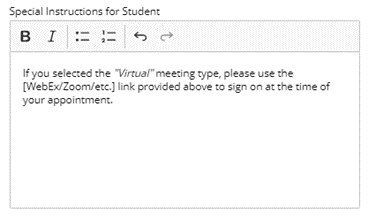 Option 3 – Phone: