Current residents, here you will find links to maintenance request forms, online check-in forms, student employment opportunities, housing deposit information, room selection information, and so much more.
About the Office of Residence Life
The Office of Residence Life encourages the academic, cultural, and social growth of students by sponsoring nightly programs, lectures, workshops, and entertainment events in each of the residence halls. Learn more.
Sibling Night 2019
The Office of Residence Life will be kicking off OWL-STAR Homecoming weekend with our annual Sibling Night on Friday, October 18th 2019 for all our Residential Students. Siblings, cousins, and friends are invited to Southern to spend the night with their favorite owl on campus. The Office of Residence Life has put together an evening that's filled with a variety of fun events and activities. Siblings must be ages 5 to 15 years old.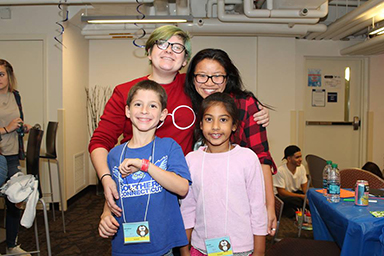 Registration Date(s): Thursday October 3, 2019 through Wednesday, October 16, 2019.
Where do you register?
Log in to MySCSU
Choose "BannerWeb" 
Click "Student Services"
Click "MyHousing Portal"
Then select "Click here to proceed to MyHousing Portal"
Click the Application tab
Select "Sibling Night " from the drop down menu
Complete the application
Look for a confirmation email with the PDF to fill out further for your registration

The Registration form must be signed by the parent, student host, and their roommate(s).
The Registration form can be e-mailed, faxed, or dropped off to the office of Residence Life.
Click Here for more information on Owl Family Day
We look forward to having an enjoyable night filled with fun, laughter, and sibling bonding. If there are any questions, please call the Office of Residence (203) 392-5870.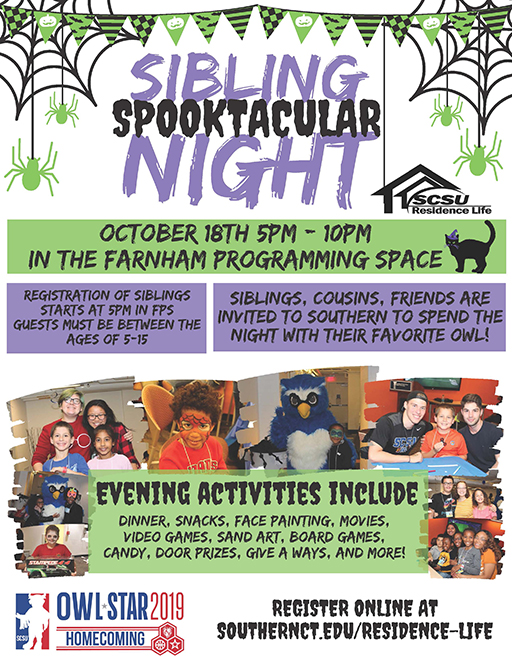 Guide to Living on Campus
We have developed this publication to provide you with some useful information to make the most of your experiences with the Office of Residence Life.