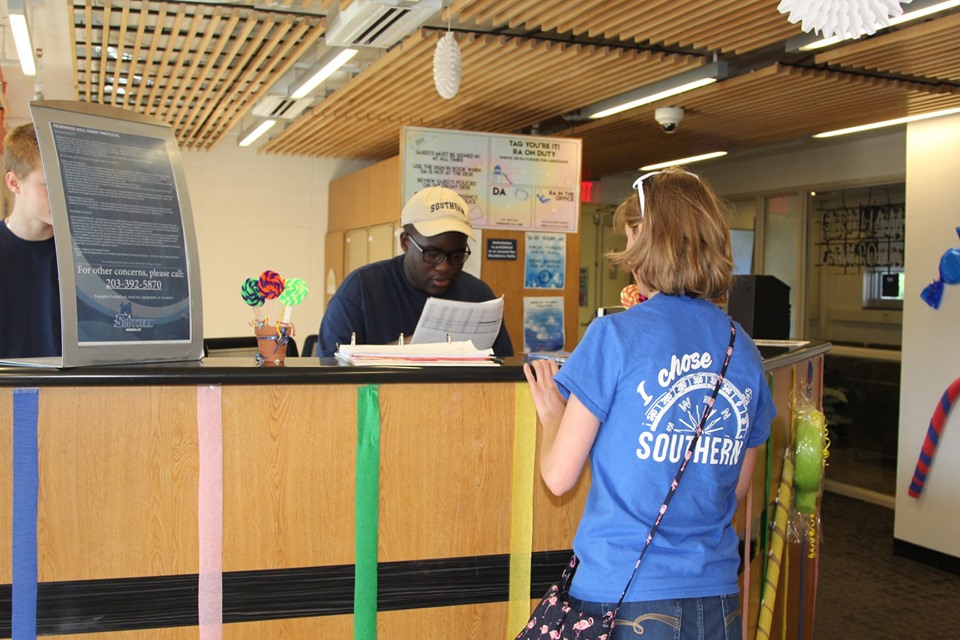 To enhance students' academic success, Residence Life offers group study rooms and computer labs within several of our buildings. Our Resident Advisors and Residence Hall Councils create diverse programs to expose students to a variety of cultural topics, educational skills, and a multitude of opportunities for entertainment and social interaction. The Office of Residence Life is also dedicated to student safety and offers a selection of resources to help students feel supported and secure in their new homes.
The Office of Residence Life recognizes that all students may not be able to bring computers to campus and offers two state-of-the-art computer labs. The labs are located in North Campus Residence Complex, and West Campus and are accessible and free of charge by all students with their student IDs. Each lab offers both Macintosh and Windows computers for use, printers and a variety of software including Microsoft Word, Excel, PowerPoint, and high-speed Internet access. If you have any questions or concerns, please contact the Office of Residence Life.
North Campus
Located on the 1st floor down the hallway to the left of the elevators
North Campus residents: Available 24/7, everyday using student ID
Non-North Campus Residents: Available everyday from 10 am-3 pm
West Campus
Located on the 2nd floor located directly off the elevators.
West Campus Residents: Available 24/7, everyday using student ID
Non-West Campus Residents: Available everyday from 10 am-3 pm
The Laundry Tracker System by Automatic Laundry allows Southern residents to monitor the status of washers and dryers in the residence halls from the comfort of their residence halls. The service is available at no charge.
Using the Laundry Tracker System, students can locate an available washer/dryer in their residence hall and view how much time remains for the cycles on machines already in use. In addition, students can ask to be notified via email or text when a machine becomes available.
Most residence halls have recreation equipment available for residents' use including pool tables and equipment, foosball tables, and ping pong tables. Most halls also have common area lounges equipped with televisions and cable access for community viewing. Several halls now feature video game rooms (Brownell Hall, Farnham Hall, West Campus, and North Campus).The North Campus and Wilkinson recreation areas are equipped with air hockey and a multi-game arcade cabinet. In addition, community lounges within buildings are often the sites for hall programming.
Programs are frequently presented in each hall during the semester. Many programs bring guest speakers to campus including local politicians, business leaders, musicians, artists, and sports figures who visit residence halls and discuss current issues in an informal setting. Socials are also a fun part of programming and include everything from pizza parties, make-your-own ice cream sundaes, tie-dyeing tees and beyond. Films, videos, performances, exhibitions, sports games and art tours are also regular events in Residence Life programming.
All residential students will be able to request a free parking decal through our online application process (available mid-summer). If you do not pre-register for a decal, you can receive a decal at the University Police Station. Please contact the Office of Residence Life or University Police for any questions regarding parking.
The university has expanded its shuttle bus service per student request to Downtown New Haven and the Hamden Plaza throughout the weekend; the university also offers shuttle bus services to Union Station.
For more information regarding shuttles, U-Pass, and other transportation questions, please click here.
The Southern Connecticut State University's Support and Resource Team (SART) is designed to provide a collaborative victim-centered team response to sexual assault. The mission of SART is to provide services that ensure a transition from victim to survivor for every individual whose life is impacted by sexual violence. The SART members can provide a survivor with many supportive options including counseling, medical attention, judicial services, advocacy, referrals, and general information regarding sexual assault.
Are you a person in recovery from a substance abuse disorder who is interested in finding out more about sober housing and supports on campus?
The Office of Residence Life makes every effort to accommodate and support students in every stage and circumstance throughout their time here at Southern. We have therefore partnered with the university's Collegiate Recovery Community to provide dedicated housing and support for students on the journey to recovery. 
To apply for recovery housing, please follow the steps to apply for housing and reply "Yes" to the question about sober housing and supports on campus. Please remember to also contact recovery@southernct.edu. 
If you have questions or for more information, please visit the Collegiate Recovery Community.