Dear Resident,
We can't believe it's already March and spring is around the corner! We are eagerly anticipating the fall 2021 semester and preparing a number of changes and upgrades for Residence Life. We can't wait for you to see them this fall!
In Fall 2021, the North Campus Midrise will be offering a limited number of single bedrooms and Neff Hall will feature exclusively single rooms. Lastly, at this point North Campus Townhouses will not be available for Fall 2021. Should that change we'll reach out to those that meet the 90 credit eligibility. Please see attached flyer for credit requirements for each residence hall.
Important Dates
    Housing deposits for the Fall 2021/Spring 2022 academic year are due by Friday, March 26, 2021.
    Roommate matching is available now through Friday, April 2, 2021.
    Room selection will be Wednesday, April 14—Thursday, April 15, 2021.
How to Apply
    Go to your BannerWeb account through MySCSU to pay the non-refundable housing deposit and complete the application:
    Click on "Student Services"
    Select "MyHousing Portal"
    Proceed to MyHousing Portal
    Next to the Residence Life logo on the top left, click on the three lines
    Click "Applications"
    Select "Continuing Student Housing Deposit and Application" from the drop-down menu
    Complete the application and pay your non-refundable $250 housing deposit
    The deposit must be paid online with a credit card through the MyHousing Portal.
    You must pay your deposit by the March 26th deadline to be eligible to participate in room selection and roommate matching.
    You must participate in room selection April 14-15th to select a room for the Fall 2021 semester.
    You can match with roommates now through April 6th, 2021.
    Upon submission of the housing deposit, you will have until June 30, 2021 to cancel your contract. After June 30, 2021, you are financially bound to the terms and conditions of the housing contract for the entire academic year (fall and spring semester) and the housing contract cannot be cancelled to reside off campus during the contract term.
Your $250.00 non-refundable housing deposit for the 2021-2022 academic year is due Friday, March 26, 2021. By paying your $250.00 non-refundable housing deposit, you are agreeing to the terms of the academic year housing agreement (contract). To view a copy, please click here.
Credit limit for Residence Halls for Fall 2021 – Spring 2022
Credit eligibility is your current cumulative credits + your current semesterly credits = total counted credits.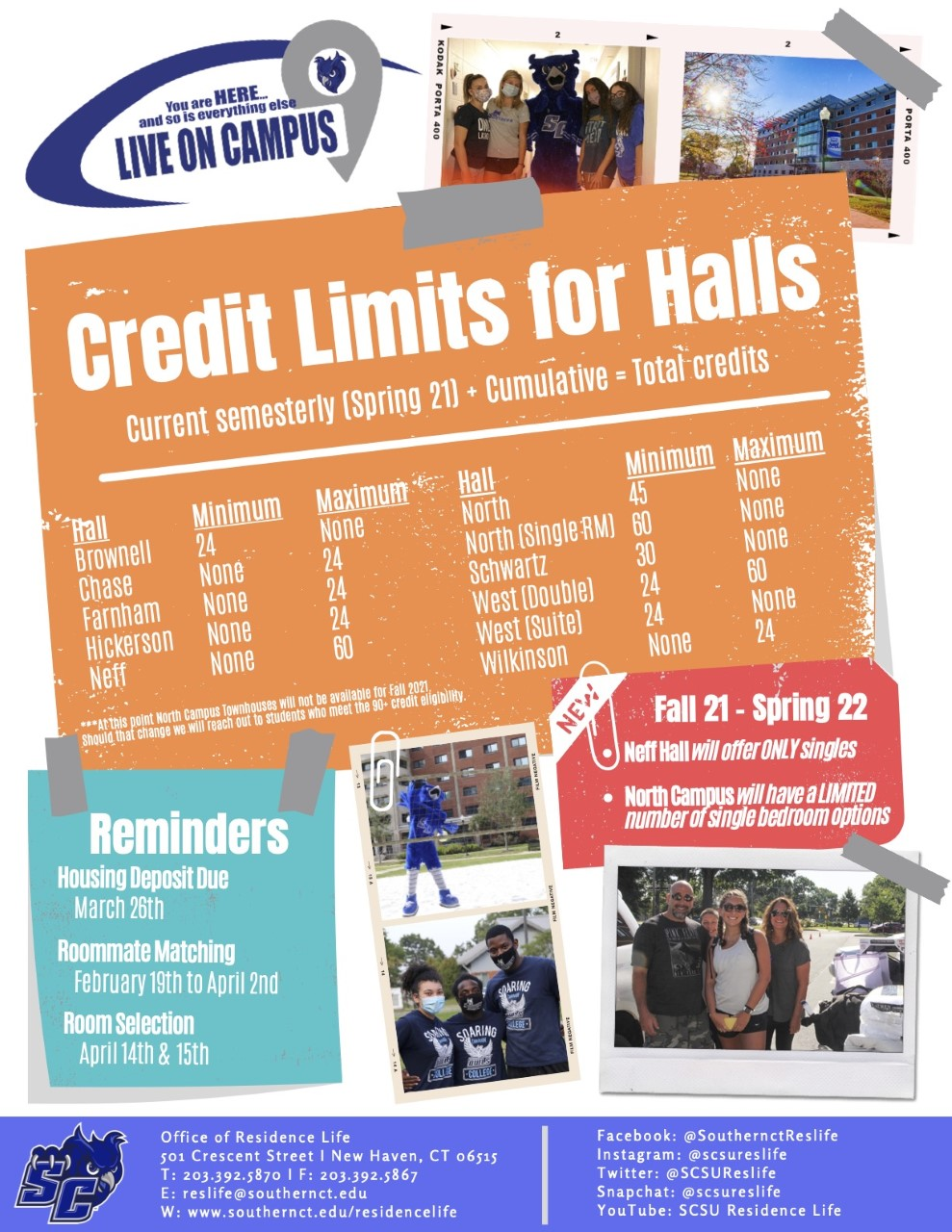 Room Selection
We're in the process of finalizing room selection information; please check your email regularly for updates.
For additional information on how to pay your deposit, please scroll down to "Frequently Asked Questions."
As always, if you have any questions regarding the housing deposit or the contract, please feel free to contact our office at (203) 392-5870 or send us an email at reslife@southernct.edu.
Office of Residence Life
Dear Resident,
The Office of Residence Life is pleased to announce that we are able to relax the guest restrictions within the residence halls. Beginning Monday, February 22nd, residents will be permitted to sign in one other on-campus resident as a guest. At this time, non-residents, family members, and friends from off-campus will continued to be restricted from visiting the residence halls. 
Given the declining positivity rates, the increase in vaccinations, and the current practice of routinely testing 100% of on-campus residents, we feel comfortable relaxing the guest restriction slightly. Nevertheless, it is imperative that residents continue to practice proper mask etiquette, maintain social distancing, and abide by all other policies and protocols to ensure the safety of the residential community.
Please note: the maximum number of residents and/or guests within each room will still be limited to enable social distancing. Only one guest will be permitted per bedroom (with the exception of West Campus suites which will be capped at 2 guests per suite). Please communicate with your roommate and be considerate of one another as you invite a guest into your space. This change in policy does not apply to students in quarantine or isolation; no guests are permitted for these populations.
We recognize that social engagement is a significant component of the residential experience and hope that this proves a welcome change in policy. As always, please reach out to our office if you have any questions or concerns. 
Hello Residential Students!
Your 2nd round of COVID-19 testing will either be Thursday 1/28 OR Friday 1/29- you only need to attend one of these testing  days.  Please use this link: COVID-19 Testing Sign-up to sign-up for a time to be tested. Sign-ups will be first come first serve- if a time is no longer available find another date or time.
Your 2nd round of testing is MANDATORY. Failure to sign-up for your COVID-19 test will result in being relocated to NEFF HALL to quarantine and be tested on the next available date(s) we provide you. Please ensure you signup & show up to your testing date & time as we expect our Southern community to take testing seriously and to do your part so that we can maintain a safe community for everyone.
Testing time frame will be from 10am-5pm in ENGLEMAN (the Bagel Wagon). Please use the OUTSIDE entrance along the patio. Please remember to bring your student ID.  The COVID-19 test is free! The school will be covering the cost of all testing throughout the semester.
Weekly Student testing for the COVID-19 virus will begin on campus, administered by Griffin Health, starting February 3, 2021. Students will not be charged for these tests, however, beginning this spring Griffin Health will request insurance information.
At the testing site, Griffin Health will ask you for your health insurance card and state ID (driver's license etc.) They will copy these cards and the information will then be used to bill your health insurance company for the cost of the test.
If you do not have health insurance, state-issued ID or you don't have your insurance card/state ID available, it won't be a problem, you will still get tested. The state will cover the cost of your test and your eligibility to be tested in future and remain in campus housing will not be impacted.
There is no expectation that students or their families will pay for copays, deductibles, or coinsurance. So, if you receive a bill for payment or an explanation of benefits letters from your insurance provider stating that Griffin Health-performed COVID testing is not covered, this is for informational purposes only and you don't need to take any action. The cost of your test will be billed to, and paid for by the state.
You will ONLY be notified if you are COVID-19 positive- further instructions will be provided. If you would like to still access your results you will be able to retrieve your test results from Griffin Health by calling their support line at 203- 735-4372. They will help you to access your patient portal to retrieve your results. Please keep in mind that tests results can take up to 48 hours to process.
Per the COVID-19 Addendum, and your Residential Contract, failure to complete your randomize testing provided by Southern will result in disciplinary action which may include dismissal from the residence halls with no refund.  
If you have any questions, please don't hesitate to reach out.   
Thank you
Dear Resident,
We're so excited to have you back on campus next weekend and we wanted to reach out before your arrival to highlight some important information!
 Move-in days are January 23rd and 24th from 9am to 3:30pm. As previously communicated, all residential students will be tested by the university on their scheduled move-in day; we cannot accommodate any arrivals prior to 9am or after 3:30pm.
In order to select your move-in time, you must verify the following:
Health Compliance

Your health record must be fully up-to-date including all immunizations. You can click 

here

 to check your patient portal.

If you have any questions regarding your health compliance, please contact Health Services directly (

healthservices@southernct.edu

 and/or (203) 392-6300

Financial Compliance

Bill is paid in full or on an up-to-date payment plan.

University bills can be paid using an accepted credit/debit card or an electronic check online using the BannerWeb system. 

If you have any questions regarding your bill, please contact the Office of Student Accounts (Bursar) directly at (203) 392-6140.

You are matriculated and registered for at least 6 course credits.

Completed check-in forms (LIVE NOW)

Check-in forms are located on your MyHousing Portal:

Go to BannerWeb through MySCSU

Click on "Student Services"

Select "MyHousing Portal"

Click "Proceed to MyHousing Portal"

Next to the Residence Life logo in the top lefthand corner, click on the three lines

Select "Applications" 

Select "Check-in forms" from the dropdown menu

When you complete your check-in forms, you will also confirm that you have read and agree to the Housing Contract Agreement COVID-19 Addendum, the Academic Year Housing Agreement, Students Rights and Responsibilities, and the Guide to Living on Campus. 

*Please note: it will take up to one (1) business day after completing the check-in forms for you to see the move-in time availability selections
How to select a move-in time:
Sign-ups to move in will be available on your MyHousing Portal once you've completed your check in form

*Please note: it will take up to one (1) business day after completing the check-in forms for you to see the move-in time availability selection.

Sign-ups will close on Saturday, January 23

rd

, 2021 at 3pm

Sign-ups are located under "Assignments" on your main page

We have a max capacity for each sign-up to allow for on-campus testing.
Once you sign up, you will receive a confirmation email within a few days; this email will explain what to do when you arrive on campus and move-in details. Please note: your move-in time will not be confirmed until we receive Health Services' confirmation that you've submitted a negative test result within 7 days prior to your scheduled arrival.
Follow us on social media and check your Southern e-mail and MyHousing Portal regularly for up-to-date information regarding housing on campus. If you have any questions about any of the information provided above, please contact us at (203) 392-5870 or via email at reslife@southernct.edu.
As always, we appreciate your patience, understanding, and cooperation.
Office of Residence Life
Office of Residence Life I Southern Connecticut State University 
501 Crescent Street I New Haven, CT 06515
T: 203.392.5870 I F: 203.392.5867 I E: reslife@southernct.edu
W: www.southernct.edu/residencelife
Dear Resident,
Happy New Year! We are so excited for your return to campus for the spring 2021 semester! We know that you have been anxiously awaiting details from us, and we appreciate your patience. At this time, students will be allowed to move in between January 23 and January 24. As in the past, you will need to sign up for a time slot to ensure adequate spacing of residents in elevators and common spaces.
COVID Testing / Quarantine
In an effort to make the repopulation of our residence halls as safe as possible and ensure a healthy semester, all students living on campus will be required to: (1) submit a negative test prior to arrival, (2) participate in COVID testing upon arrival, (3) quarantine in their residence halls for seven days upon arrival, (4) participate in COVID testing during quarantine, and (5) be tested on a weekly basis throughout the semester. The testing sequence will consist of the following:
Pre-Arrival Testing - All residential students must submit to health services a negative COVID PCR test administered within seven days of arrival. Health services will send a separate communication with instructions on how to complete this upload.
Arrival Testing - All residential students will be tested by the university on arrival to the residence halls.
Quarantine Testing - All residential students will be tested by the University on day 5 of the quarantine. Students will need a negative test to be removed from quarantine.
Weekly testing - All residential students will participate in weekly testing throughout the semester.
Quarantine will take place in your spring housing assignment. You will be expected to remain in your residence hall and follow all COVID-19 health and safety protocols. Food will be available for pick-up from Connecticut Hall. Classes will begin virtually on January 26, with scheduled on-ground classes beginning February 1. Students are encouraged to have all the essentials on hand that you will need during this period of quarantine.
We recognize that this may pose an inconvenience for students and appreciate your cooperation as we continue to act out of an abundance of caution to ensure the safety of our residential community.
OUT-OF-STATE RESIDENTS
Out-of-state residents will not need to arrive early to quarantine, unlike last fall. The procedures outlined above apply to all residential students. You will need to complete the State of Connecticut Travel Health Form upon arrival.
LATE ARRIVALS
We strongly encourage all residents to arrive within the January 23-24 timeframe. If you are unable to return to campus during this window, you will not be permitted to return directly to your spring residence hall assignment. Instead, you will be required to quarantine in Neff Hall and will have NO access to your spring housing assignment or any belongings left in your room until you have completed your quarantine and testing sequence. 
Late Arrivals must be coordinated with the Office of Residence Life and will only be allowed on days in which testing is available on campus. To discuss and make arrangements for arrival after January 24, please contact the Office of Residence Life at reslife@southernct.edu. Please don't show up at your residence hall without prior notification.
We have been actively preparing the residence halls for your return and are committed to maintaining the best residential college experience while also taking every precaution to keep you safe in the continuing COVID climate. Social distancing, surveillance testing, contact tracing, and related precautions will remain in place throughout the semester.
Please stay tuned for additional information in the coming days. Instructions will be forthcoming on how to sign up for a date and time for move-in. We will also be providing additional details on the testing requirements and protocols. We hope you are able to relax and enjoy the duration of your winter break. We will see you soon!
Sincerely,
Robert DeMezzo
Director of Residence Life