Moving into a residence hall doesn't have to be stressful. Knowing what to bring ahead of time helps alleviate stress and can dramatically speed up moving-in time.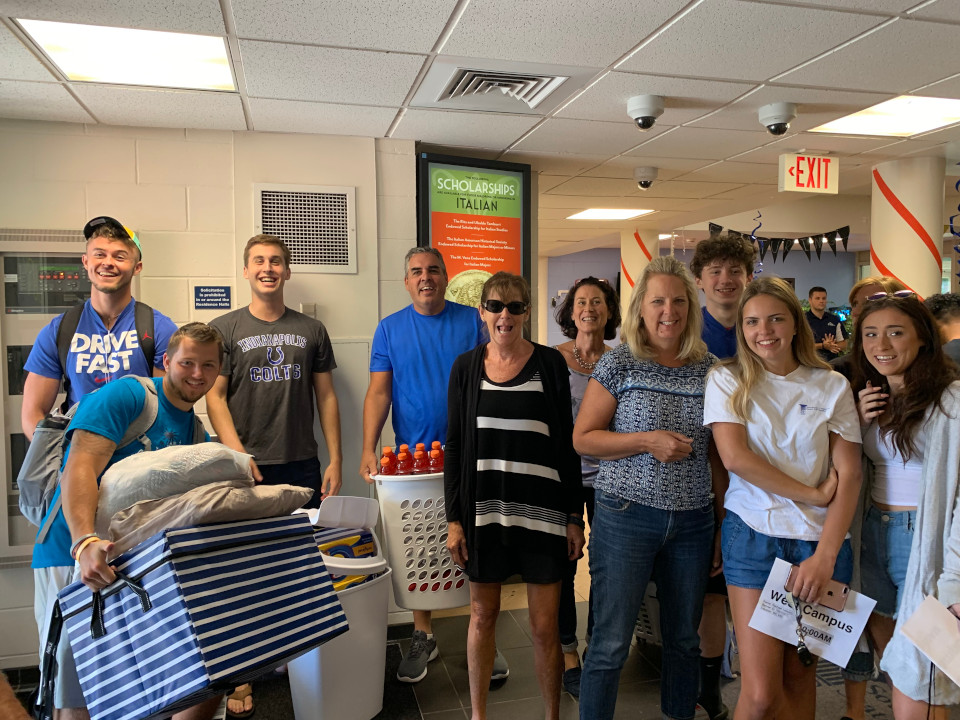 The following are suggested items to bring to campus. We recommend talking to your roommate, if applicable, to avoid duplicating items that can be shared (i.e., television).
alarm clock
area rug or room carpet
backpack
batteries
clothes hangers
computer (don't forget a lock for laptops)*
dishes, cups, silverware
fan*
iron***
keurigs or automatic shut-off coffee pots***
laundry detergent and basket
pens, pencils, notebooks, and other school supplies
pillow, bedding, mattress cover (twin extra-long)
outlet surge protectors*
room decorations
shower tote, robe, shower sandals
small garbage can
stapler, scissors, paper clips, tape
tissues and paper towels
toothbrush, toothpaste and other toiletries
towels
TV
umbrella
Apartment and Suite Residents
Apartment and Suite residents may also want to bring the following.
bath mat
bathroom cleaning supplies
pots, pans, cooking utensils
shower curtain
toilet paper
Rooms with Kitchens
If you will be living in a room with a kitchen, you should also consider bringing these items.
cups, glasses, and plates
eating utensils
a toaster
cookware
dishwasher liquid
cooking utensils
Please consult your residence hall director if you wish to bring an item that is not listed above; certain items are prohibited for health and safety reasons. Also, please remember that space is limited so pack sparingly and consult with your roommate(s) to avoid bringing duplicate items.
*All appliances must be UL approve/listed
***May only be used in utility rooms or rooms with kitchens
Items prohibited from residence halls at Southern include but are not limited to the following. Prohibited items will be confiscated by Residence Life staff, and the student who owns them may face residence hall disciplinary actions.
Air conditioners, microwaves, refrigerators, cable boxes
Alcohol, illegal drugs or paraphernalia
Candles and incense
Clothes washers or dryers
Curtains
Dart boards with metal tip darts
Electronic skateboards/scooters/hoverboards
Extension cords
Halogen lamps
Hot plates
Mattresses, futons, beds, sofas/couches
Pets (only fish allowed)
Space heaters
Weapons (guns, hunting knives, nunchucks, blow darts)
Office of Residence Life has partnered with On Campus Marketing (OCM) to provide students and parents a resource for discounted, high-quality, correctly sized linens. Visit On Campus Marketing for linen options and pricing.
OCM is Offering:
We hope you are staying healthy. We have been thinking HOW can we help you and your families? We have two new ways to help your students/families and grow our collective programs:
20% off discount for you to share with your students and families
New products and category for Apartments & suites
We are thrilled to afford your families this 20% discount on top of our everyday low prices AND for the first time we are offering Apartment living linens and needs beyond the dorm room. 
Use this link
https://drive.google.com/drive/folders/1pw8Zk9mA-K7Ho0BRa13XM_uRItSTgjde?usp=sharing
To access our virtual toolkit, you will find copy and customizable assets for social media, websites, emails, newsletter, print, etc.
You can customize copy, mix and match lifestyle images, or update your promo code and url and use as-is

Your unique promo code is: is your school code 20 (SCT20)

Apartments category is available if you would like it added to your navigation

An example can be found at https://www.ocm.com/dorm-life/apartments

If apartment only, click on APARTMENTS across the top tool bar

Let your CRM know if you want to add it to your navigation, we will pay you the same commission for all orders through the Apartments category
SCSU, in partnership with Comcast, offers wi-fi in all residence halls. Students can stay connected, stream video or music, and search for the information they need for free. The wi-fi service includes 2.4 and 5 GHz bandwidth, providing fast Internet access on all devices.