The curriculum in the undergraduate nursing program is designed as an upper-division major. The program requires a strong liberal arts and science base as a prerequisite to nursing courses. Students complete theory courses in the major as well as hospital and community-based clinical practice. Full-time and limited part-time study options are available.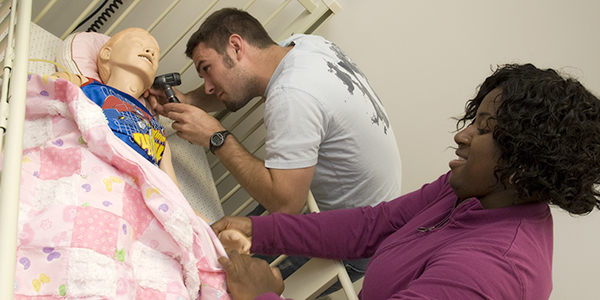 The High School Admission Pathway is available to students applying as first-time college students in their senior year of high school. Applicants should apply to the university through the Common App and indicate nursing as their major of first choice. High School Admission to the Nursing Program is competitive and only the most qualified applicants will be offered admission.
The Direct Admissions process for Nursing at Southern Connecticut State University is inclusive. Our belief in the importance of a thorough and careful review of all aspects of your application reflects our mission as an intentionally diverse and comprehensive university, committed to access, social justice, and service for the public good. We seek to empower every undergraduate student with the knowledge, skills and perspectives essential for active participation and impassioned, ethical leadership, and our admission practices reflect that goal.
In review of applicants for Direct Admissions, we seek to learn about you through: the subject-specific courses you've completed; the level and rigor of those courses (including AP level courses and college-credit courses); your overall cumulative GPA (minimum 3.4); your academic profile (minimum course requirements indicated below), including extracurricular activities and leadership roles; and your personal statement.
The submission of SAT/ACT test results is optional at Southern. The Department of Nursing encourages applicants to submit their ACT/SAT scores if they wish to do so. Test score submission is not a requirement for Direct Admissions consideration, nor is there a penalty for not submitting test scores. In deciding whether or not to submit your standardized test scores, consider your overall academic record. Your decision should be based on whether you believe your scores are an accurate representation of your academic abilities.
Southern recognizes the Common Application (https://apply.commonapp.org/login?ma=632) as its own application form. When applying for Direct Admissions, please be advised that your submitted complete application, and the following supporting credentials, must be submitted by the application deadline, December 1st, 2021:
Completed Common Application (please list awards, jobs, sports, extracurricular activities, leadership roles, unique factors to you, etc.)
Official secondary school transcript, and minimum 3.4 cumulative GPA
Recommendation letter from a teacher, counselor, or mentor who can reflect on your commitment and dedication to your education, work ethic, and aspirations/goals
Personal statement (Common Application Essay) reflective of particular meaning or interest to you which emphasizes who you are, your values, goals, and future aspirations
University application fee or official fee waiver
SAT or ACT results (Optional)
TOEFL (Test of English as a Foreign Language) is highly recommended if you have resided in the U.S. for fewer than three years and English is not your native language.
We regard your academic record from high school as the most important part of your application for admission. Although we certainly consider your final grade point average and overall record over four years, we do look deeper, considering your performance during each year in high school, including academic rigor. We look for students who have challenged themselves personally and academically. Not only are your final grades considered, we look very carefully at the quality of the academic program you have pursued. Below are the minimum high school academic requirements required for Direct Admissions consideration.
4 years of English
3 years of Mathematics
2 or more years of Science with labs
3 years in Social Sciences
While your academic record is clearly a critical element of the entire admission application, we are also interested in the personal qualities, talents and interests that you will bring to our campus community and the field of nursing. We want to know about your extracurricular involvement, the quality of your writing as reflected in the personal statement, and the reflections of teachers, counselors, and others who submit recommendations on your behalf.
Because our applicant pool increases each year, the admissions process remains very competitive and selective. All those who apply and meet minimum requirements are not guaranteed admission to the program.
Please read the BSN Pathways to Acceptance for more information.
The Department of Nursing annually admits approximately half of the upper-division (300/400 level courses) nursing cohort through the College Admission Pathway. Those wishing to pursue Nursing at Southern Connecticut State University, should select BS Nursing as their program of interest on their application.  Students admitted to the university will begin with a declared major in Healthcare Studies. This program includes the necessary prerequisite coursework for the Nursing Program and optimal advisement towards the nursing application requirements (see Nursing Application Requirements section). Once admitted to the Nursing Program, students begin their final two years enrolled in the upper-division nursing coursework with a declared major in Nursing, along with those admitted through the high school admission pathway.
Application
Applications for the College Admissions pathway for the Fall 2022 will open on November 1, 2021 and close on February 1, 2022. Please read the outlined eligibility requirements below. 
Minimum Application Eligibility Requirements
(February 1st Application Deadline)
7 of the 11 nursing prerequisite courses must be complete with a C+ or higher in each
3.0 minimum CUM GPA (includes all college work, including courses taken in high school and at other colleges/universities)
No more than 2 earned grades lower than a C+ for any of the required nursing prerequisite courses (see prerequisite course section of this page) even if repeated for higher grades
Must not have been dismissed from a nursing program
TEAS exam and score submission
Please note that as part of the nursing application, students will be required to submit a TEAS exam score through ATI Testing.
The selection process is highly competitive and determined through a ranking calculation consisting of CUM GPA, GPA of prerequisite coursework, and TEAS exam score.
See the application support page for more information
.
There are 11 prerequisite courses for the nursing program. A minimum of 7 must be completed with a grade of a C+ or higher by the February 1st application deadline. ALL 11 must be completed with a C+ or higher by the start of the program. The program begins the fall semester of each academic year, which allows students to complete any remaining pre-reqs during the spring and summer semesters.
| Course | Title | Credits |
| --- | --- | --- |
| BIO 200 | Anatomy & Physiology I | 4 |
| BIO 201 | Anatomy & Physiology II | 4 |
| BIO 120 | Basic Microbiology | 4 |
| CHE 120 | General Chemistry | 4 |
| CHE 125 | Principles & Applications of General, Inorganic, and Biochemistry | 4 |
| PHY 103 | Physics with Technology for Health Professionals | 3 |
| MAT 107 | Elementary Statistics | 3 |
| MAT 108 | Math for Natural Sciences (or MAT112, MAT120, MAT122, MAT130, or MAT150) | 3 |
| PSY 100 | Introduction to Psychology | 3 |
| PSY 219 | Lifespan Development | 3 |
| ENG 112 | Writing Arguments | 3 |
* Although application to the nursing program requires successful completion (C+ or higher) of only 7 pre-reqs from the list above, it is recommended that those admitted to the program have the majority the university's requirements complete. No more than 2 earned grades lower than a C+ for any of the required nursing prerequisite courses are allowed for eligibility to apply to our program.
All junior-level courses (300-level) must be completed before senior-level courses (400-level) can be taken.
| Course | Title | Credits |
| --- | --- | --- |
| NUR 340 | Theoretical Foundations of Professional Nursing | 3 |
| NUR 341 | Health Assessment | 3 |
| NUR 342 | Evidence Based Nursing Interventions | 3 |
| NUR 343 | Integrated Pathophysiology/Pharmacology I | 3 |
| NUR 344 | Gerontological Nursing-Clinical | 2 |
| NUR 350 | Therapeutic Nutrition | 2 |
| NUR 351 | Evidence-Based Nursing Practice | 2 |
| NUR 352 | Adult Health Nursing-Clinical | 5 |
| NUR 353 | Integrated Pathophysiology/Pharmacology II | 3 |
| NUR 354 | Mental Health Nursing-Clinical | 3 |
| NUR 430 | The Childbearing Family-Clinical | 3 |
| NUR 431 | The Child Rearing Family- Clinical | 3 |
| NUR 432 | Adult Response to Complex Stressors-Clinical | 5 |
| NUR 442 | Community Health Nursing-Clinical | 3 |
| NUR 443 | Nursing Capstone-Clinical | 5 |
| NUR 444 | Leadership, Management and Health Care Issues in Nursing | 3 |
|   | Nursing Electives* | 2 |
* Nursing Elective Courses would include 2 of the following courses: Each of the below is 1 credit.
| Course | Title |
| --- | --- |
| NUR 420 | Guided Imagery in Nursing Practice |
| NUR 421 | Spirituality in Nursing Assessment |
| NUR 422 | Interpersonal Violence and the Critical Role of the Nurse |
| NUR 423 | Transcultural Issues in Nursing |
| NUR 424 | Therapeutic Touch: Applications to Clinical Practice |
| NUR 426 | The Mind's Role in Illnesses: Applications to Nursing Practice |
| NUR 428 | Legal Issues in Nursing |
| NUR 498 | Special Topics in Health Care |
Applications
Transfer students that wish to apply to the Traditional BS Nursing program through the College Admission Pathway must first place their Undergraduate Admissions Transfer Application and have an "admitted" to Southern decision for the term the student plans to attend.  This university acceptance must be received by the time of the Nursing program application deadline of February 1st.  Gaining acceptance to the university does not guarantee acceptance to the Nursing program.
Students must also submit a separate Nursing program application between November 1st and February 1st, which will be located on the BSN Application Support webpage and the BS Nursing webpage.  Please be sure to review the College Admission Pathway minimum application criteria on the BS Nursing webpage and pay special attention to deadlines to ensure a proper review of your university records and transcripts.  Meeting minimum Nursing application requirements does not guarantee acceptance to the Nursing program.  
Transfer Records
All post-secondary transcripts from regionally accredited colleges and universities are considered in the Nursing program application process.  While all official transcripts should be submitted to the Undergraduate Admissions Office as part of the university application review process, electronic copies of unofficial transcripts should be saved by students to upload into the Nursing program application. 
As part of the Nursing admission process, all GPAs and all previous nursing prerequisite coursework will be reviewed.  Applicants must meet the minimum eligibility requirements to be considered for the Traditional BS Nursing program.  Meeting minimum eligibiity requirements does not guarantee admission into the Nursing program.
Major Prior to Nursing
Students who are admitted to the university will have a declared major of Healthcare Studies while working towards meeting Nursing application eligibility requirements or are in the process of waiting for a Nursing application admission decision.  The first two years of the Healthcare Studies curriculum mirrors the first two years of the Nursing program curriculum.  However, it is recommended that students who transfer with most university Liberal Education Requirements (LEP) met, thoughtfully select a major from which to complete remaining program prerequisite courses and apply to the Nursing program if full-time study is desired.  The university's academic advising team will engage in these conversations at the time of the student's onboarding transfer advising appointment prior to registering for courses.
Advisement
While the university's academic advising team will assist admitted transfer students with understanding how previous transfer coureswork will apply towards degree requirements, registration and next steps, students will be assigned to major advisors within the College of Health and Human Services once the semester begins.  Students declared with a major in Healthcare Studies will automatically receive Nursing application advisement.  Students who have selected a different major will be assigned an advisor in that major, but if interested in speaking with one of the Nursing application expert advisors, they may contact Angela Ruggiero at ruggieroa1@southernct.edu.