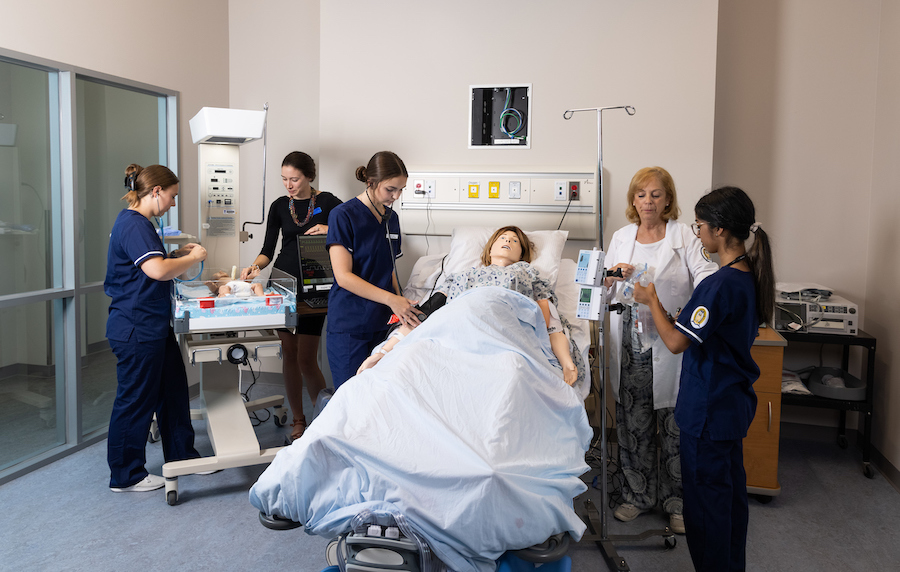 Master of Science Degree in Nursing Education
Upon completion of the Master of Science in Nursing Degree or Post-Master's Certificate in Nursing Education, graduates will be prepared to:
Use nursing theory and specialized knowledge in the functional roles of the Nurse Educator
Synthesize concepts from nursing, education, and other disciplines to influence professional practice.
Provide leadership within nursing, academic, and health care delivery system for the improvement of client care.
Conduct and/or use research which contributes to the development of the discipline of nursing and nursing education
Continue professional growth through continuing education, specialty certification, and /or doctoral study in nursing.
All Program applicants are required to be currently licensed as Registered Nurses in the State of Connecticut and hold a bachelor's degree or master's degree in nursing prior to the time of application.
The MSN Nurse Educator track is designed to prepare future nurse educators with the knowledge, skills, and experience needed to engage in evidence-based clinical and classroom teaching for associates, bachelor's, and master's level nursing programs. Two tracks are available at this time:
Accelerated, 16-month program (click here for projected plan of study for fall and/or spring starts) – 37 credits
Part time, 2-3 year program (click here for projected plan of study for fall and/or spring starts) – 37 credits
Post-Master's Nurse Educator Certificate program for candidates who already have a Master of Science in another area of nursing – 9 credits (click here 

for program details)  
Application deadline extended to April 1st for Spring 2023 applicants who wish to begin the program in Fall 2023
Applicants are required to have a 3.0* quality point ratio in their baccalaureate program in nursing and a total cumulative GPA of 3.0 for all post high school education. Applicants must have completed undergraduate baccalaureate level courses in statistics, nursing research methods, and health assessment with at least a "C" in each. The applicant must submit a copy of current Connecticut R.N. license, two letters of reference (one academic and one professional), and an admission essay. A personal interview in the School of Nursing is also required. In keeping with University policy, the program of study is to be completed within six years beginning with the first graduate course applied to the program of study.
Selected students who have a total GPA between 2.8 and 3.0 will be permitted to submit GRE or MAT scores as part of their application for consideration. The MSN committee will determine if a conditional acceptance will be offered.
The Bridge Program is designed to prepare RNs with baccalaureate degrees in fields other than nursing for admission to the Master of Science Degree in Nursing. Applicants must take and successfully complete National League for Nursing multiple choice "challenge exams" in the three content areas of: adult health, childbearing/pediatrics and mental health. Applicants must also submit verification of undergraduate courses (3 credits each) in each of the following: Statistics, Nursing Research, and Health Assessment. Alternatively an RN with a BA/BS in an area other than nursing may elect to take the RN/BSN courses and earn a BSN prior to applying to the MSN Program. This remains an option if passing scores are not achieved in the NLN challenge exams.
The student must maintain a minimum 3.0 grade point average each semester to remain in the program. All other University policies with regard to retention and graduation are applicable to the Nursing program. A grade of "B" or above must be achieved in each nursing course or the course must be repeated. Only one course within the program of study may be repeated and a grade of "B" (3.0) or better must be achieved on the second attempt. A student cannot withdraw more than once from the same course. If a student withdraws from more than 2 courses in the program, the student must petition the MSN committee to request permission to continue in the program. All prerequisite requirements must be strictly adhered to for all courses. Each grade is included in the grade point average. Failure to receive a grade of "B" or 3.0 or higher when a course is repeated will result in dismissal from the program. If at any time the grade point average falls below 3.0, the student will be placed on academic probation.