ACE application deadline is October 31st
The ACE program is an accelerated BSN program for individuals already holding a BS/BA in any field from an accredited college or university who wish to enter the nursing profession. The intensive program allows qualified individuals to complete the nursing coursework in 12 consecutive months.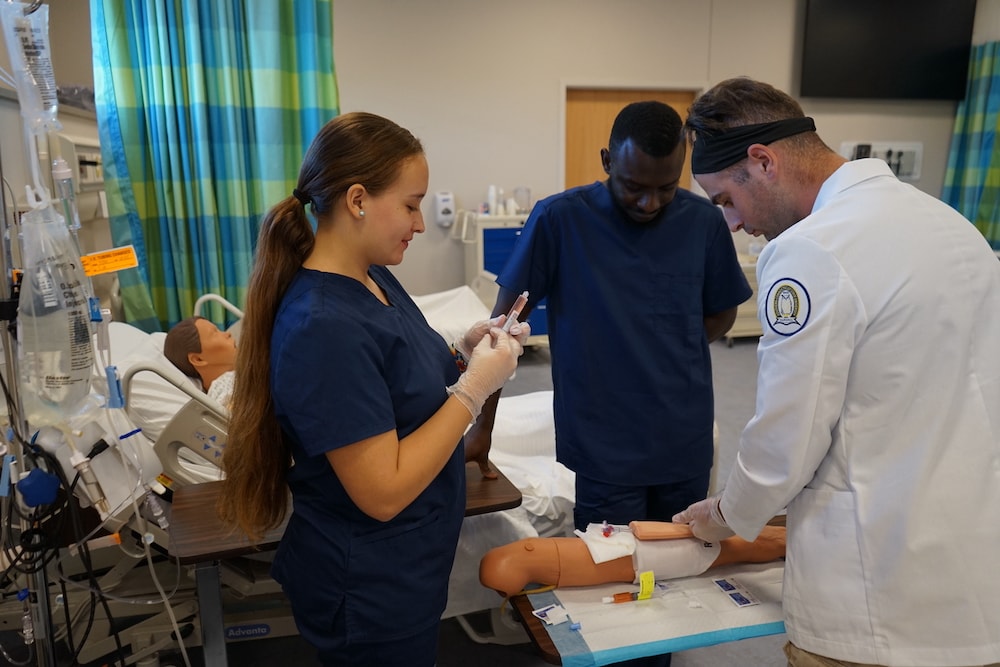 According to the Bureau of Labor Statistics (BLS) Occupational Outlook Handbook (2018), employment of registered nurses is projected to grow 15% from 2016 to 2026 with an expected demand for 438,100 RNs nationally. By 2022, there will be far more registered nurse jobs available than any other profession, at more than 100,000 per year. With more than 500,000 seasoned RNs anticipated to retire by 2022, the U.S. Bureau of Labor Statistics projects the need for 1.1 million new RNs for expansion and replacement of retirees, and to avoid a nursing shortage.  In Connecticut, 56% of the full-time nursing workforce is over the age of 50, indicating a need for a significant number of new nurses to fill the anticipated retirements that will occur over the next 5 to 10 years. (Connecticut Center for Nursing Workforce, 2019).
While Connecticut has several of these programs, none are located within the state university system, limiting program choice options for students who want a quality program at a reasonable price. The undergraduate nursing program at SCSU is recognized as a high quality program. Our NCLEX pass rates have been mostly between 90-100% over nearly three decades and employers readily hire and confirm the quality of our new graduates. Many curricular changes have been implemented during the last several years to improve the quality of our instruction and better prepare students for the realities of practice.
After reviewing the information below regarding how to apply, eligibility requirements, and prerequisites, you may email nursinginfo@southernct.edu if you still have questions.
The nursing curriculum can be completed in just 12 months (excluding nursing prerequisites).
The ACE program is based on the same curriculum as SCSU's highly successful and nationally accredited traditional nursing program.
There are opportunities to learn with other highly motivated, adult learners with rich life and work experiences.
We offer small class size and affordable tuition.
Our faculty are dedicated to working with this unique population.
The application for Summer/Winter 2024 is now available through the Apply button above. Please read the additional information below for detailed information about the requirements and application information.
There are two entry terms for the Accelerated BSN program, Summer and Winter. There is only ONE application for both entry terms. Students must indicate their preferred entry term. An accepted student may be offered either entry term dependent on a variety of factors. 
All prerequisites must be complete with a C+ or greater by the conclusion of the Fall 2023 semester (December) and proper documentation must be provided by January 3, 2024. If applicable, CLEP examination(s) and AP scores must be received by the UG Admissions Office by January 3, 2024.
There is a required Essay, Checklist ,and Prerequisite Form that must be completed and submitted to the application portal. 
Official transcripts from ALL post-secondary schools attended MUST be sent to the Transfer Services Office by January 3, 2024. Any international transcripts will need to be accompanied by syllabi for relevant nursing prerequisites in order to undergo proper evaluation. Courses on international transcripts without syllabi will not be considered for prerequisite equivalency. High School transcripts and SAT/ACT scores are not required. Resumes and recommendation/reference letters will not be accepted.
Students may not apply to both the ACE and Traditional BSN program at the same time.
To be considered for the 2024-2025 ACE Cohort, applicants must meet the following requirements:
Conferred BA/BS degree from a fully accredited academic institution (by December 31, 2023). May 2024 graduations will not be considered as eligible.
Minimum cumulative GPA of 3.0 (including all post-secondary GPA's from fully accredited schools attended).
Completion of the required prerequisites, outlined below, with a C+ or greater (by the end of Fall 2023). Official transcripts must be submitted to the Transfer Services Office (no later than January 3, 2024). Any outstanding or incomplete items after the Fall 2023 semester will result in an incomplete application and will not be considered for admission.
All prerequisites must be complete with a C+ or greater however applicants are not allowed to have more than 2 repeated prerequisite courses due to an initial grade below a C+.
Completion and submission of the ACE Essay, Checklist ,and Prerequisite Form to your online application portal.
Southern CT State University has an agreement with Eastern CT State University for the ACE program. The items outlined in this agreement are only applicable to matriculated ECSU students who are earning their first undergraduate degree.
Southern CT State University has an agreement with SCSU Senior students approaching graduation. The items outlined in this agreement are only applicable to matriculated SCSU students who are earning their undergraduate degree.
SCSU does not have a limit on the number of credits that you may transfer into the university. The university currently does not have an expiration date on any of the below required prerequisites. It is not a requirement to take the required prerequisite courses at a specific college or university as long as they are equivalent courses. Please use the provided tools to verify course equivalencies. 
Below is a list of the required prerequisite courses for the ACE program, and their CT Community College equivalencies. All must be successfully completed, each with a grade of a C+ or higher. Non-science prerequisites are acceptable as online courses, but science prerequisites require an in-person lab (no online labs will be accepted). Official transcripts must be submitted to the Transfer Services Office. (Place an application during the designated application dates before you begin submitting documentation.)
| Course | Title | Credits | CT State Equivalents |
| --- | --- | --- | --- |
| BIO 200 | Anatomy & Physiology I | 4 | BIO 2111 (Formerly BIO211) |
| BIO 201 | Anatomy & Physiology II | 4 | BIO 2112 (Formerly BIO212) |
| BIO 120 | Basic Microbiology | 4 | BIO 2350 (Formerly BIO235) |
| CHE 120 | General Chemistry | 4 | CHEM 1210 (Formerly CHE121) |
| PCH 200 | Introduction to Nutrition | 3 | NTRN 1001 or NTRN 1002 or NTRN 1003 or BIO1011 (Formerly NUT102, BIO111) |
| MAT 107 | Elementary Statistics | 3 | MATH 1200 (Formerly MAT167) |
| MAT 108  (or MAT112, MAT120, MAT122, MAT130, or MAT150 | Math for Natural Sciences (or MAT112, MAT120, MAT122, MAT130, or MAT150) | 3 | MAT 108 – No confirmed as equivalent at this time (Formerly accepted MAT 142, MAT172, MAT186 or MAT254 from Gateway Community College pre-merger) Equivalents to other listed MAT options – MATH 1600, MATH 1610, MATH 2600 |
| PSY 100 | Introduction to Psychology | 3 | PSY 1011 (Formerly PSY111) |
| PSY 219 | Lifespan Development | 3 | PSY 2001 (Formerly PSY201) |
If you attended and/or graduated from a regionally-accredited institution within CT, you may see how your courses will transfer to Southern before applying. Use the Transfer Articulation Request Tool to look through our CT database of colleges and universities. If your school is listed, you will be able to search the courses you have taken and see the transfer course equivalency. For a more comprehensive review of colleges and universities outside of CT, please use the TES Public View for Southern CT State University tool.
| | | |
| --- | --- | --- |
| Nursing Curriculum and Credits | Summer Cohort | Winter Cohort |
| NUR 350: Therapeutic Nutrition (2cr) | Summer B | Winter |
| NUR 351: Nursing Research (2cr) | Summer B | Winter |
| NUR 340: Theoretical Foundations of Professional Nursing (3cr) | Fall | Spring |
| NUR 341: Health Assessment (3cr) Lab Included | Fall | Spring |
| NUR 342: Evidence-Based Nursing Interventions (3cr) Lab Included | Fall | Spring |
| NUR 343: Integrated Pathophysiology and Pharmacology I (3cr) | Fall | Spring |
| NUR 344: Gerontological Nursing (2cr) Clinical Included | Fall | Spring |
| TWO NUR Electives (1cr each) | Winter | Fall |
| NUR 352: Adult Health Nursing (5cr) Clinical Included | Spring | Summer A/B |
| NUR 353: Integrated Pathophysiology and Pharmacology II (3cr) | Spring | Summer A/B |
| NUR 354: Mental Health Nursing (3cr) Clinical Included | Spring | Summer A/B |
| NUR 430: The Childbearing Family (3cr) Clinical Included | Spring | Summer A/B |
| NUR 431: The Childrearing Family (3cr) Clinical Included | Spring | Summer A/B |
| NUR 432: Adult Health II (5cr) Clinical Included | Summer A/B | Fall |
| NUR 442: Public Health Nursing (3cr) Clinical Included | Summer A/B | Fall |
| NUR 443: Nursing Capstone (5cr) Clinical Included | Summer A/B | Fall |
| NUR 444: Leadership, Management and Health Care Issues in Nursing (3cr) | Summer A/B | Fall |