Owls in (Virtual) Flight is a collaborative online international learning (COIL) platform developed by the Office of International Education which creates themed learning communities where Southern students engage, interact, and network with students from our thirty-four partner institutions all over the globe.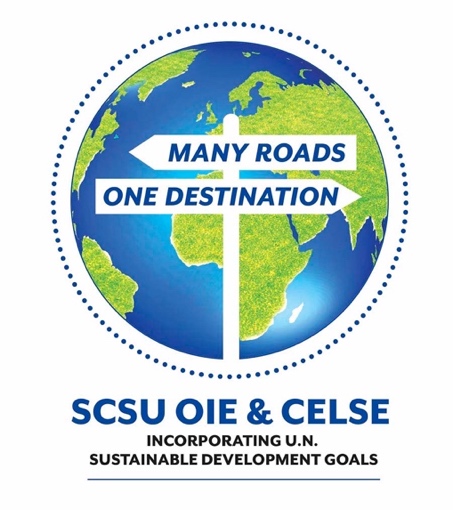 ---
Videos: Owls in Flight
Season 1
In this first breakout session, our Owls in Flight share their experiences during lockdown and quarantine – the changes to daily life, the effectiveness of public health and safety campaigns, and the moments of hope during these periods of isolation.
In our second small group chat, our Owls in Flight discuss how their universities responded to the pandemic, the challenges, and benefits of switching to an entirely online platform, and what students expect for the upcoming semester.
Our third small group discussion touches on some of the events, social practices, and cultural activities around the world that were changed during the pandemic as well as some of the rewarding and challenging aspects of spending so much time with family.
Our Owls in Flight discuss differences in campus culture at their universities, how that culture changed, and how their universities encourage their students to remain involved in the campus community.
Celebrations are events that not only mark the passage of time, but bring communities and families together. During the pandemic, people around the world were unable to come together to celebrate or grieve as they normally would. Our Owls in Flight discuss how major events and milestones were impacted during the pandemic and the ways that they were creative in celebrating with social distancing.
In this episode, we discuss one of our favorite topics: food! The COVID-19 pandemic changed the ways we eat and think about foods. Our Owls in Flight talk about what they cooked during the pandemic, concerns about food scarcity, and local food culture – from fishing in Cape Town to the philosophy behind traditional Chinese food.
This week, we hear from Maria, Neus, and Danielle from Armenia, Spain and the U.S., respectively, as they discuss local celebrations that mark the coming of spring and summer. From La Tomatina to Coachella, these large gatherings have all been impacted by the COVID-19 pandemic and the students discuss the ways in which these large traditional fairs have adapted.
This week, our participants return to a favorite topic: Food! Learn more about local food traditions and what are food define that culture. People around the world have coped with the pandemic by sharing recipes or cooking favorite dishes. Join us as we share in that experience.
In this small group session, our participants give us a late summer update on pandemic in their home countries. Patricio, Eva, and Derek talk about what reopening has begun to look like and what some of their concerns are as the pandemic evolves in Chile, Spain, and the United States.
In this small group session, Danielle, Denise, and Maria talk more about cook and food culture during the pandemic, highlighting some favorites from the U.S., Brazil, England, and Armenia.
This week our group looks forward discussing the current state of the pandemic in their home countries and planning for the future including employment, education, and lessons learned from the experience of being in quarantine and isolation.
In our final episode of season 1 of Owls in Virtual Flight, we bid farewell to our participants and learn more about what lies ahead, where the plan to travel, and reflect on the new friendships made during this experience. Thank you to our viewers for tuning in and we are looking forward to bringing you new episodes very soon.
American University of Armenia Participants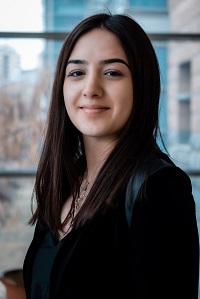 Gohar Avsharyan
I am Gohar Avsharyan, a senior student pursuing a BA in English and Communications program at the American University of Armenia with substantial experience in digital marketing, market research, and data analysis. I am a member of AUA Student Council 2019-2020, various student clubs, an active Student Ambassador, and a volunteer in diverse projects. I currently work as a Communications Intern at the Entrepreneurship & Product Innovation Center (EPIC), one of Armenia's leading startup incubation programs. I am an avid reader of novels and fiction, interested in Morse Code, and obsessed about music.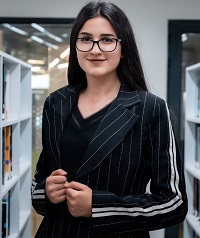 Maria Yeritsyan
My name is Maria Yeritsyan and I am a junior student majoring in English and Communications at the American University of Armenia. Currently I am a member of the AUA Student Council and I also work in the Office of Admissions. I am passionate about volunteering in and out of the campus. For this reason, I became a board member of the AUA Volunteer's League and I am trying to develop this field in Armenia by supporting orphanages, elderly houses and soldiers. Moreover, I love photography and in my spare time I do photoshoots with people or take photos of nature.
---
Liverpool John Moores University Participants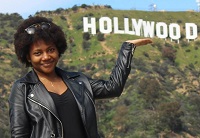 Denise Martins Aguiar
Hello! My name is Denise Aguiar, I am from Portugal and a tiny island in West Africa called São Tomé. Growing up I have been blessed to often travel, learn different languages (Portuguese, French, English and Spanish) and discover from different cultures. I believe this is why I am always passionate to learn from people and having new experiences!
I am currently completing my Bachelor's in nutrition at Liverpool University. During my degree, I have taken the opportunity to study a semester abroad at SCSU majoring in Public Health. I am now planning to pursue a Master combining health and humanitarian because I believe "Health is the Greatest Wealth" and everyone should have equal choices for their health.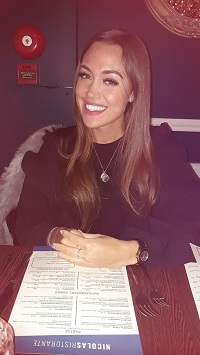 Katie Davies
After four years of studying Psychology at LJMU, my degree has finally come to an end. Throughout my degree I have been fortunate enough to be selected for various volunteer projects including a mental health placement in Sri Lanka working with vulnerable children and adults, as well as a Better Futures Program in Malaysia working with children and tribes of Belum rainforest. My third year of university allowed me to study abroad in Padova, Italy, in which I became immersed in a completely different culture through living, studying and exploring life in a new country. All of these opportunities combined with four years of psychology academia have allowed me to experience a diverse scope of different ways of life and understanding of human behaviour, which I know will aid me in the future and throughout my life. As a result of my various travel opportunities, I was selected to be a Global Champion within the university, advertising the global opportunities LJMU have to offer as well as aiding students in completing successful application forms. I pride myself in this because I enjoy inspiring students to take opportunities I know have the power to change their lives. Whilst awaiting my degree classification I look forward to searching for jobs in the humanitarian sector and hope that my current experience paired with experience I aim to gain in the near future allows me to achieve this aspiration of mine.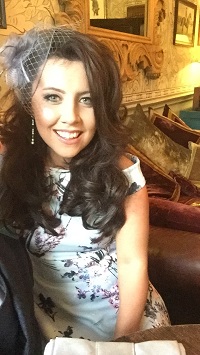 Sophie Durrands
My name is Sophie Durrands, I have recently completed my final year at Liverpool John Moores University, UK, studying Business with International Business Management. During my time at university I have studied abroad in Strasbourg, France and become a global champion representing the university in promoting their global opportunities. Prior to starting university, I gained work experience in different sectors before taking time to travel solo around Asia. My personal and professional experience has allowed me to meet many people from different cultures and I am looking forward to doing the same on this project.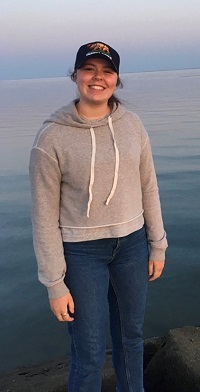 Abigail Fantin
I am a third year Geography BSc undergraduate at Liverpool John Moores University. I strongly believe studying abroad at Southern Connecticut State University in Spring 2019 semester was one of the best decisions I have ever made, as the experience not only helped to broaden my knowledge and interest across the environmental field, but allowed me to visit new places in the US and make lifelong friends. After graduating this year, I am hoping to complete a Master's program in coastal flood risk, and hopefully travel some more!
---
Shanghai Normal University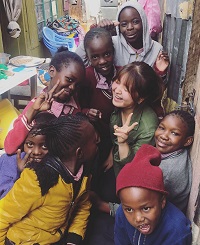 Pei Shiyi
Hi I'm Sherry, from Shanghai, China, majoring in News & Communication. I love solo traveling, doing volunteering, enjoying hostels, talking to locals, walking out of my comfort zone by doing something I'm always dreadful of. Also, I am concerned about women's rights so last summer I chose to do a women empowerment program in Kenya where I was indeed empowered by those wonderful women. It was one of the best decisions I've ever made. All in all, nice to meet you guys! Let's talk without bias. Let's embrace differences with compassion. Let's enjoy this unique virtual experience haha!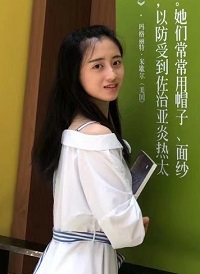 Tabea Ouyang
Hello, everyone. I am Tabea Ouyang — an optimistic girl from Shanghai Normal University in China. Traveling is my favorite, therefore, I have been to several countries like Mauritius, Netherlands, and Vietnam. Knowing about various cultures is always joyful. I have joined SCSU for last Spring semester. Though the whole world is hit by coronavirus, I enjoyed the exchange time in the United States and appreciated all the stuff and schoolmates I met at Southern. I strongly believe that this forum is a golden opportunity for me to communicate with the peers all around the world. Hope to see all of you in virtual global time!
---
Southern Connecticut State University Participants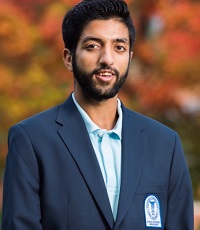 Haroon Chaudhry
My name is Haroon Chaudhry. I am a graduate student at SCSU pursing a Master's in Business Administration and completed my studies both at University of Oxford and Yale University as part of their online program. In 2018, I studied abroad in France at EDHEC Business School, and that has completely changed my point of view of the whole world. I had the opportunity to meet so many talented individuals across the world that are still my friends to this date. My current academic, professional, and athletic experience has transformed me into an independent and dedicated professional.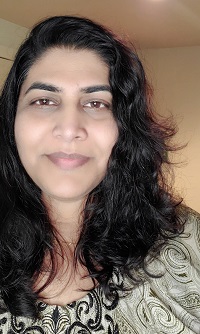 Sumaira Durrani
My name is Sumaira Durrani. I earned an MD from Osh State University. I have been working as medical doctor in Pakistan (2006-2008). I worked in remote areas in Pakistan and I had learned how poverty, living conditions and environment affects patients' health. So, a well-crafted public awareness campaign can lessen the burden on the hospital. My MPH track also involves health communication and from my international field trip I learned how to draft a public health message that patients can understand. As a physician, I am always hopeful. The MPH has made me more hopeful.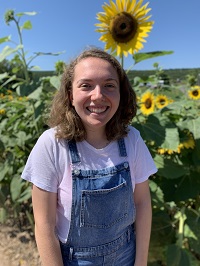 Pamela Karabeinikoff
My name is Pam Karabeinikoff and I am majoring in Bilingual Elementary Education and Spanish. Due to my love for children and international education, I would like to teach English abroad upon graduation. In my leisure time, I enjoy reading, traveling, and being immersed in nature. I have had the privilege of studying as well as volunteering abroad through various programs offered at Southern. These experiences educated me on the importance of multicultural diversity, which is why I am eager to collaborate with you all.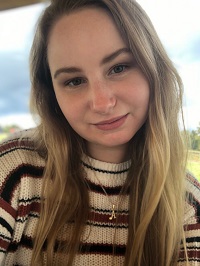 Angela "Angie" Markiewicz
I am a senior at Southern Connecticut State University. My majors are Early Childhood Education and IDS Environmental Science. I am in my eighth year of doing what I love, teaching preschool. I truly believe early childhood intervention is key to addressing social inequality. International education is a necessity in experiencing culture and country viewpoints and solutions. When I am outside of the classroom I like to be in nature, travel, learn, watch YouTube videos, and spend time with my family and friends.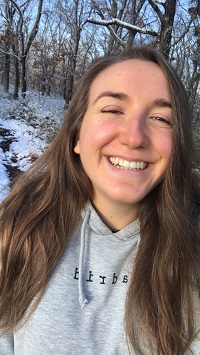 Danielle Ott
Danielle is entering her senior year in the honors college with a Communication Disorders major and a Medical Spanish minor at SCSU. She hopes to continue her education with a Master's in Speech and Language Pathology and use her knowledge of Spanish to improve the field. Danielle joined Carlos Arboleda and 14 other Southern students for a month-long stay of learning and traveling in Spain during July 2019. It was a great opportunity to improve her Spanish, but she came home feeling very humbled. She finds cross-lingual communication very fascinating and values the challenges of being in a country that has a different first language.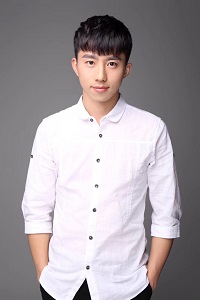 Jiarong (Jerome) Zhong
My name is Jiarong Zhong, and I'm an international graduate student in the SCSU who comes from China, Suzhou (about 50mi away from Shanghai). My main research focuses on physical education and health promotion for children and adolescents. I'm an optimist, always passionate about almost all assignments, and my favorite proverb is 'where there is a will there is a way'. I like to experience different cultures, listen to different points of view, and I'm also willing to share my knowledge about China, the US, or even the world. I am looking forward to communicating with you!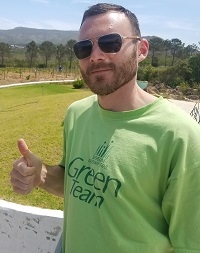 Derek Faulkner
Opportunities to study in South Africa and Iceland helped persuade me to transfer to SCSU in 2019. Majoring in Environment, Geography, & Marine Sciences, I was seeking to gain experience abroad and apply this towards a future career in coastal management. I have enjoyed the opportunity to work with the Office of Sustainability on campus and will be managing the community garden when the university reopens. I look forward to another semester and potentially a graduate program in which I can spend some time abroad. The diverse group of students that I have met in my department, abroad and through activity on campus has introduced me to different perspectives, cultures, and close friends.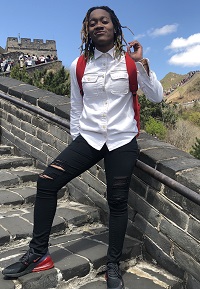 Tamera Henry
My name is Tamera Henry and that's me standing on the Great Wall of China in Beijing, China. I am a student of Southern Connecticut State University, where I served as a Representative at Large for the Student Government Association. I was also an active member of the Caribbean Student Association. I am one of the many Jamaican students on Southern's campus. It is my dream to travel to all 195 countries. Thus far, I have only traveled to 5, so I have 190 left to go. In 2019, I had the opportunity to study abroad in Tianjin, China at the Tianjin University of Technology. It was an amazing experience. I enjoyed the food, the culture, and especially the chance to enhance my Mandarin speaking skills. This study abroad experience allowed me to connect with people that I can now call friends. It has given me the opportunity to get a glimpse of life outside of my world and for that I will forever be grateful.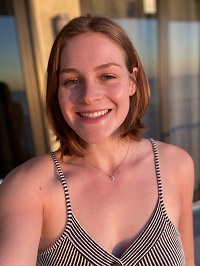 Ashley Barry
My name is Ashley Barry, and I am a Senior at Southern Connecticut State University. I am majoring in Communication Disorders with a minor in Psychology, and I am a part of the Honors College. Aside from my studies, I am the President of Peer Educators Advocating for Campus Empowerment (PEACE). I also work at the Provost Office and the Violence Prevention Victim Advocacy and Support Center (VPAS). During the Spring 2020 semester, I studied abroad in Scotland at Queen Margret University right outside of Edinburgh. I love to read, exercise, and explore all that the world has to offer!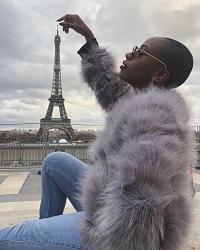 Talia Clarke
Hi everyone! my name is Talia Clarke and I'm a 2020 graduate from Southern Connecticut State University. I received my degree in Public Health. In 2019 I spent a semester abroad at Liverpool John Moores University in Liverpool, England. I love to travel and living in another country was a dream come true. What I enjoyed most was connecting with people from all walks of life and creating friendships that will last a lifetime. I'm honored to be able to have the chance to collaborate with you all and get to know each and every one of you!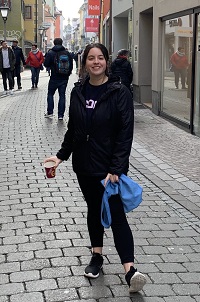 Alexandra Pennella
Hi! My name is Alexandra Pennella, I'm a senior at UConn and a Virgo. I am currently majoring in both Political Science and Human Rights, with a focus on law. In my free time I enjoy painting, listening to music, and studying astrology. I hope to one day become an international human rights lawyer and work with the United Nations. I have a passion for traveling, international relations, and helping others. My goal is to one day make a difference in the world. I love to experience other cultures; I feel humbled that I have had many opportunities to work with people from all over the world. I can't wait to see what the future holds!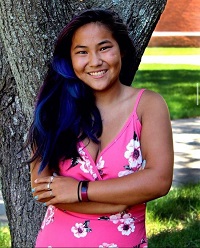 Emma Sweeney
My name is Emma Sweeney and I am going into my junior year. I am a member of the university's Honors College and am pursuing a major in Environmental Systems and Sustainability. In addition to my major, I am also pursuing minors in Public Health, Honors, and Philosophy. I was fortunate to have studied abroad in South Africa this past winter and am planning on studying abroad again before I graduate. I am a writing tutor and was the Paint Crew Manager for the university's Theater Department. Despite the current COVID-19 pandemic, I maintained my role as Assistant Coach to my high school Women's Lacrosse team. I am looking forward to getting to know everyone and forming new relationships.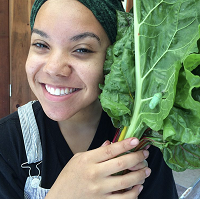 Shanti Madison
My name is Shanti Madison, I am and Environmental Educator and farmer from New Haven, CT. I am a senior at SCSU. During my time as an Environmental Systems of Sustainability's Studies major at SCSU I have had the privilege of gaining extensive experience actively developing skills in international studies abroad. I have studied in Malta, England, Wales, and Iceland. My area of study focuses in both human and physical geography. I seek to create resources for underserved communities to learn skills in environmental education, and assist in developing practices to mitigate climate change.
---
Technische Hochschule Ingolstadt Participant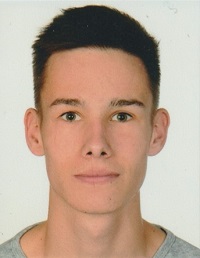 Max Fenzl
Hi! My name is (huh?) 
My name is (who?) 
My name is Max. I'm a 20-year-old student in Bavaria, south Germany. Against the stereotype, no one is running around in "Lederhosen", but it's true that most Germans love cars. That also applies to me. I study "engineering and economics", a great mix-up between the technological aspects of being an engineer and the financial/ administrative tasks of a manager. After college, I would like to work for one of the various car manufacturers here in Germany.
Studying takes up a large part of my time, but whenever possible, I'm trying to help out at my father's farm. It's a good balance alongside my studies and ends the week well with my family and friends.
---
Universiti Teknologi Mara Participants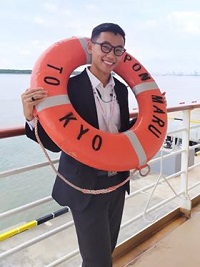 Mohamad Amir Malak
Selamat from Malaysia! I'm Amir, 23 years old from UiTM, currently in the 2nd year of Bachelor of Engineering (Hons) Chemical & Process. It always has been my passion to be involve in intercultural relationships and networking. In 2018, I joined the Ship for Southeast Asian and Japanese Youth Programme (SSEAYP), where we went around Asia and it made me realized that there's so many things can be learned from building mutual understandings. Now, I'm actively involved with my university to engage with international students at the same time trying to make Malaysia their 2nd home!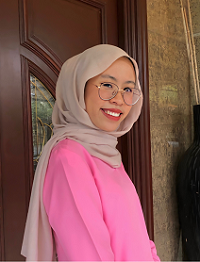 Effa Rozaeliyana
I'm Effa Rozaeliyana and I am a second-year student of Mass Communications, majoring in Public Relations. I am the vice president of UITM Global Ambassadors Club (UGLAM) under UITM's Office of International Affairs and as a member of UGLAM, I have acquired outstanding insights in global networking and event-planning. Besides being the former head of the media bureau of UITM's Public Speaking Club, I am also a pianist with experiences of performing for events and recitals. As a student in Public Relations, I believe that real power lies in the ability to connect and converse.
---
Universidad de Santiago de Chile Participants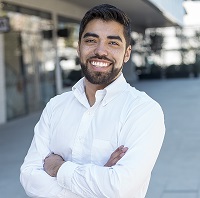 Leonardo Barrera
Public Administration student at the Universidad de Santiago de Chile, with previous studies in the Chilean Military Academy and in tourism, with a pluralistic vision and focused on the social good and quality of life around the world.
After learning about war, I understood how to avoid it no matter what the cost, enjoy the simple and deliver the impossible.
I am passionate about exchanging ideas with different cultures and innovative views. I am an active volunteer at TECHO Organization, UN Women HeForShe campaign and other NGOs.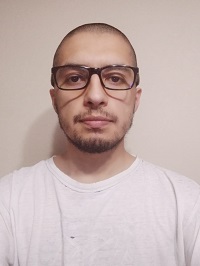 Patricio Decidet Mierzejewski
My name is Patricio Decidet Mierzejewski, and I am a 24 years old Engineering student from Santiago de Chile. I'm currently in the last year of my (student) career, and in the near future I aim to continue my studies outside of my country. I hope through my participation on this initiative I could improve my English conversational skills, be able to make enriching links with foreign students and also use this as a first step to develop my international relations skills.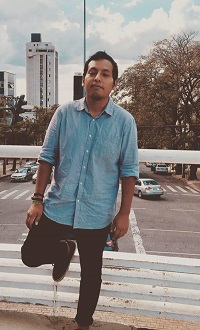 Jonathan García
Hello, my name is Jonathan García and I am 26 years old. I am an Architecture student at the University Santiago of Chile (USACH). I am currently concluding my studies, working on my thesis, generating a project for an Indigenous community located in northern Chile, of which I am also a member, I really like combining my studies and knowledge with my roots and being able to be a contribution to my community. And so being able to spread and value from the architecture the beauty of an ancient culture such as Aymara.
---
Universitat Jaume I Participants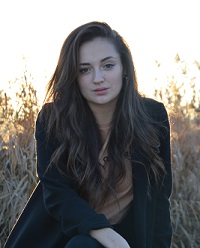 Eva Andreu Munoz
Hi, everybody. My name is Eva Andreu. I'm 19 years old and I study a degree in Translation and Interpreting in Castellón, although I was born in Teruel, a small town in the interior.
I love music. In fact, I play the violin since I was seven.  However, what I enjoy the most is dancing, I've been dancing in a hip hop school for  nearly 7 years and I even worked as a hip hop teacher a few years ago. I'm very outgoing and I love meeting people and making friends. That's why I'm looking forward to starting this project and to learning about your culture and customs.
Neus Castellet Roig
Hi, my name is Neus and I am from Spain. First of all, I would like to say that it is a pleasure becoming part of this program. If I have to talk about myself, I really like watching films, reading books and spending time with friends, but what I like the most in this world is travelling. Moreover, I study Translation and Interpreting because I like languages and I feel it is a good degree to learn and improve languages. I don't know what I want to be in the future, but being a translator or a tourist guide would be my dream.
---
Universidad Pontificia de Salamanca Participant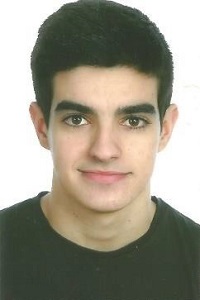 Luis Pérez Serrano
Hi, my name is Luis and I am an Exercise Sciences student in Salamanca, Spain.
Introducing myself, sports, physical activity, and physical training are the key points of my life. I really enjoy studying physical conditioning related with team sports, especially with soccer. My objective is to get access to high performance training here in Spain or abroad, and investigate in that field.
I would like to finish thanking for the chance to participate in this project.
---
University of the Western Cape Participants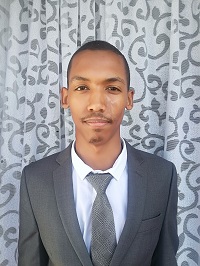 Mogammad Baaqir Petersen
He is predominantly referred to as 'Baaqir'. The B.Comm Law graduate, who majored in Industrial Psychology, has elected to pursue the Bachelor of Laws degree at the University of the Western Cape. He is also a member of the university's Street Law Society and has been a math tutor for nearly half a decade. With his primary values being loyalty and respect, he is always seeking balance in all areas of life. As a result, he has several interests such as philosophy, politics, psychology, health and fitness, martial arts, football, books, films, technology, language and culture to name a few.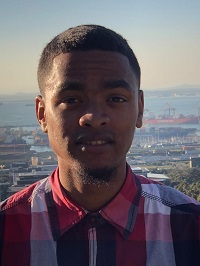 Sherwin Augustus
I am a third year law student at the University of the Western Cape in Come Town, South Africa. I have an avid love for Constitution law and the Law of Civil Procedure. My passion for the law stems from growing up in an area known as the Cape Flats. I would love to do my LLM in the United States of America. Being part of SCSU's virtual owls in flight program is an honor and a privilege. Studying at the University of the Western Cape has learnt me to integrate with many different races and creeds while receiving a quality education.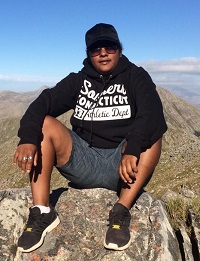 Nicole Lopes
My name is Nicole Lopes and I study law at the University of the Western Cape. I would love to became a labour lawyer and help educate vulnerable people about their basics working rights. I am originally from Cape Town, but more recently lived in a small farming community in the Cape Winelands. I am also passionate about traveling and exploring nature. I have been lucky to meet many SCSU students when they travel to South Africa for study abroad. I have really enjoyed showing them meaningful parts of my culture, like how to make a lekker braai! I am excited to meet new people and learn about the important parts of their world as well.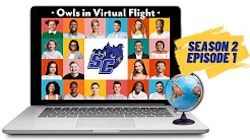 In Season 2 of our Owls in Virtual Flight conversation series, we are excited to present "Owl Alumni in Virtual Flight." This season we bring together former students who have integrated study abroad into their degree programs: international students who studied abroad at Southern and U.S. students who travelled abroad. We will discuss how study abroad impacted their personal and professional lives. As we begin to expand virtual offerings, it's important to take a moment and highlight the irreplaceable friendships, memories, and transformative experiences that make study abroad a life-changing experience.
Our SCSU study abroad alumni discuss insights and tips about study abroad. They share the advice they would have given their former selves on the eve of their time abroad.
An impactful and unspoken benefit of study abroad is international friendships. These are often lifelong and profound friendships that only come from their shared experiences when studying abroad. Our alumni talk about the friends the made during their time abroad and how those friendships have lasted through the years.
In part one of our small group series, our Owl alumni dive deeper into their experiences while studying abroad. They talk about how they prepared, what their expectations were, what inspired them, and what challenges they faced along the way. Tune in next week for part two.
In this second part of our small group series, our Owl alumni reflect on the life changing experience of studying abroad. They look at some of the challenges they encountered and overcame and the lessons the experience taught them.
In our final small group series, our Owl Alumni share their experiences studying abroad. The talk about their from touching down in new country to the lessons the learned when returning home. As we wrap up our second series, we'd like to thank everyone for tuning in. Keep an eye out for our upcoming Spring 2021 season and other new content from the Office of International Education.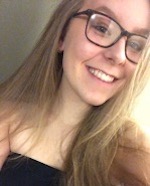 Erin Middleton
LJMU
I am a third-year sociology major at Liverpool John Moores University and will graduate this summer. I have a real interest in sustainability and the ways that I am able to adapt my day-to-day life in order to reduce the impacts of climate change and create a better planet for future generations. I feel that the participation of people from across the globe in this programme will provide a valuable insight into cross cultural perspectives on sustainability and this is an area that really interests me as travel played a large part in my life pre-pandemic and hopefully will again soon.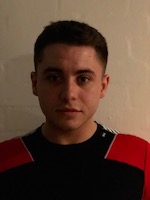 George Heron
LJMU
I am a final year geography student, as part of my final year I am currently conducting a research project surrounding sustainable applications surrounding fast fashion. The main focus is to understand how the UK government and the average UK consumer influence volume of unsustainable fashion waste. The main aim is to suggest policy recommendations to ensure that fashion and garment waste in the UK can be disposed of in a sustainable manner.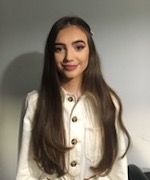 Melissa Griffiths
LJMU
I am a second year student at John Moore's University in Liverpool studying Geography. I have always had a fascination in sustainability and wish to focus my dissertation around it next year. I hope to eventually pursue a career that focuses on ways in which large corporations can help to change the world we live in for the better.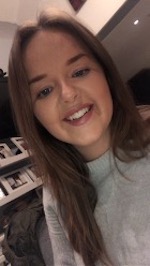 Aine McCarthy
Mary Immaculate College
I am a 22-year-old student, studying in Mary Immaculate College Limerick Ireland. I am in fourth year studying English and Geography. I have just recently finished my undergraduate dissertation project on urban regeneration in Limerick City, while identifying derelict buildings and using scenario modelling to estimate the persons which could be housed. Sustainability is a vital part of regeneration as it helps with the success.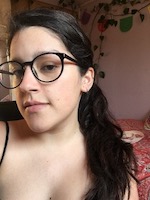 Valentina Rojas
USACH
I'm Valentina Rojas Pareja, a young woman from Chile. I'm studying Environmental Engineering in the University of Santiago de Chile and I'm really interested in learning more about sustainability and in developing my English skills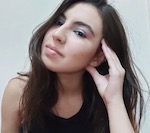 Isidora Soto Cornejo 
USACH
I'm a sophomore of an international studies mayor, studying in USACH (Santiago de Chile's University). I'm really interested in learning about sustainability studies, especially because I'm from a third world country where the environment isn't something that the majority of people but is vital for our society.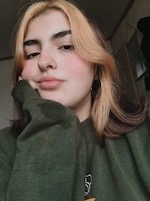 Francisca Chantall Cobos Castro
USACH
My name is Francisca Cobos. I'm a 20-years-old International Studies student at USACH. I'm on my fourth semester at the moment and my interest in this program is that I'm in a constant search to improve myself, learning new things and know more. I think this a good opportunity for that and I want to take it as better as I can.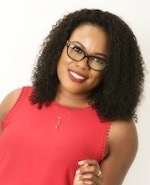 Jackie De Roche
SCSU
My name is Jackie De Roche, I am an Environmental Studies graduate student at Southern Connecticut State University graduating June 2021. My professional goals must involve making a change in people's lives for the better. I have realized that I am at my happiest when I am adding value to the life of someone else. There is an old adage that goes "if you love what you do, you would not have to work one day in your life". Hence the reason I chose to pursue a career in the field of sustainability. I have the opportunity to make positive contributions to two areas I am very passionate about, people and planet. Southern have provided me with not only robust and invigorating course work, but with support and guidance to help me succeed. However, what I am most grateful for is the ability to tailor my courses to fit my personal career goals, and faculty willing to support and encourage my efforts.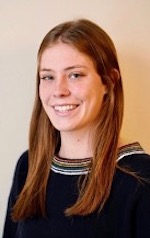 Josephine Lynch
SCSU
I am a graduate student at Southern Connecticut State University studying environmental studies. I got my Bachelor's degree in Geography with a concentration in GIS. I am interested in all things sustainability but more specifically the SDGs. Including number two 'zero hunger', number six 'clean water and sanitation', number eight 'decent work and economic growth', and number thirteen 'climate action'.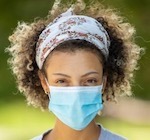 Leana Mauricette
SCSU
Major: Environmental Systems and Sustainability
Year: Junior
Advancing sustainable development that meets the needs of the present without compromising the needs of the future is an objective of mine that I strive to reach. I have dedicated my studies and extra-curricular time towards promoting sustainable initiatives and advocating for communities facing environmental injustice. I am particularly interested in the socio-economic dimensions of sustainability with its ties to cultural influence.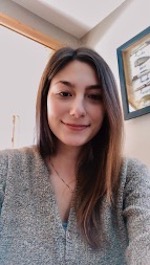 Hannah LeMire
SCSU
Hello! My name is Hannah and I am a senior at SCSU planning to graduate in the spring 2021 semester. My major is Environmental systems and sustainability with a concentration in coastal marine studies. I became more interested in sustainability while taking one of professor Axon's courses that advanced my perspective on sustainable studies. I think that sustainability is important for present and future generations because it will in fact he'll us keep our earth happy and healthy. Without learning about sustainability, humanity won't be able to prosper in the future due to food and water scarcity and land loss.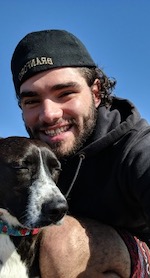 Ian Bergemann
SCSU
Hi, my name is Ian Bergemann and I am a senior Environmental Systems and Sustainability major at Southern Connecticut State University. I am interested in sustainable management and access of natural and cultural resources.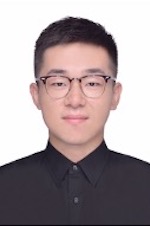 Arvin Sun
SHNU
I'm a graduate student major in Geography Teaching Methodology, I am very concerned about how geography, as an interdisciplinary subject, is implemented in university education, how it should develop in the future and as a student of geography, what qualities should we have.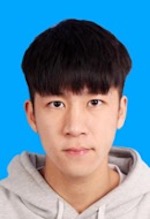 Wu Zhendong
SHNU
My name is Wu Zhendong, I come from Zhejiang, China. Currently studying environmental engineering at Shanghai Normal University and entered in 2019. Education for sustainable development aims to reconcile the conflicting interests of present and future generations through a balanced and integrated approach and to meet the economic, social and environmental dimensions of sustainable development. This needs not only the correct ecological concept, but also the advanced ethics and values, professional knowledge and values. For School Education, the idea of sustainable development should be integrated into the teaching system to cultivate a new generation with a vision, a sense of responsibility for the country and humanity. Integrate Sustainable Development Education into curricula and school materials to support students in enriching knowledge, developing skills, changing attitudes and building capacities and understanding the importance of a sustainable future, It is of particular interest to me to explore specific future approaches in the field of education and its implications for sustainable development in all aspects of society.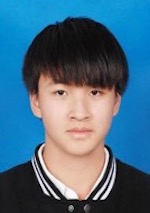 杨凯
(Ken)
Major:Hotel Management
Year: Admitted by SHNU in 2018
Interest: I desire that every student can receive the education they want and get into the courses they are really interested in.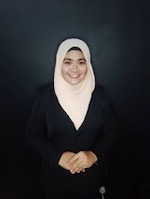 Nur Aina Mardia Binti Abd Ghani
UITM
Nur Aina Mardia Binti Abd Ghani, commonly known as Aina, was born on 27th August 2000 in Malacca, Malaysia. Majoring in Bachelor of Education (Hons.) Teaching of English As A Second Language in second year, third semester. Sustainability studies focuses on the interdisciplinary perspective of the sustainability concept. As a soon-to-be educator, these studies arose my interest as developing oneself to be a better person is my purpose of living. To be able to contribute and protect the natural environment, human and ecological health, while driving innovation and not compromising our way of life is a goal of mine to achieve.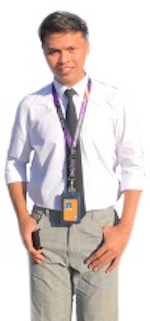 Mohamad Syazwan Afiq Bin Hidzamuddine
UITM
I am currently studying in Universiti Teknologi Mara as a second semester student. I am majoring in Creative Industries Management or well known as Arts Management. This course have a objectives to ensure the student well prepared to be in industries. I learn about the basic of film, film production, film making and film management. Next, as a part of syllabus, I learn about theatre. In term of theatre, I do learn about theatre management, stage management and sure financial management. This course is to make sure we become a great manager with skills and knowledge.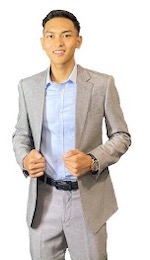 Muhammad Hafizuddin Mohd Faisal
UITM
Muhammad Hafizuddin Mohd Faisal, commonly known as Hafiz, was born on 4th December 1998 in Johor, Malaysia. Majoring in Bachelor of Mechanical Engineering (Hons) Mechanical in second year, fourth semester. Sustainability studies focuses on the interdisciplinary perspective of the sustainability concept. As a soon-to-be engineer, these studies arose my interest as developing oneself to be a better person is my purpose of living. To be able to contribute and protect the natural environment, human and ecological health, while driving innovation and not compromising our way of life is a goal of mine to achieve.