In a series of recorded conversations, SCSU students will connect with their peers at university partner institutions in Europe, Asia, South America, Africa, and beyond to discuss life as a university student in the pandemic.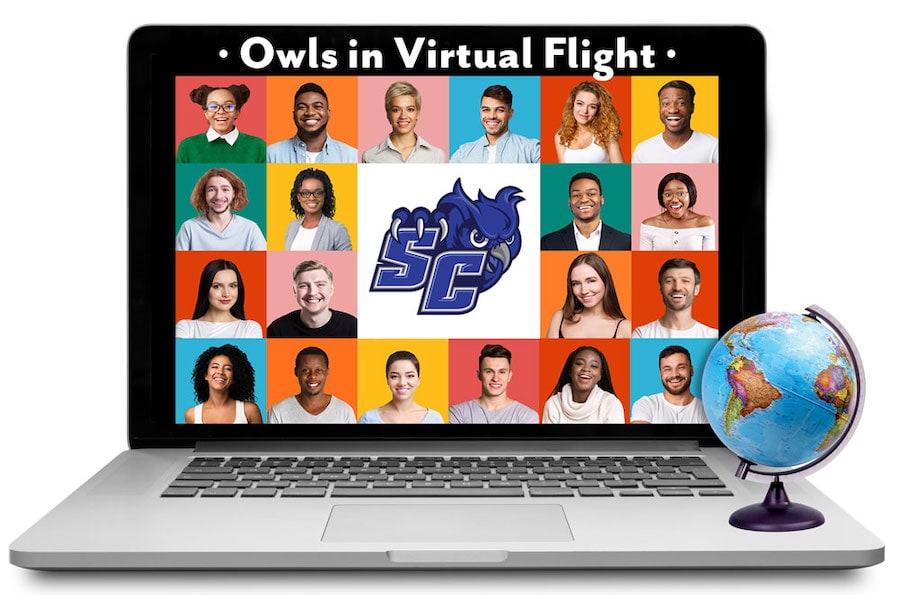 ---
Videos: Owls in Flight
In this first breakout session, our Owls in Flight share their experiences during lockdown and quarantine – the changes to daily life, the effectiveness of public health and safety campaigns, and the moments of hope during these periods of isolation.
In our second small group chat, our Owls in Flight discuss how their universities responded to the pandemic, the challenges, and benefits of switching to an entirely online platform, and what students expect for the upcoming semester.
Our third small group discussion touches on some of the events, social practices, and cultural activities around the world that were changed during the pandemic as well as some of the rewarding and challenging aspects of spending so much time with family.
Our Owls in Flight discuss differences in campus culture at their universities, how that culture changed, and how their universities encourage their students to remain involved in the campus community.
Celebrations are events that not only mark the passage of time, but bring communities and families together. During the pandemic, people around the world were unable to come together to celebrate or grieve as they normally would. Our Owls in Flight discuss how major events and milestones were impacted during the pandemic and the ways that they were creative in celebrating with social distancing.
In this episode, we discuss one of our favorite topics: food! The COVID-19 pandemic changed the ways we eat and think about foods. Our Owls in Flight talk about what they cooked during the pandemic, concerns about food scarcity, and local food culture – from fishing in Cape Town to the philosophy behind traditional Chinese food.
This week, we hear from Maria, Neus, and Danielle from Armenia, Spain and the U.S., respectively, as they discuss local celebrations that mark the coming of spring and summer. From La Tomatina to Coachella, these large gatherings have all been impacted by the COVID-19 pandemic and the students discuss the ways in which these large traditional fairs have adapted.
This week, our participants return to a favorite topic: Food! Learn more about local food traditions and what are food define that culture. People around the world have coped with the pandemic by sharing recipes or cooking favorite dishes. Join us as we share in that experience.
In this small group session, our participants give us a late summer update on pandemic in their home countries. Patricio, Eva, and Derek talk about what reopening has begun to look like and what some of their concerns are as the pandemic evolves in Chile, Spain, and the United States.
In this small group session, Danielle, Denise, and Maria talk more about cook and food culture during the pandemic, highlighting some favorites from the U.S., Brazil, England, and Armenia.
This week our group looks forward discussing the current state of the pandemic in their home countries and planning for the future including employment, education, and lessons learned from the experience of being in quarantine and isolation.
In our final episode of season 1 of Owls in Virtual Flight, we bid farewell to our participants and learn more about what lies ahead, where the plan to travel, and reflect on the new friendships made during this experience. Thank you to our viewers for tuning in and we are looking forward to bringing you new episodes very soon.