What is SART?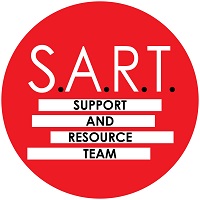 Southern Connecticut State University's Support and Resource Team (SART) is designed to help create a campus climate that supports survivors of sexual misconduct and helps to promote awareness to the campus community on sexual misconduct topics (sexual harassment, sexual assault, domestic violence, dating violence, stalking and sexual exploitation). 
SART Services
Confidentiality
Responsible Employees
In cases of immediate danger or an emergency, call the University Police or 911.