What is SART?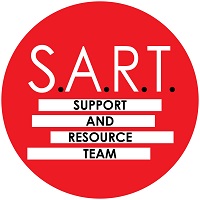 We welcome all full and part-time graduate and undergraduate students to utilize SART services!
Southern Connecticut State University's Support and Resource Team (SART) is designed to provide a collaborative victim-centered team response to sexual misconduct (sexual harassment, sexual assault, domestic violence, dating violence, stalking, and sexual exploitation). The mission of SART is to provide services that ensure a transition from victim to survivor for every individual whose life is impacted by sexual misconduct.
For complete information on steps to take when a student discloses an incident of sexual misconduct to an employee please click here.
To see a flowchart with reporting options and advocacy services, please click here.
For a printable SART brochure in English click here, in Espanol click here.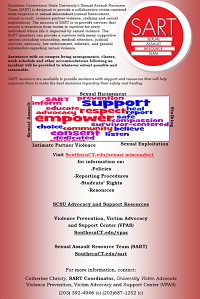 SART Members and Contact Information
In cases of immediate danger or an emergency, call the University Police or 911.
*Please note that internet activity can be tracked and stored on the computer system being used. The "Exit" button at the top of the page will quickly direct you to the SCSU homepage, but does not remove the history of visiting this site. If you have any concerns, it is recommended that a public computer (such as the library) be used to access this site.