Peer Educators in PEACE are role models for making the campus a safer, more respectful place for ALL students by facilitating discussions on sexual misconduct and bystander intervention. Bystander intervention is intervening in problematic situations, while PEACE focuses on intervening safely in situations of sexual misconduct (sexual harassment, sexual assault, dating/domestic violence, stalking and sexual exploitation), the skills learned in the workshops can be used in many other interpersonal violence situations, including bullying, hazing, etc.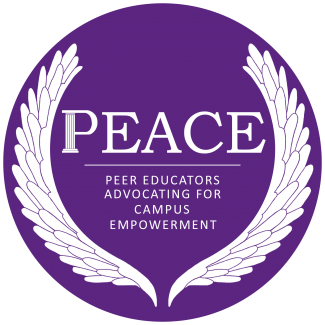 We ALL have the power to make a positive change at Southern. "It's On Us" to make a change. Will YOU be a peer educator?
What Are The Benefits Of Becoming A Peace Peer Educator? 
Volunteer/Service opportunity and hours 
Personal and Professional Learning Experience
Hone Public Speaking Skills and Facilitation Skills
Develop/improve understanding of issues of sexual misconduct, bystander intervention, consent, and resources available
All Peer Educators will  receive training in the content curriculum, as well as presentation skills, etc. and continuous support from the Violence Prevention, Victim Advocacy and Support (VPAS) Center.
What Do Peace Peer Educators Do?
Facilitate informational and interactive workshops on a variety of violence prevention topics with student organizations, residence life, and  classrooms. Once trained, Peer Educators are expected to co- facilitate a minimum of 2 presentations and assist with 2 informational tables per semester. You will have guidance and assistance with this!
Plan and facilitate educational/awareness events
Assist with VPAS annual events, including The Red Flag Campaign, Take Back the Night, & It's On Us Festivals
Inform students about resources and advocacy services
Attend meetings as scheduled to work together to develop and execute special programs
Receive continuous learning and development support from VPAS Center staff
Have fun!
Selection Criteria
Must be enrolled as a student at Southern Connecticut State University
Have a commitment to contributing to a positive campus environment and ability to model healthy and prosocial behavior for peers
An interest in the topics of sexual misconduct prevention, affirmative consent and bystander intervention
Have a positive attitude
Excellent time management skills
Professional communication skills
Enthusiasm for working on a team and making a difference
Availability to attend Peer Educator Training (dates TBA)  is mandatory
If you are not able to make a commitment as a PEACE Peer Educator you can still assist the club in other ways as a Member! Contact PEACE President or join our meetings to learn more!
Visit the group in OwlConnect for more information. Apply under forms once you are logged in.
Application Deadline
Application deadline for Spring 2021: TBA