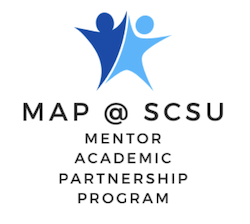 The Mentor Academic Partnership Program, or MAP Program, is an opportunity where students can form a support system with peers and professional staff. It is designed to create a close-knit cohort of students to promote academic excellence and leadership skills. This program is studentled and hosts social events while also providing academic coaching to ensure a smooth transition to college life. MAP Leaders are peers who will foster a warm and inclusive environment for students while also uplifting their voices and coaching them. MAP students will gain confidence in their academic abilities, gain a better understanding of the campus community, and be given a safe environment to acquire new skills.
Goals of the MAP Program:
Gain comfortability with Southern's campus and resources
Create a comfortable climate to learn and grow
Learn how to build connections with faculty, staff, and peers
Learn self-advocacy and independence, especially in academics

Prioritize healthy and mindful lives

Learn studying methods and create an academic toolbox for a successful colligate life
Tentative Schedule
Week 1: Introductions
Weeks 2 – 5: Creating a Rhythm – Time Management & Habits
Weeks 6 – 8: Midterm Preparation
Week 9: Registration & Upcoming Semesters
Weeks 10 – 13: Registration, Reflection, & Improvements
Weeks 14 – 16: Final Exams & Closings
There will also be several events and collaborations with other offices within SCSU. Students will learn about resources while also familiarizing themselves with helpful faces. Along with this, students will have a place to socialize while participating in fun events.
For more information or if you are interested in the program, please contact us at casas@southernct.edu or 203-392-6828.