Tutoring is provided by peer Academic Specialists, high-achieving SCSU undergraduate and graduate students recommended by faculty within one or more disciplines.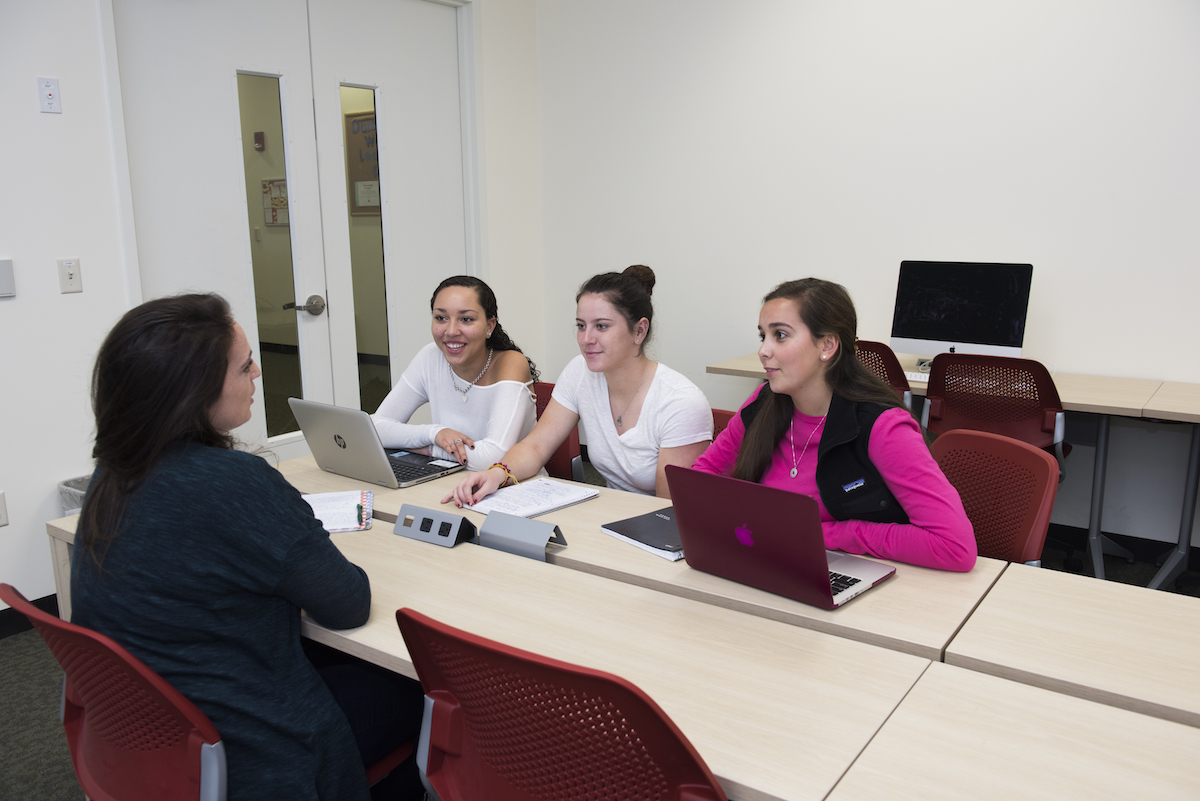 Individual support is available by appointment in more than 20 academic disciplines (listed below) during the fall and spring semesters.
Appointments are strongly encouraged in all disciplines (except math) to ensure that an Academic or Writing Specialist is available to meet with you. Appointments may be scheduled for 30 minutes. Students are limited to 1 hour a day per subject area in an effort to meet the tutoring demands of all SCSU students.
Math tutoring is offered on a drop-in basis in the Academic Success Center Math Zone. Please refer to the Math Zone page for more information and a detailed schedule.
Tutoring Schedule
View the full schedule of all tutoring courses (pdf).
Tutoring Support Areas
Accounting
Anthropology
Art
Bilingual Literacy Support
Biology
Chemistry
Communication
Communication Disorders
Computer Science
Earth Science
Economics
Environmental Studies
French
FYRE
Geography
History
Italian
Journalism
Marketing
Marine Studies
Music
Nursing
Physics
Psychology
Public Health
Spanish
Sociology
Philosophy
Political Science
Writing
How to Schedule a Tutoring Session
How to Make the Most of a Tutoring Appointment
It is important to remember that tutors are undergraduate peers who are not a substitute for your professor. We always encourage students to talk with their professor about concerns they have. Whether it's about the reading, expectations, or the assignment itself, your professor knows best.
The second most important thing is to bring your course materials. If you don't understand the reading, but brought questions and notes, we can help! If you haven't done the reading and don't bring materials, it makes it much harder for us to utilize the time in the appointment together.  To make the most out of an appointment, try to be as prepared as possible.
It is very important that you try to work with your tutor, rather than asking that they do the work for you.
Academic Specialists (aka tutors) will not help with exams or quizzes, including take-home exams. This violates SCSU's policies around academic conduct. 
What Does a Tutor Do?
Tutors can help with developing your own ideas, reviewing course material, and exam preparation.
Tutors cannot tell you the answers.
Tutors can help with understanding your mistakes. 
Tutors cannot "fix" your work. 
Tutors can help you improve your skills and understanding.
Tutors cannot predict what grade you will get.