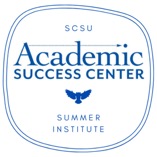 A select group of students are invited to participate in our 3-week Summer Institute. The Summer Institute features heavy emphasis on academic skill development workshops, where students will learn how to read a syllabus, how to take effective notes, what to do to prepare for exams, and how to enact active learning for themselves. They will also be offered workshops on personal development topics that are relevant to success in college such as assertiveness, self-advocacy, & seeking assistance, maintaining a growth mindset, and motivation & self-care. In addition to the workshops, students have the opportunity to begin MAT100P, a historically challenging course that many first year students place into. During the 3 weeks of the Summer Institute, students will have dedicated time to learn the ropes in this computer-based course, and get ahead on topics they must complete in order to ultimately pass the course successfully.
During the Summer Institute, students will be assigned to a Professional Academic Success Coach, who will facilitate "team meetings" with their groups to help debrief all of the workshops, and drive home the relevance of each topic. The coaches will also be available for one-on-one check ins with their students each day during the Academic Success Center Power Hours, where tutoring and PALs sessions will also be available to choose from during the dedicated time. During each evening and weekend, the students will have unstructured time, where their time management skills will be put to the test. The ways in which unstructured time is utilized will be discussed with coaches during team meetings, and students will be encouraged to think critically about how their actions could impact their academic success in MAT100P and beyond.
Students also have the chance to participate in various social activities and bonding events during the Institute that provide them with an established community of supportive staff and peers on campus before the Fall semester starts, likely increasing their overall sense of belonging on campus.
For more information about the Summer Institute, please contact Samantha Barrett at: barretts9@southernct.edu.