Room Scheduling Grid
This grid assists departments with section distribution across available classrooms (click image to download fillable pdf).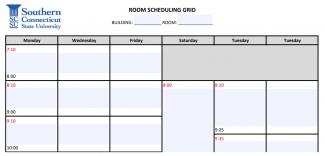 Room Assignments by Department
Refer to the lists below, developed according to the Classroom Allocation Policy, to view available classrooms for departmental scheduling.
Room Change Request
After the initial schedule has posted, faculty may also submit a Room Change Request directly to the Registrar's Office. 
| Classroom | Spring '22 Capacity | Full Capacity |
| --- | --- | --- |
| BU 007 - Math Emporium | 33 | 50 |
| BU 007B - Emporium Classroom | 24 | 30 |
| BU 202 - Classroom | 18 | 25 |
| BU 204 - Classroom | 48 | 68 |
| BU 205 - PC Classroom | 30 | 30 |
| BU 206 - MAC Classroom | 25 | 25 |
| BU 207 - Classroom | 36 | 52 |
| BU 409 - Library Science Lab | 20 | 20 |
| DA 018 - CMD Lab | 4 | 4 |
| DA 022 - Counseling Lab | 20 | 20 |
| DA 024 - Counseling Lab | 20 | 20 |
| DA 026 - Counseling Lab | 20 | 20 |
| DA 028 - Counseling Lab | 20 | 20 |
| DA 101 - Classroom | 73 | 145 |
| DA 102 - Classroom | 38 | 79 |
| DA 104 - Seminar Room | 13 | 20 |
| DA 106 - Seminar Room | 13 | 21 |
| DA 118 - Computer Lab | 9 | 24 |
| DA 120 - Classroom | 33 | 37 |
| DA 122 - Classroom | 28 | 31 |
| DA 124 - Classroom | 23 | 26 |
| DA 202 - Counseling Lab | 6 | 16 |
| DA 208 - Reading Lab | 20 | 20 |
| DA 211 - Classroom | 27 | 30 |
| DA 218 - Classroom | 41 | 46 |
| DA 219 - Classroom | 33 | 37 |
| DA 220 - Hamden Transition Room | 5 | 10 |
| DA 222 - Classroom | 38 | 38 |
| DA 223 - Counseling Lab | 10 | 26 |
| DA 224 - Classroom | 23 | 26 |
| DA 226 - Classroom | 36 | 39 |
| DA 239 - Counseling Lab | 20 | 20 |
| DA 261 - Counseling Lab | 12 | 12 |
| EA 102 - Art Studio - Print Making | 16 | 16 |
| EA 103 - Art Studio | 16 | 16 |
| EA 104 - Art Studio - Drawing | 16 | 16 |
| EA 107 - Art Studio - Ceramics | 13 | 13 |
| EA 109 - Art Studio | 10 | 16 |
| EA 114 - Band Room | 40 | 40 |
| EA 114B - Art Studio | 18 | 18 |
| EA 115 - Studio - Blues Room | 20 | 20 |
| EA 118 - Music Studio | 25 | 25 |
| EA 122 - Communications Production Studio | 20 | 25 |
| EA 202 - Art Studio - Crafts | 25 | 25 |
| EA 204 - Art Studio | 16 | 16 |
| EA 205 - Metal Shop | 14 | 14 |
| EA 206 - Seminar - ART | 6 | 6 |
| EA 207 - Art Studio - Photography | 16 | 16 |
| EA 211 - Art Studio | 24 | 24 |
| EA 216 - High Tech Studio | 18 | 16 |
| EN A012 - Writing Center | 6 | 6 |
| EN A105 - Classroom | 15 | 22 |
| EN A107 - Classroom | 29 | 32 |
| EN A109 - Classroom | 23 | 26 |
| EN A112B - Conference Room | 10 | 10 |
| EN A113 - Classroom | 29 | 32 |
| EN A115 - Classroom | 29 | 32 |
| EN A117 - Classroom | 29 | 32 |
| EN A120 - Lecture Hall | 133 | 265 |
| EN B014 - Music Studio | 20 | 20 |
| EN B016 - Music Studio | 20 | 20 |
| EN B017 - Adaptive Technology Lab | 12 | 20 |
| EN B027A - Art History Lab Sections | 36 | 40 |
| EN B111 - Classroom | 32 | 46 |
| EN B118 - Classroom | 30 | 33 |
| EN B119 - Distance Learning Classroom | 13 | 15 |
| EN B121A - Seminar Room | 50 | 50 |
| EN B121A&B - Combined Seminar Room | 33 | 100 |
| EN B121B - Seminar Room | 50 | 50 |
| EN B125 - Classroom | 23 | 25 |
| EN B206 - Classroom | 26 | 30 |
| EN B208 - Classroom | 34 | 38 |
| EN B210 - Classroom | 32 | 45 |
| EN B211 - Classroom | 30 | 40 |
| EN B212 - COM Lap Top Lab | 17 | 25 |
| EN B214 - Classroom | 28 | 40 |
| EN B216 - Classroom | 34 | 35 |
| EN B218 - Classroom | 28 | 40 |
| EN B220 - Classroom | 23 | 25 |
| EN B221 - Computer Lab | 42 | 42 |
| EN B225B - Honors College Library | 10 | 30 |
| EN B303 - Classroom | 25 | 35 |
| EN B304 - Classroom | 29 | 32 |
| EN B305 - Classroom | 32 | 35 |
| EN B306 - Classroom | 15 | 23 |
| EN B307 - Classroom | 24 | 24 |
| EN B308 - Classroom | 28 | 31 |
| EN C005 - Adaptive Technology Lab | 25 | 25 |
| EN C007 - Classroom | 28 | 30 |
| EN C008 - Classroom | 36 | 50 |
| EN C009 - Classroom | 22 | 30 |
| EN C010 - Classroom | 36 | 50 |
| EN C013 - Anthropology Lab | 23 | 23 |
| EN C020 - Classroom | 22 | 30 |
| EN C022 - Classroom | 11 | 15 |
| EN C024 - Sociology Conference Room | 20 | 25 |
| EN C027F - Conference - Anthropology | 11 | 18 |
| EN C108 - Seminar | 10 | 15 |
| EN C112 - Lecture Hall | 175 | 350 |
| EN C113 - Classroom | 37 | 41 |
| EN C115 - Classroom | 37 | 41 |
| EN C132 - Classroom | 22 | 25 |
| EN C134 - Smart Classroom | 32 | 35 |
| EN C136 - Classroom | 32 | 36 |
| EN C138 - Classroom | 32 | 35 |
| EN C140 - Classroom | 37 | 40 |
| EN C219 - History Seminar Room | 20 | 20 |
| EN C219F - Conference Room | 10 | 20 |
| EN C234F - Seminar - PSC | 15 | 25 |
| EN D020 - Multi-species Psychology Lab | 7 | 7 |
| EN D029A - Psychology Experiment Lab | 14 | 16 |
| EN D031A - Psychology Lab | 21 | 30 |
| EN D054 - Psychology Lab | 6 | 6 |
| EN D055A - Psychology Lab | 15 | 20 |
| EN D056 - Psychology Lab | 18 | 20 |
| EN D062 - Psychology Lab | 7 | 7 |
| EN D122 - Math Seminar Room | 8 | 22 |
| EN D124 - Math Computer Lab | 28 | 32 |
| EN D125 - Math - Eureka Lab | 38 | 55 |
| EN D149 - WLL Seminar Room | 18 | 24 |
| EN D162 - Language Lab | 24 | 24 |
| EN D164 - Language Lab | 24 | 24 |
| EN D227 - Conference Room | 9 | 12 |
| EN D264 - Classroom - ENG | 17 | 25 |
| EN D266 - Classroom - ENG | 17 | 35 |
| JE 100 - Physics Lab | 15 | 15 |
| JE 104 - Physics Lab | 12 | 12 |
| JE 105 - Physics Lab | 20 | 24 |
| JE 106 - Physics Lab | 12 | 18 |
| JE 107 - Physics Lab | 24 | 24 |
| JE 109 - Physics Lab | 20 | 24 |
| JE 111 - STEM IL Classroom | 20 | 20 |
| JE 113 - Physics Computer Lab | 18 | 20 |
| JE 114 - Classroom | 36 | 52 |
| JE 127 - Lecture Hall | 35 | 69 |
| JE 129 - Nursing Seminar Room | 13 | 13 |
| JE 130 - Nursing Lab | 27 | 40 |
| JE 131 - Nursing Seminar Room | 20 | 25 |
| JE 133 - Nursing Emergency Room Lab | 8 | 13 |
| JE 133A - Nursing Classroom | 30 | 30 |
| JE 133C - Conference Room | 10 | 10 |
| JE 134 - CSC Computer Lab | 6 | 6 |
| JE 136 - Nursing Seminar Room | 9 | 9 |
| JE 139A - CSC Computer Lab | 17 | 17 |
| JE 139B - Digital Design Lab | 15 | 20 |
| JE 204 - Biology Lab | 24 | 24 |
| JE 205 - Biology Lab | 24 | 24 |
| JE 206 - Parasitology/Histology Lab | 20 | 20 |
| JE 207 - Human Biology  Lab | 24 | 24 |
| JE 209 - Zoology Lab | 24 | 24 |
| JE 211 - Zoology Lab | 24 | 24 |
| JE 213 - Biology Lab | 24 | 24 |
| JE 214 - Biology Lab | 16 | 20 |
| JE 216 - N.E. Ephemeropera Lab | 16 | 16 |
| JE 221 - Biology Lab: Bio-Tech | 20 | 20 |
| JE 222 - Marine Biology Lab | 14 | 15 |
| JE 223 - Biology Lab: Botany | 18 | 18 |
| JE 225 - Biology Lab: Botany | 18 | 18 |
| JE 227 - Classroom | 37 | 40 |
| JE 230 - Biology Lab | 16 | 18 |
| JE 232 - Biology Lab: Botany | 20 | 20 |
| JE 236 - Biology Lab | 16 | 16 |
| JE 238 - Biology Lab | 16 | 16 |
| JE 240 - Biology Lab: Animal | 18 | 18 |
| JE 246 - Biology Lab | 20 | 20 |
| JE 306 - Chemistry Lab | 16 | 18 |
| JE 309 - Chemistry Lab | 16 | 16 |
| JE 310 - Inorganic Chemistry Lab | 16 | 18 |
| JE 311 - Chemistry Lab | 16 | 16 |
| JE 312 - SCE Seminar Room | 10 | 20 |
| JE 314 | 16 | 26 |
| JE 317 - Chemistry Lab | 16 | 16 |
| JE 320 - Chemistry Lab | 12 | 12 |
| JE 321 - Bio-Chemistry Lab | 16 | 16 |
| JE 325 - Organic Chemistry Lab | 22 | 22 |
| JE 328 - Chemistry Lab | 16 | 16 |
| JE 329 - Chemistry Lab | 16 | 16 |
| JE 332 - Quantative Analysis Lab | 24 | 24 |
| JE 334 - Micro-Biology Lab | 16 | 16 |
| JE 335 - Classroom | 18 | 23 |
| JE 338 - Biology Lab | 16 | 18 |
| JE 339 - Chemistry Lab | 16 | 16 |
| JE 342A - GIS Lab | 24 | 30 |
| LY 127 - Scene Shop | 16 | 20 |
| LY 141 | 20 | 40 |
| LY 39 - Costume Shop | 20 | 20 |
| MFH 203 - Classroom | 23 | 25 |
| MFH 204 - Classroom | 27 | 30 |
| MFH 255 - Classroom | 32 | 35 |
| MO 10 - Classroom | 41 | 45 |
| MO 102 - Classroom | 36 | 40 |
| MO 103 - Lecture Hall | 35 | 60 |
| MO 108 - Lecture Hall | 60 | 120 |
| MO 11 - Classroom | 39 | 40 |
| MO 111 - Classroom | 37 | 41 |
| MO 113 - PC Classroom | 20 | 20 |
| MO 115 - CSC Computer Lab | 5 | 5 |
| MO 120 - Classroom | 36 | 40 |
| MO 122 - Geography Lab | 6 | 6 |
| MO 13 - PC Classroom | 28 | 40 |
| MO 14 - Classroom | 36 | 40 |
| MO 16 - Classroom | 36 | 40 |
| MO 201 - Oceanography Lab | 7 | 7 |
| MO 205 - Journalism Lab | 17 | 22 |
| MO 209 - Meteorology Lab | 24 | 24 |
| MO 213 - Earth Science Lab | 30 | 30 |
| MO 214 - Journalism Lab | 3 | 20 |
| MO 216 - Drone Lab | 4 | 4 |
| MO 218 - Drone Photo Studio | 20 | 20 |
| MO 220 - Earth Science Lab | 24 | 24 |
| MO 6 - Classroom | 27 | 30 |
| MO 8 - PC Classroom | 22 | 30 |
| MO 9 - Classroom | 36 | 40 |
| NU 102 - Nursing Classroom | 12 | 25 |
| NU 104 - Nursing Emergency Room Lab | 14 | 14 |
| PE 16 - Biology Lab: Biomechanics | 30 | 30 |
| PE 16A - Biology Lab: Biomechanics | 30 | 30 |
| PE 6A - Classroom | 1 | 35 |
| PE 6B - Classroom | 1 | 35 |
| PE 8 - Classroom | 1 | 40 |
| SB 005 - Trading Room | 18 | 20 |
| SB 020A - Seminar Room | 25 | 36 |
| SB 020B - Seminar Room | 25 | 36 |
| SB 104 - Conference - School of Business | 9 | 9 |
| SCI 013 - Nanotechnology Lab | 12 | 12 |
| SCI 103 - Marine Science Lab | 22 | 22 |
| SCI 124 - Optics Lab | 9 | 10 |
| SCI 127 - Historical/Soft Rock Geology Lab | 20 | 20 |
| SCI 135 - PHY Research Lab | 12 | 20 |
| SCI 210 - Lecture Hall | 26 | 50 |
| SCI 212 - STEM Seminar Room | 8 | 20 |
| SCI 214 - High Performance Computing Lab | 12 | 20 |
| SCI 221 - Minerology Lab | 20 | 20 |
| SCI 222 - Lecture Hall | 26 | 50 |
| SCI 243 - Structural Geology | 20 | 20 |
| SCI 325 - Inorganic Chemistry | 12 | 20 |
| SCI 345 - Organic Chemistry Lab | 12 | 12 |
| TE 5 - Conference Room | 22 | 22 |
| TE 6 - Conference Room | 15 | 15 |
| TE8 101 - Classroom | 34 | 45 |
| TE8 102 - Classroom | 41 | 45 |
| TE8 103 - Classroom | 34 | 38 |
| TE8 104 - Classroom | 14 | 20 |
| TE8 105 - Classroom | 31 | 34 |
| TE8 106 - Seminar Room | 14 | 20 |
| Department | Rm 1 | Rm 2 | Rm 3 | Rm 4 | Rm 5 | Rm 6 | Rm 7 |
| --- | --- | --- | --- | --- | --- | --- | --- |
| ACC | BU 202 | BU 204 | BU 207 | SB 020A | SB 020B | EN B218 |   |
| ANT | EN C013 (Shared Comp Lab) | EN C020 |   |   |   |   |   |
| ART | EA Studios |   |   |   |   |   |   |
| BIO | BIO Labs and Lecture Rooms |   |   |   |   |   |   |
| CHE | CHE Labs and Lecture Rooms |   |   |   |   |   |   |
| CMD | DA 218 |   |   |   |   |   |   |
| COM/MDS  | EA 122 | EN A115 | EN A117 | EN B212 | MO 205 (Shared Comp Lab) | TE8 102 | Split Lab with JRN   |
| CSC | JE 139A | JE 139B | MO 8 (Shared Comp Lab) | MO 13 (Shared Comp Lab) | MO 113 (Shared Comp Lab) |   |   |
| CSP | CSP Lecture Rooms | DA 104 (Evening  Start After 4:30pm) | DA 208 | DA 211 | DA 220 (Evening  Start After 4:30pm) |   |   |
| CULA/EDU/RDG/SCE | DA 101 (Evening  Start After 4:30pm) | DA 102 (Evening  Start After 4:30pm) | DA 120 | DA 224 | DA 226 |   |   |
| ECO | BU 202 | BU 204 | BU 207 | SB 020A | SB 020B | TE8 101 |   |
| EDL/EDF | EN A105 (Evening  Start After 4:30pm) | EN A107 (Evening  Start After 4:30pm) |   |   |   |   |   |
| EGMS  | JE 335 | MO 102 | MO 122 (Shared Comp Lab) |   |   |   |   |
| ENG/LIT | EN B303 | EN B305 | EN B306 | EN B307 | EN D264 | EN D266 | TE8 106 |
| ESC | ESC Labs and Lecture Rooms | MO 209 | MO 213 | MO 220 |   |   |   |
| FIN | BU 202 | BU 204 | BU 207 | SB 020A | SB 020B |   |   |
| HIS | EN B111 | EN C140 |   |   |   |   |   |
| HMS/EXS/SHE | HHS 001 | JE 227 | MFH 203 | MFH 204 | MFH 255 |   |   |
| HON | At Large |   |   |   |   |   |   |
| IDS | At Large |   |   |   |   |   |   |
| ILS | At Large (Most Online) |   |   |   |   |   |   |
| INQ | EN A109 | EN B206 | EN B220 | BU 202 |   |   |   |
| JRN | MO 14 | MO 205 (Shared Comp Lab) | Split Lab with COM |   |   |   |   |
| JST | At Large |   |   |   |   |   |   |
| MAT | BU 007A | EN B027A | EN B211 | EN C134 | EN C136 | EN D125 | MO 9 |
| MBA | BU 202 | BU 204 | BU 207 | SB 020A (Evening  Start After 4:30pm) | SB 020B (Evening  Start After 4:30pm) |   |   |
| MFT | DA 124 |   |   |   |   |   |   |
| MGT | BU 202 | BU 204 | BU 207 | SB 020A | SB 020B | EN B216 |   |
| MIS | BU 202 | BU 204 | BU 207 | SB 020A | SB 020B |   |   |
| MKT | BU 202 | BU 204 | BU 207 | SB 020A | SB 020B | EN B118 |   |
| MUS | MUS Rooms |   |   |   |   |   |   |
| NUR | NUR Seminar Rooms | JE 114 | JE 227 |   |   |   |   |
| PCH/EDM | EN C113 | HHS 114 | MO 11 | MO 16 |   |   |   |
| PHI | EN B210 | EN B214 | TE8 105 |   |   |   |   |
| PHY/EGR | PHY Labs and Lecture Rooms |   |   |   |   |   |   |
| PSC | EN C008 | EN C234F |   |   |   |   |   |
| PSY | PSY Labs | EN A113 | EN C010 | EN C115 | EN D031A | EN D056 |   |
| REC/SMT | MO 111 | MO 120 |   |   |   |   |   |
| SED | DA 122 | DA 219  | DA 222 |   |   |   |   |
| SOC | EN C138 | TE8 103 |   |   |   |   |   |
| SWK | DA 104 (Daytime Start Prior to 4:30 pm) | EN A105 (Daytime Start Prior to 4:30pm) | MO 6 | TE8 104 | Daytime Unused DA Rooms | Evening Unused Lang Rooms |   |
| THR | LY 39 | LY 127 | LY 141 |   |   |   |   |
| WLL  | EN A107 (Daytime Start Prior to 4:30pm) | EN B119 | EN B125 | EN B308 | EN C007 | EN C009 | EN C132 |
| WGS | TE8 105 |   |   |   |   |   |   |
| Department | Rm 1 | Rm 2 | Rm 3 | Rm 4 | Rm 5 | Rm 6 | Rm 7 |
| --- | --- | --- | --- | --- | --- | --- | --- |
| ACC | BU 202 | BU 204 | BU 207 | SB 020A | SB 020B | BU 205 | EN B218 |
| ANT | EN C013 (Shared Comp Lab) | EN C020 |   |   |   |   |   |
| ART | EA Studios |   |   |   |   |   |   |
| BIO | BIO Labs and Lecture Rooms |   |   |   |   |   |   |
| CHE | CHE Labs and Lecture Rooms |   |   |   |   |   |   |
| CMD | DA 218 |   |   |   |   |   |   |
| COM/MDS  | EA 122 | EN A115 | EN A117 | EN B212 | MO 205 (Shared Comp Lab) | Split Lab with JRN |   |
| CSC | JE 139A | JE 139B | MO 8 (Shared Comp Lab) | MO 13 (Shared Comp Lab) | MO 113 (Shared Comp Lab) |   |   |
| CSP | CSP Lecture Rooms | DA 104 (Evening  Start After 4:30pm) | DA 211 | DA 220 (Evening  Start After 4:30pm) |   |   |   |
| CULA/EDU/RDG/SCE | DA 101 (Evening  Start After 4:30pm) | DA 120 | DA 224 | DA 226 |   |   |   |
| ECO | BU 202 | BU 204 | BU 207 | SB 020A | SB 020B | BU 205 | TE8 101 |
| EDL/EDF | EN A105 (Evening  Start After 4:30pm) | EN A107 (Evening  Start After 4:30pm) |   |   |   |   |   |
| EGMS  | JE 335 | MO 102 |   |   |   |   |   |
| ENG/LIT | EN A109 | EN B303 | EN B305 | EN B306 & B307 | EN D264 | EN D266 | TE8 106 |
| ESC | ESC Labs and Lecture Rooms | MO 209 | MO 213 | MO 220 |   |   |   |
| FIN | BU 202 | BU 204 | BU 207 | SB 020A | SB 020B |  BU 202 |  BU 205 |
| HIS | EN B111 | EN C140 |   |   |   |   |   |
| HMS/EXS/SHE | MFH 203 | MFH 204 | PE 8 | JE 227 | MO 16 | HHS 001 |   |
| HON | EN B220 | EN B216 |   |   |   |   |   |
| IDS | At Large |   |   |   |   |   |   |
| ILS | At Large (Most Online) |   |   |   |   |   |   |
| INQ | At Large |   |   |   |   |   |   |
| JRN | MO 14 | MO 205 (Shared Comp Lab) | Split Lab with COM |   |   |   |   |
| JST | At Large |   |   |   |   |   |   |
| MAT | BU 007B (Shared Comp Lab) | EN B118 | EN B211 | EN C134 | EN C136 | EN D125 | MO 9 |
| MBA | BU 202 | BU 204 | BU 207 | SB 020A (Evening  Start After 4:30pm) | SB 020B (Evening  Start After 4:30pm) |  BU 205 |   |
| MFT | DA 124 |   |   |   |   |   |   |
| MGT | BU 202 | BU 204 | BU 207 | SB 020A | SB 020B | BU 205 | BU 206 |
| MIS | BU 202 | BU 204 | BU 207 | SB 020A | SB 020B |  BU 205 |   |
| MKT | BU 202 | BU 204 | BU 207 | SB 020A | SB 020B | EN B118 |  TE8 105 |
| MUS | MUS Rooms |   |   |   |   |   |   |
| NUR | JE 114 | JE 127 | HHS 112A | HHS 112B |   |   |   |
| PCH/EDM | EN C113 | HHS 114 | MO 11 | MO 120 |   |   |   |
| PHI | EN B210 | EN B214 | EN B304 |   |   |   |   |
| PHY/EGR | PHY Labs and Lecture Rooms |   |   |   |   |   |   |
| PSC | EN C008 | EN C234F |   |   |   |   |   |
| PSY | PSY Labs | EN B208 | EN C010 | EN C115 | EN D031A | EN D056 |   |
| REC/SMT | EN B220 | MO 111 |   |   |   |   |   |
| SED | DA 102 | DA 122 | DA 219 | DA 222 |   |   |   |
| SOC | EN C138 | TE8 103 |   |   |   |   |   |
| SWK | Lang Rooms | Various DA Rooms | EN C022 | MO 6 | TE8 104 |   |   |
| THR | LY 39 | LY 127 | LY 141 |   |   |   |   |
| WLL  | EN A107 (Daytime Start Prior to 4:30pm) | EN B119 | EN B125 | EN B308 | EN C007 | EN C009 | EN C132 |
| WGS | At Large |   |   |   |   |   |   |