Departments may offer an automated waitlist when creating their schedules. The registration system allows students to add themselves to the waitlist if a course is closed and the section has waitlist seats available.
​Banner SFAWLPR displays the list of students on the waitlist by Term and CRN.

Banner SFIWLNT displays the list of students who have been offered an open seat from the waitlist. Students offered a seat are removed from SFAWLPR above.

Waitlist statuses include:
Pending: student is in the 24-hour response window but has not yet registered
Registered: student was offered a seat and registered successfully
Dropped: student was offered a seat but did not register by the 24-hour deadline. 
Note: 

Students may sign up for the waitlist again.
​Banner Web Faculty Services allows faculty to view the enrolled, waitlisted, and cross-listed students on the 'Class List Detail' and 'Class List Summary'.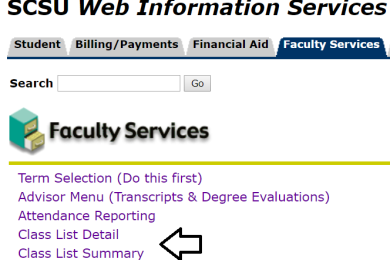 Waitlist seats are shown as the WL Cap (max allowed), WL Act (taken), and WL Rem (remaining). If a seat opens, the first student on the waitlist will be sent an email notifying them of the opportunity to register. The student must register online within 24 hours of notification or they will be dropped from the waitlist. The seat will continue to be offered to the next student on the waitlist until filled.