Certificate in Spanish and Latino Cultures For Health Professionals
Certificate in Spanish and Latino Cultures For Health Professionals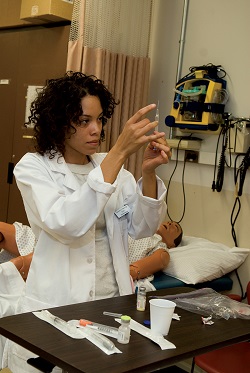 Latinos, Connecticut's largest minority group, comprise 16.1 percent of our state population. Historically, Latinos have tended to maintain stronger ties to their culture and language than have other minority groups. Knowledge of Spanish for health professionals has become a necessity in the health and human services workplace. 
Southern's Certificate in Spanish and Latino Cultures for Health Professionals is a 12-credit sequence of courses designed to prepare future professionals to serve Spanish-speaking clients in a clinical setting by developing functional and technical Spanish language skills and cultural awareness about U.S. Latinos. This certificate program is ideal for a wide range of health and human service-related professionals, including nurses, doctors, EMTs, social workers, speech pathologists, psychologists, and counselors.
This Certificate in Spanish and Latino Cultures for Health Professionals is the only course of study being offered in the Northeast to meet these current and future workforce needs.
Scholarships are available for students enrolling in the certificate program.
Program Requirements
Students take four out of the following five courses. All students must take SPA 315.
SPA 220 Medical Spanish
SPA 210 Spanish IV - Latino America
SPA 301 Spanish Conversation
SPA 315 Spanish for the Professions: Advanced Spanish for Health Professionals
SPA 410 Theory & Practice of Translation 
All students are required to take an exit exam and prove an intermediate-high proficiency level to earn the certificate
Program Learning Objectives
Develop awareness about the critical intersection between language proficiency, cultural dexterity and the health and human services professions, particularly among Spanish-speaking patients and their providers in the U.S.
Develop proficiency in basic, intermediate and advanced medical terminology in Spanish, medical interpreting and translation skills, and cultural fluency to help health and human service professionals better serve their Spanish-speaking clients.
Create cultural understanding to use when serving Spanish-speaking clients.
Develop conversational skills useful to hold sustained, meaningful, and accurate conversations with patients.
The purpose of this program is to ensure that there is a critical mass of health and human services professionals within the Connecticut workforce to serve the Spanish-speaking population.
For More Information
Dr. William Flores
Program Coordinator
Engleman Hall D 147
(203) 392-5374
FloresW2@SouthernCT.edu