May is Asian American and Pacific Islanders (AAPI) Heritage Month, when we honor and celebrate the contributions and rich culture of the AAPI community. Join us for these amazing events as the Southern community supports and stands in solidarity with the AAPI community.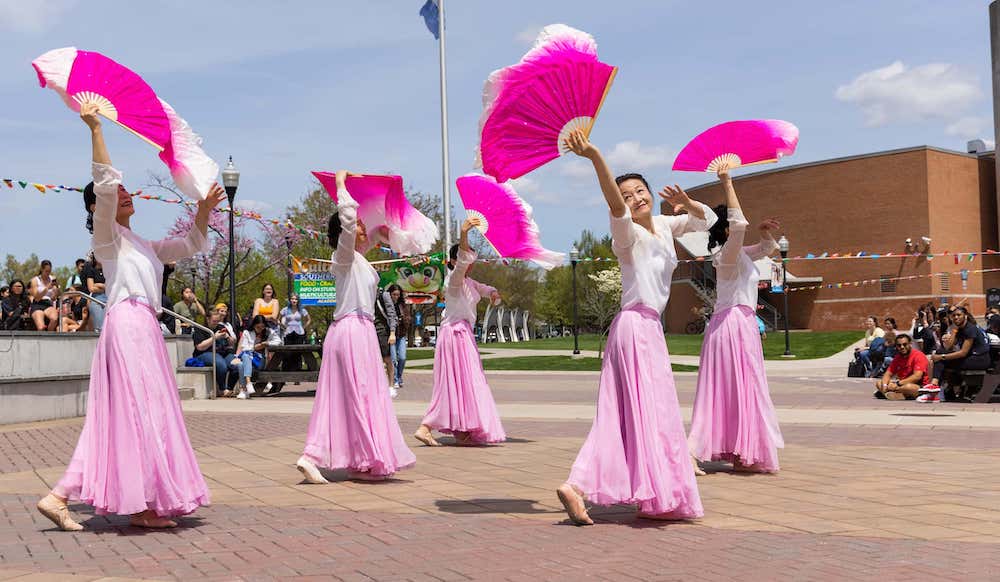 Events
---
Chaivana
Thursday, April 6
Adanti Student Center, Room 217
5:00- 8:00PM
Come join the South Asian Students Association for a night filled with music, food, dancing, and games! Students are encouraged to come dressed up as a Bollywood actor/actress and enjoy chai heaven while creating lasting memories!
Sponsored by: South Asian Student Association
---
Asian Cultural Society General Board Meeting
April 6, 13, 20, 27 & May 4
Adanti Student Center, Room 326
6:00-7:30PM
---
South Asian Students Association General Board Meeting
April 10, 17th, 24 & May 1
Adanti Student Center, Room 326
1:00 – 2:00PM
---
Webinar: Representation Matters: Creating Inclusive Campus Environments for Asian American, Native Hawaiian and Pacific Islander (AANHPI) Student Success
Wednesday, April 12 EN B106 or at your computer
3-4:30PM
This webinar will feature system leaders discussing the imperative of workforce diversity and the impact of AANHPI representation among faculty, staff, and administrators on student success and equity. The goals of the webinar are to expand knowledge, inspire and motivate campus leaders to be courageous, and lead change in equity-focused hiring and retention practices to support the cultivation of anti-racist teaching and learning environments. This event is for faculty, staff, and students.
Sponsored by: SCSU Asian American Pacific Islander Committee and Center of Excellence for Teaching and Learning
---
Movie Screening: Everything Everywhere All At Once
Thursday, April 13
Adanti Student Center, Room 201
6:00PM
Join the Asian Cultural Society in viewing of the Academy Award-winning film, Everything Everywhere All At Once, featuring Asian actresses such as Michelle Yeoh, Ke Huy Quan, James Hong, and Stephanie Hsu. Grappling with the onset of middle age, a Chinese immigrant discovers that she can traverse across time and space. Teaming up with her alternate lives, the unlikely allies realize that they alone possess the power to protect the world from calamity, plunging them into the midst of an outlandish quest. When an interdimensional rupture unravels reality, an unlikely hero must channel her newfound powers to fight bizarre and bewildering dangers from the multiverse as the fate of the world hangs in the balance. The screening will be followed by a brief discussion of AAPI heritage and the themes touched upon in the movie.
Sponsored by: Asian Student Association
---
AAPI Heritage Month Luncheon
Wednesday, April 19
Connecticut Hall
11:00a.m -2:30PM
Join us for cultural cuisine at Connecticut Hall in honor of AAPI Heritage Month.
Sponsored by: Connecticut Dining Services
---
Racialization of Undocumented Asians
Thursday, April 20
Adanti Student Center, Room 301
12-1:15PM
Join us for a viewing of a recorded workshop on the undocumented Asian community and practices to support this student population. After the presentation, there will be a question-and-answer session with Dr. Daniela Pila (Sociology). The workshop was created by the Smithsonian Asian Pacific American Center (APAC) as part of the "We are not a stereotype: Breaking down Asian Pacific American bias" program series. Submit your questions in the RSVP form.
Sponsored by: DREAMers Action Alliance
---
Building Solidarity Across Racial Lines with Michelle Lee, MD
Thursday, April 20
Adanti 326 or your own computer
2-3PM
Michelle Lee, MD, is a current Cornell resident PGY4 and former Cornell medical student who will join us via Teams. She is a doctor-writer and community advocate based in New York City who has spoken about immigrant AAPI community issues and healthcare worker mental health during COVID. As a first-generation college grad raised by immigrants in NYC, she advances equity and representation in medicine. More information about Dr. Lee can be found here.
Sponsored by: Pre-Health Society and Biopath
---
Asian-American Celebrities You Need to Know!
Thursday, April 20
Adanti Student Center, Room 201
6:00-7:30PM
Join the Asian Culture Society to learn about some iconic Asian American celebrities throughout history up until the present.
---
AAPI Community at Southern
Monday, April 24
Adanti Student Center, Room 301
12-1PM
What does AAPI/API/APA/APIDA mean? Join us to learn about the different terms used to describe Asian Americans from about 50 ethnic groups and more than 40 countries. In addition, we will discuss results from a survey on what communities are represented at Southern. Asian American faculty, staff, and students are invited to take the survey:
Sponsored by: SCSU Asian American Pacific Islander Committee
---
Lunch & Learn: Calligraphy Demo and Workshop
Monday, May 1
Adanti Student Center, Room 201
12:00PM
Join us in learning the history of Chinese calligraphy and gain hands-on experience with expert calligrapher Ms. Weini Zhao, who is trained in the traditional art of calligraphy, while enjoying delicious cuisine in honor of AAPI month.
Sponsored by: Multicultural Center and Southern Connecticut Chinese School
---
Cultural Fest
Wednesday, May 3
Academic Quad
11:30-2:30
Come enjoy the annual celebration of global culture as we present food, dances, clothing, and songs from a vast range of cultures, including performances from the Mulan Dancers who will perform traditional Chinese dance styles featuring Mulan quan (a modern form of combination of tai chi and martial art designed for women).
Sponsored by: Multicultural Center & Office of International Education, Office of the President, Student Affairs, World Languages and Literatures Department
---
Sponsors
Asian Student Association
Connecticut Dining Service
DREAMers Action Alliance
Multicultural Center
Office of International Education
Office of the President
Pre-Health Society and Biopath
Student Affairs
The SCSU Asian American Pacifi­c Islander Committee
Center of Excellence for Teaching and Learning
World Languages and Literatures Department
Southern Connecticut Chinese School
Integrated Justice and Social Change Collaborative