The Food Pantry can be utilized by all active Southern students. This means that anyone enrolled in a course at Southern can use the Food Pantry.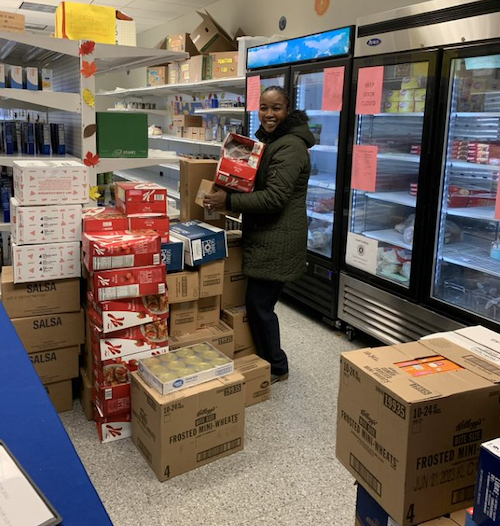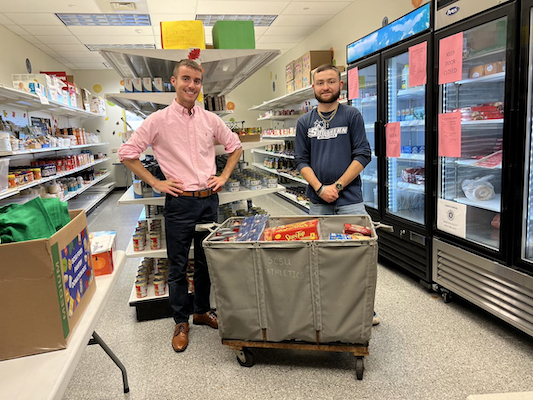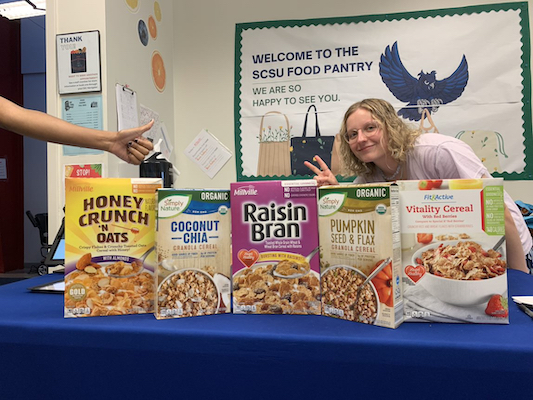 Donate to the SCSU Food Pantry
You can help the pantry by donating various food items, toiletries, and other supplies that support students' academic success and healthy living. Frequently requested items at the pantry are listed below:
Menstrual Hygiene Products
Deodorant
Soap
Shampoo and Conditioner
Pasta
Boxed Mac 'N Cheese
Nut and Seed Butters
Breakfast Bars
Instant Coffee
Rice cakes
Granola Bars
Canned Fruit
Fruit Cups
Soups (chicken, tomato, veggie)
Canned Beans (black, baked, chickpeas)
Rice
Oatmeal (packaged in single servings)
K-Cups
Cooking/Vegetable Oils
Ramen
Gluten-Free products
Meals in a cup (oatmeal cups, mac n cheese cups)
Sauces (tomato/alfredo/bbq)
Bread/Bagels
Snacks
Toothbrushes/tooth paste
Baby items (Diapers, Wipes, Formula, Snacks, Food, Blankets, Hats, Books)
Organizations and partners
Organizations and partners who have shown their support to the SCSU Food Pantry:
Haven's Harvest
Gather New Haven
Midwest Food Bank
CT Shoreline Rotaract
Various SCSU departments and offices
Volunteer with the SCSU Food Pantry
The Food Pantry could always use a helping hand! Please email foodpantry@southernct.edu if you or your organization is looking to donate some of your time.
In order to use the Food Pantry, students must adhere to the following guidelines:
Students must type in their student ID number or swipe-in and out using their Hoot Loot card when using the Food Pantry.
Students may take one bag of food per shopping experience at the food pantry. Please bring a reusable bag with you to the pantry.
Students may shop once a week.
Respect item limits to ensure all students experiencing food insecurity can get what they need from the pantry. If you are confused or concerned about the limit, ask an employee for clarity and support.
Please remain respectful with our student workers.
During the Fall 2023 semester the SCSU Food Pantry will be open:
Monday - Thursday 9:00am - 4:30pm  
Fridays: 9:00am - 11:00am
The Food Pantry is in the Wintergreen Building across from the James Moore Field House and adjacent to Jess Dow Field.
If you are facing the main entrance of the Wintergreen Building, we are on the top left corner of the building. To enter the Food Pantry, walk by the parking spaces in between the Wintergreen Building and the James Moore Field House. Enter the door at the top of the metal ramp where you see the "SCSU Food Pantry" sign.
The Food Pantry is in room 141, which is directly straight ahead of the door that you entered from the outside.
The Food Pantry has a separate entrance than the rest of the offices in the Wintergreen Building – the Food Pantry is not accessible through the main entrance of the Wintergreen Building.