This office is responsible for diversity and equity compliance initiatives and programs at Southern Connecticut State University. We provide support and advice to all university offices on recruitment and retention issues, sexual harassment prevention training, diversity, discrimination and harassment, the Americans with Disabilities Act, and Title IX.
View Policy Statement Responsible Employee Training
Continuing Notice of Nondiscrimination
Southern Connecticut State University does not discriminate on the basis of age; ancestry, color; gender identity and expression; intellectual disability; learning disability; mental disorder; physical disability; marital status, national origin; race; religious creed; sex, including pregnancy, transgender status, sexual harassment and sexual assault; sexual orientation; veteran status; or any other status protected by federal or state laws. The following person has been designated to handle inquiries regarding the non-discrimination policies: Paula Rice, Director/Title IX Coordinator, Office of Diversity & Equity Programs, 501 Crescent Street, BU 240, New Haven, CT  06515, (203)392-5568, ricep1@southernct.edu.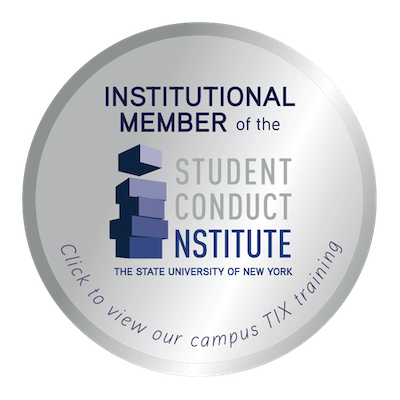 SCSU is a member of the State University of New York's Student Conduct Institute or SUNY SCI.
SUNY SCI provides in-depth live and digital training to student conduct officials, hearing officers, Title IX officials and other college personnel in due process, trauma-informed investigations and adjudications, questioning and weighing of evidence, and other crucial best practices in the investigation and conduct process that comply with relevant case law, Title IX guidance and the Clery Act.