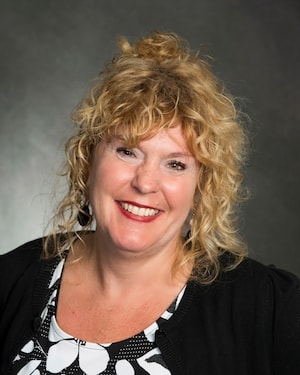 Michelle Lawler, MS, NCC, LPC
Counselor
Pronouns:  She/Hers
  
Michelle A. Lawler, Nationally Certified Counselor (NCC), Connecticut State Licensed Professional Counselor (LPC) is a first generation college graduate having received her Bachelor's Degree from St. Bonaventure University and Masters from Southern Connecticut State University. 
Michelle has worked at SCSU within the Division of Student Affairs for over 30 years and 20 plus of those years have been as a clinician in the Counseling Services Department.  Her passion is working with Southern' s diverse student population and helping all clients discover their resilience, strengths and values in life resulting in peace, hope, meaning and well-being.  She is a certified Grief Recovery Specialist with specializations in loss by suicide and trauma and pet loss and a Clinical Trauma Professional.  She is a long time certified instructor in QPR, a Suicide Prevention method and was the founding co-chair of Southern's Support and Resource Team (SART).   Her areas of expertise also include spirituality, positive psychology, self-care, sexual assault, domestic violence, bullying and post traumatic growth.  She is an active member of state and national professional development.
Michelle believes in facilitating hope and meaning in one's life.  Two important quotes:  Australian psychologist and Holocaust survivor Viktor E. Frankle (author of Man's search for Meaning) writes:  "When we are no longer able to change a situation, we are challenged to change ourselves."  And Zen Master Thich Nhat Hanh says, "Hope is important because it can make the present moment less difficult to bear. If we believe that tomorrow will be better, we can bear a hardship today."