Program Description
Southern CT State University's BSW Program is 1 of 7 accredited undergraduate programs in CT. Accepting between 70-80 students per year, this 45-credit program prepares students for social work generalist positions and graduate programs. Students will gain experience in the field practicum that consists of a year-long, 400 hour (minimum) internship during the third and fourth semesters in the program.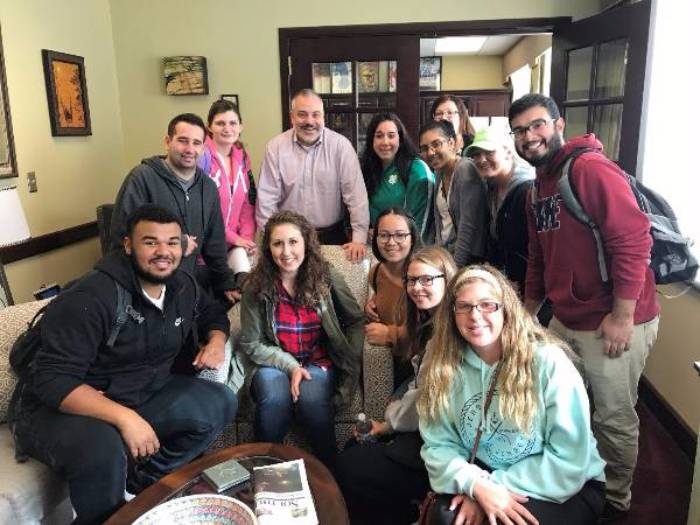 First Year
Fall Semester
Spring Semester
SWK 320 — Human Behavior & Social Environment I
SWK 321W — Human Behavior & Social Environment II
SWK 350 — Social Work Research Methods
SWK 390 — Social Work Interviewing Skill
SWK 376 — Methods of Intervention I
SWK 380 — Child Welfare Practice,
SWK 381 — Mental Health & Addictions,
or SWK 382 — Social Work with Elders
Second Year
| Fall Semester | Spring Semester |
| --- | --- |
| SWK 330W — Social Welfare Institution & Policy I | SWK 378 — Methods of Intervention III |
| SWK 377 — Methods of Intervention II | SWK 430 — Social Welfare Institution & Policy II |
| SWK 490 (6cr.) — Field Practice: Seminar I | SWK 491 (6 cr.) — Field Practice: Seminar II |
Application Process
Applications open in early-December and close on February 15th. A link to the online application will be posted on the BSW Admissions page. After review, candidates that applied by the priority deadline will be notified of a decision by March 31st  via email. Students who are accepted, will be so on a conditional basis dependent upon their completion of spring courses.
Priority Application Requirements include:
Completion of online application by February 15th
Completion of a minimum of 57 credits
Grade Point Average (GPA) of 2.75 or higher (catalog term Spring 2020 and after);
SWK 200: Introduction to Social Work (Grade of B or above)
Completion of ENG 112: Composition (Or course equivalences)
Completion of MAT 107: Statistics (Or course equivalences)
*** Students may be enrolled in these credits/courses during spring semester of application period.
Field Internship
Second-year BSW students will complete a one-year field internship with an agency-based field instructor who has been approved by the Social Work Dept. Field Education Office. Students will simultaneously attend a weekly field seminar course (SWK 490/491), where they may share their experiences with the professor and classmates. The goal for the academic year is a minimum of 400 hours, which breaks down to 16 hours a week, or a minimum of 200 hours per semester.
The on-site experience acquired in this internship is the cornerstone of a social work education. Each year the SCSU Social Work Department has a number students interning across the state. Many students get jobs and references from these positions after they graduate.
Advising
Students who declare social work their major will be assigned a full-time faculty member as their adviser. Their advisor will provide support with course planning and guidance on career trajectory. 
Career Options
BSW students become primed for social work generalist positions, including:
Youth: Adoption, Child Day Care, Foster Care, Family Service, Public and Private Child Welfare Agencies, and Elementary/Secondary Schools
Substance Abuse: Head Start, Early Intervention, Outpatient and Residential Treatment, and Community Mental Health Centers, and Psychiatric Hospitals
Older Adults: Senior Medical Centers, Hospice, Home Care Agencies, and Hospitals
Government: Advocacy Organizations, Community Action Agencies, Community Centers, Local, State, and Federal Agencies and Courts
Correctional System: Prisons, Youth Detention Centers, Parole Agencies
Veterans: Military and Veteran Affairs
The BSW also grants students eligibility for advanced standing in a Masters in Social Work degree.