The University and the IT department provide access and support for the following video conferencing tools to enhance collaborative learning:
Blackboard Collaborate Ultra is a synchronous communication and video conferencing solution that is integrated in Blackboard, the SCSU learning management system. It provides students and faculty with quick and easy access, from the Blackboard Course shells, without the need to install any additional software.
Faculty will find the application in their course shell, under the "Course Tools" heading.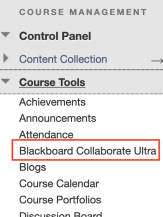 To make it available to students, faculty can add it as a "Tool Link" from the "Add Menu Item" button.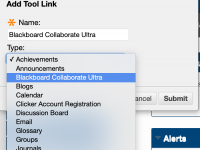 Once added to the course, faculty and students can take advantage of the following features:
The ability to use the pre-created "Course Room" for easy start and access to a synchronous meeting. Unless locked, once provided with access to Blackboard Collaborate Ultra, students can also use the room to collaborate without the instructor being present.

The ability to schedule sessions that can also repeat based on a predetermined schedule.

Once a session is started, participants can video chat, text chat, share applications, documents, and a whiteboard. The moderator (the person who initiated the meeting; usually the instructor) has the ability to assign other participants as presenters to share from their computer with everyone in the meeting.

In a session, participants can see the videos of up to 5 other participants. If less than 5 participants are present, the videos can be arranged in a grid view. If there are more than 5 participants, the screen will show the primary speaker and four other smaller video squares underneath the main one.

Faculty can design and initiate polls.

Faculty can initiate breakout groups that are populated randomly or have assigned participants.

Participants can use their phones for the audio portion of the meeting.

Faculty can record the meetings. Once recorded, the videos remain a part of the Blackboard Collaborate Ultra, accessible by all course participants from the "Recordings" menu. Faculty can also copy a link to the recording and make it accessible to students from other areas of the course.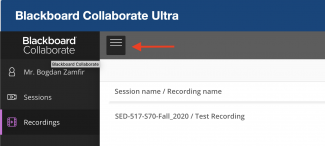 Further Blackboard Collaborate Ultra resources:
Blackboard Collaborate Ultra Recorded Training - September 4, 2020
Similar to Blackboard Collaborate Ultra, WebEx is a video conferencing solution that allows faculty at SCSU to conduct synchronous class meetings and office hours. All faculty at SCSU can request a WebEx account by contacting the Helpdesk by phone at 203-392-5123 or by email at helpdesk@southernct.edu. The SCSU Helpdesk WebEx page provides both video and written instructions on how to get started. WebEx is accessible via the web browser, a desktop computer application, or a mobile device app.
Some of the advantages of WebEx include:
The ability to see up to 25 participant webcam videos in a grid view.

The ability to set a virtual background to enhance privacy. 

The ability to share the screen, applications or a whiteboard.

The ability to allow, or restrict, other participants to share their screen or applications 

The ability to lock the meeting room to prevent unwanted participants from joining.

The ability to conduct polls.

Faculty can easily schedule meetings, both single meetings and recurring meetings, or can use their personal WebEx rooms to meet with students.

Students do not need a WebEx account to join the meetings.
Further WebEx resources:
Microsoft Teams provides numerous tools for creating a collaborative workspace, while integrating other Office 365 apps and services. The customizable workspace includes features such as instant-messaging chats, video or audio calls, screen sharing, file sharing, the ability to schedule meetings, and more. Available as a desktop application, smartphone app, and website, Microsoft Teams allows users to access these tools from anywhere. The SCSU Helpdesk Microsoft Teams page includes numerous guides from how to install and get started with Microsoft Teams to how to create and manage meetings.
Some of the advantages of Microsoft Teams include:
All SCSU users (students, faculty and staff) are by default provisioned an account and can initiate meetings, create collaborative spaces, and be found easily in the Microsoft Teams directory when scheduling a meeting.

Up to nine participant webcam videos can be displayed in grid format at one time.

Virtual backgrounds to enhance privacy.

A synchronous conversation can be complemented by text based asynchronous conversations.

Both single meetings and recurring meetings can be easily scheduled and are automatically integrated in the Outlook calendars of all participants.
Further Microsoft Teams resources: