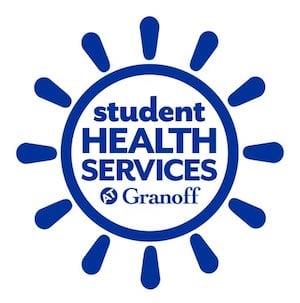 Our goal is to help students stay healthy and well. 
Mission
Student Health Services provides clinical health services, screenings, health promotion & case management with a focus on the physical, emotional & social needs of the whole student.
Emergency Services
If you or someone you know is experiencing a life-threatening emergency, including a health, mental health, or substance abuse-related emergency, please bypass this page and contact 911 or go to your local emergency department immediately.
Services We Offer
Medical Services
Treatment of Illness and Infections 
Treatment of Injuries and Pain (not from motor vehicle accidents)
Men's and Women's Health 
Dermatological Issues
Management of seasonal/environmental allergies
Clinical/employment, sports physicals
Gender and well-person care
Assist with management of chronic conditions
HPV Vaccines (Grant Funded) 
Reproductive and Sexual Health
Contraception (Oral contraception pills, Depo-Provera injections, NuvaRing. etc...)
Emergency contraception (Plan B)
Sexually Transmitted Disease Testing and treatment
Expedited Partner Therapy
HIV PrEP 
Vaginal infection testing 
Pap smears
Pregnancy testing
Rapid HIV Testing available
Male and female condoms, dental dams
Medications and Medical Supplies
Select prescription and over-the-counter (OTC) medications on hand for reduced fee
Medical supplies such as braces, crutches, etc...
Pharmacy delivery available
Laboratory and Diagnostic Services
Strep, Mono, and Flu testing as indicated
Blood Draws (Sickle Cell, titers, Quantiferon testing, etc…)
TB screening
Urinalysis
Pap Smears
STI testing
Pregnancy Testing 
And much more as necessary
Health Promotion
Health Education Programs
Screenings
Follow us on Instagram for program updates and times!
Student Health Services provides accessible, affordable and convenient health care, medical case management, referrals, screenings, sexual/ reproductive health care, and health promotion. We care for the whole student, promoting student wellness and success. We also partner with on-campus resources such as Counseling Services to assist in holistically addressing the needs of students who may be experiencing mental health or other concerns.
Insurance is not required and there are no copays for visits. 
Occasionally, students may be charged a small fee for prescriptions or on-site testing, which is billed to the student account.
Lab services are available in-office and processed through Quest Diagnostics and the Department of Public Health.
Telehealth Appointments are available.
Please note:
We are unable to evaluate injuries sustained as a result of motor vehicle accidents.
We do not routinely provide notes for missed classes. Students are expected to communicate with professors directly in the event of a missed class.