Our goal is to help you stay healthy and well.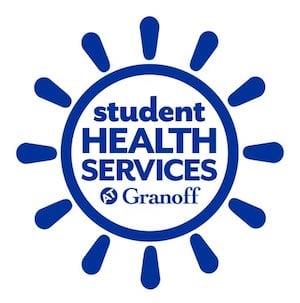 Mission
Student Health Services plays an essential role in the health and well-being of students by providing accessible, quality health care, campus outreach, and health promotion. Using a holistic and collaborative approach, Health Services is an ally to all students. We provide learning opportunities for students to achieve their academic goals, to become informed health care consumers and to learn lifelong healthy behaviors.  All registered students are welcome and encouraged to access the medical care available in Student Health Services.
Contact Us
Please contact us at (203) 392-6300 or by email at healthservices@southernct.edu. We are located in Granoff Hall 14 Wintergreen Ave. New Haven, CT.
Benefits to Utilizing Student Health Services
You don't have to leave campus for healthcare -- our services are available right here, at no out-of-pocket cost to you. Whether it's a medication refill, injury, or illness we are here to help with whatever we can. Learn more.
Medicat Health Portal
Check the status of your requirements, view appointments, and review health records by logging in to the Health Portal.
Health Requirements
All students must complete the CSU Health Services Form by August 1 (Fall deadline) or January 1 (Spring deadline). Learn more.
Note to Parents: For questions regarding health forms and other information submitted to Health Services, have your student log into their patient portal to see the status of their documents. We encourage students to become familiar with using this portal to access our services.
How to Check Your Immunization Requirement Status →
Emergency Services
If you or someone you know is experiencing a life-threatening emergency, including a health, mental health, or substance abuse-related emergency, please bypass this page and contact 911 or go to your local emergency department immediately.
COVID-19
All students attending SCSU are strongly encouraged to be up to date on their COVID-19 Vaccinations. You can find information about COVID-19 vaccination, the benefits, and frequently asked questions on this website, CDC- About COVID-19 Vaccines.
Monkeypox
Anyone can get Monkeypox. Monkeypox can be acquired by all people, regardless of gender identity or sexual orientation. It is primarily spread through close contact. Learn more about Monkeypox.