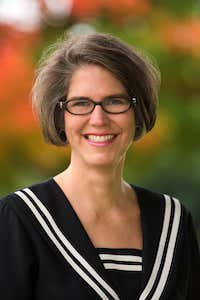 Dear Southern Students,
It is with energy and excitement that I introduce myself to you as your Vice President for Student Affairs.  This is my 9th year at Southern, and I have worked tirelessly to support a positive and productive environment for students.  I'd like to tell you more about my job and my commitment to helping you to earn your degree.
As the Vice President for Student Affairs, I am responsible for overseeing much of the student experience that takes place when you are not in class.  I work with a team of amazing colleagues to provide programs and services to create a journey that helps you become your best self.  We are excited for you to explore new areas of interest, take informed risks, stretch beyond your comfort zone, and make discoveries about yourself.  We value what you bring to us and what you seek from your Southern experience.  We want to help you develop skills and engage in experiences that will prepare you to stand out as you enter graduate studies or the workforce upon graduation.  To realize these goals with you, we focus on several areas that we believe set you up for success and help you to reach your graduation destination.
I see you as unique individuals with unique goals and dreams.  You are each on a path to a better future, to gain knowledge and expertise and increase your earning potential.  A degree will open doors that otherwise might remain closed.  I am very aware of how important it is that you feel seen and heard on campus.  You are not just another student.  You are YOU!  You matter to us, and we will work hard to help you navigate the complexity of the university and maximize your opportunities.  College is also a shared journey, and I want you to connect in meaningful ways with your peers, your faculty, and staff across the university.  Getting involved on campus and in our community will help you find your place and leave a legacy.  We are better because you chose Southern, and you will be better because you chose Southern. 
Your health and well-being are also very important to me.  I know that students who feel good, both physically and emotionally, have a greater capacity to learn and perform in the classroom. If you are healthy, you will be more confident, you will be more resilient, and you will be happier. You will also have healthier, more productive relationships.  To realize this more positive state, we want to help you work through any challenges you might face so that you can make progress toward that goal of a Southern degree.  College can be stressful, but you don't have to go it alone.  There are many people at Southern ready to help.  You just have to let us know that you need something, and we'll be there to coach, support, and partner with you to find solutions.
I continue to work with colleagues in Student Affairs and across campus to provide resources and tools that help you make good choices about the classes you take, know what is required for your degree, and pivot when you are headed in a direction that you realize isn't the best fit for you.  Some journeys are straighter than others, but they can all lead to a Southern degree.  Sometimes you just need someone with whom you can talk through your options, who will affirm that it is okay to make a change and help you find a new path.  We can help you find that someone.  It is never too late to ask for help!
As we focus on all these things to support your success, I also recognize that colleges and universities are filled with systemic racism, oppression, and unconscious bias, and Southern is no different.  Student Affairs staff participate regularly in training and development to increase our cultural consciousness and understanding so that we might create more equitable and inclusive experiences for our students.   We have identified opportunities to grow our support for students who identify as transgender and gender non-binary to help them feel more welcomed on campus.  We have intervention initiatives that help students of color who have had struggled academically to improve their performance.  We have created new programs to support students who identify as first generation and their families to ensure they know how to navigate the complexities of college.  We have modified policies and practices that create inequitable experiences or unnecessary barriers to earning a Southern degree.  Even as I spend a lot of time with colleagues on efforts to identify and minimize harm, I hear enough student (and others') stories to know we have a long way to go.  I want you to know that we are always working to create a living and learning environment that values your intersectional identities, allows for growth and understanding, and expects a high level of respect for self and others. We are a community of people who care about each other and stand up for what is right.   
I want you to be proud to be a Southern student, and one day a Southern alum.  I am proud to work at Southern and be a part of your network of support.  Consider me a member of your success team.  And, let me know how we can help you choose Southern every day to ensure you have the very best possible college experience as a Southern Owl!
With warm regards,
Tracy M. Tyree, Ph.D.
Vice President for Student Affairs