The Union Station route was designed to provide safe and reliable service to and from campus and Union Station in New Haven. This route is an express route providing service to each stop every 30 minutes.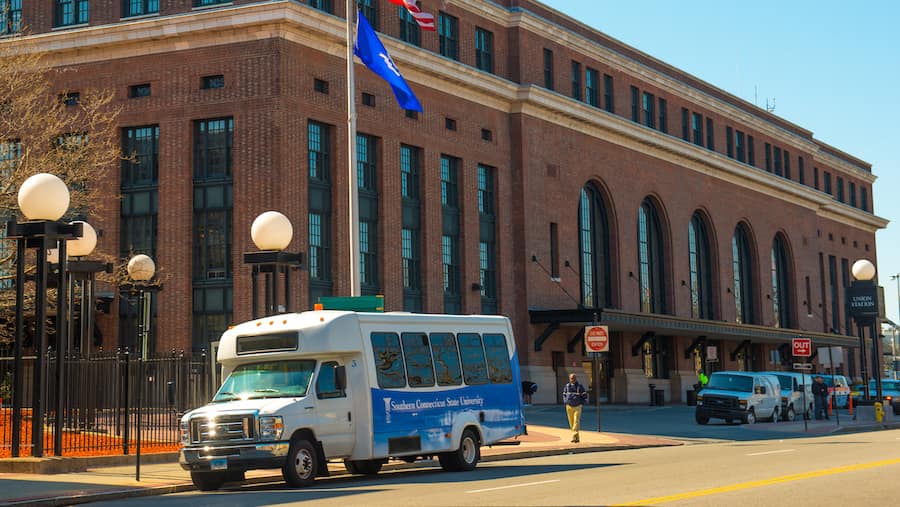 Please note: The only shuttle services offered during the spring 2021 semester will be Union Station and the Lift-Equipped Shuttle. All other services will be suspended until further notice.
On

Monday, February 1, 2021

, Shuttle services are expected resume for the spring 2021 semester.
Regular Semester Service Hours
Please note that the University Shuttle schedule for the fall semester has been modified. As of Monday, Oct. 12, both the on-campus Lift Assist service and the Union Station shuttle service will be reduced by one hour Monday-Thursday, concluding at 8 p.m. daily. The revised schedule has been listed below:
Monday - Thursday (7:15 a.m. to 8:00 p.m.)
Fridays (7:15 a.m. to 5:00 p.m.)
The Union Station Shuttle provides shuttle service from Southern to Union Station in New Haven. The shuttle will operate Monday through Thursday between the hours of 7:15 a.m. to 8:00 p.m. and Friday between the hours of 7:15 a.m. to 5:00 p.m.
The shuttle will pick-up and drop off passengers outside Union Station and at the campus shuttle stop outside of Morrill and Jennings halls (Main Lot – P2). Riders are encouraged to call First Transit at (203) 281-5470 for more information