Southern's On-line Assessment System
Tk20 is an online assessment system that allows you to organize and upload relevant professional documents. Faculty members will be able to score your assignments, evaluate your progress in accordance with state regulations, and document your readiness for certification. It helps us ensure that you receive the necessary training to become certified in your field, as an excellent, well qualified professional.
In Tk20 you will upload representative assignments, professional documents, and other materials related to key program assessments including field experiences, student teaching, and clinical placements. Please note that all College of Education and certification students must purchase Tk20.
In addition, as long as your Tk20 account is active (7 years from purchase date), you have the option of creating an electronic presentation portfolio that may include documents, sample student projects, pictures, videos, etc. This portfolio is completely customizable and can be personalized to your needs. Tk20 organizes this customized information into one convenient link that you can send to various potential employers, supervisors, or whomever.
Access to Tk20
Questions?
Obtaining a Tk20 Account
Please DO NOT purchase your student Tk20 account from anywhere but the school's bookstore or www.southernct.tk20.com
Other discounted accounts WILL NOT work on our system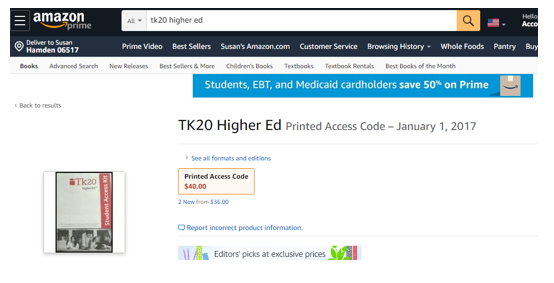 To purchase your account online:
Go to the link in the bottom left-handed corner:  "Click here to purchase or register your student account"
Select the option:  "I need to purchase my Tk20 student account"
 Select a form of payment
Fill out all required (*) information
Click submit.
You will receive an email once your account has been activated (2-3 business days).
NOTE:  be sure to check spam/junk mail folders for activation email.
To purchase through the bookstore:
Purchase a Tk20 Student Activation Kit at the bookstore.
The kit contains a unique registration number.
Go to the link in the bottom left-hand corner:  "Click here to purchase or register your student account"
Select the option:  "I need to register by Tk20 student account purchase made at the bookstore"
Fill out required (*) information, including the 34 digit registration code found in your kit.
Click submit.