Introduction: SPAR's pre-award services are available to you from the earliest stages of proposal development until the start date of your funded project. Additional supports include contract negotiation, applications for continuation funding or project renewals, and further support for your work from other sponsors after your current project concludes. 
If you have several project ideas, or are not certain where to begin, please complete one of our Faculty Research Interest Surveys and return it via e-mail. We will set up a meeting, introduce you to the functions of our subscription funding database, SPIN, and discuss potential sources of support or ask further questions about your possible project(s). 
If you have a specific project in mind and a potential funding opportunity selected, please fill out one of our Intent to Apply  forms or simply get in touch with a SPAR pre-award staff member. While you are welcome to contact the SPAR office at any time during your proposal preparation process, we strongly encourage you to give us at least 30 days' advance notice in order to give you access to our budgeting, proposal planning, and editing support services. 
SPAR's pre-award process uses an internal "Proposal Development" module within Kuali Research. The Principal Investigator (PI) and project team will be given access to this module in order to view budget versions, check uploaded documents, and complete internal approvals. Please note, Kuali Research is an internal portal, not a submission or funder portal. If proposals must be submitted electronically, SPAR will coordinate with the PI to prepare grant materials within the appropriate external platform. 
The Pre-Award Process: The work of proposal preparation is divided collaboratively between the PI, their project team, and the SPAR office. Our process follows the general pattern outlined at a very high, condensed level below, with ongoing contact and communication between all parties. In particular, please note the key role of the Chairperson, Dean, and Authorized Organizational Representative (AOR) approval in advance of any submission to an external funder on behalf of SCSU.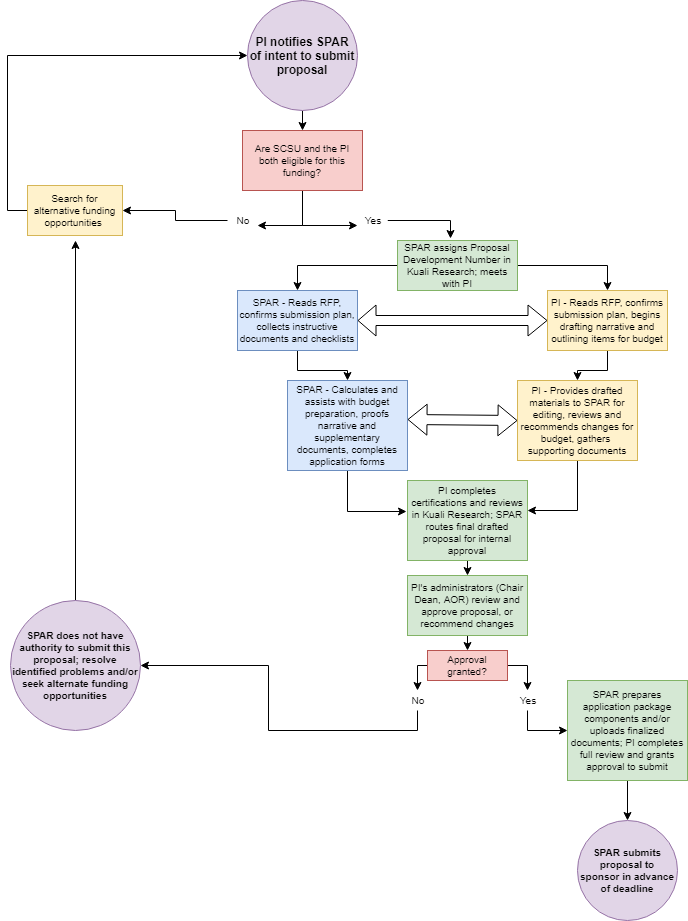 Proposal Planning Resources: The following resources are meant to help you determine whether a selected funding opportunity is appropriate for you and prepare your project prior to submission. If you find that a link is broken, please contact the pre-award staff. In addition, please visit our Announcements page for a list of upcoming semester events. Let us know if there's a subject you'd like to learn more about, and check back frequently for updates. 
External Funding Opportunities Search: This link redirects you to our page about SPIN, an aggregate database for funding external funding.
Funding Eligibility Checklist: Like projects, funding opportunities come in many shapes and sizes, and not every funding opportunity will be a guaranteed fit. Funders may specify who is eligible to receive grants based on their geographic location, organization type, level of experience, or even the types of costs they expect to incur. This one-page checklist is meant to be a guide for helping you determine whether or not a funding opportunity is appropriate to your needs. 
Proposal Preparation Spreadsheet: While preparing a proposal, it often helps to have a series of internal, personal check-points that fit around the SPAR internal approval process and the different components required for a submission. This spreadsheet allows PIs or SPAR staff to input a due date, a date when they began their work on an opportunity, and map out an intervening series of regularly-spaced milestones to keep on track.