The Southern Testing Center is excited to be a location for the GRE. If you are considering the Southern Testing Center as your testing site for the GRE, this page will provide you with all the information you need.
  
How do I sign up to take the GRE at the Southern Testing Center?
During the GRE registration process, you will be prompted to choose a location. At this time, you can choose Southern Connecticut State University as your testing site. You will then be added to the roster for this location.
 
I have selected Southern Connecticut State University as my testing site – what do I do now?
Please read all procedures and directions from GRE to know the suggested arrival time, the time the test begins, what to bring on test day, the length of time you can expect the test to take, and the structure of the test. 
 
Where do I go on the day of the test?
On the day of the test, you will come to Southern Connecticut State University (501 Crescent St, New Haven, CT 06515). Testing will take place in Engleman Hall. There are multiple ways to enter the building – please see campus map below to determine what your plan will be on testing day.
Recommended entrances into the building:
Pine Rock Avenue x Fitch Street parking lot (closest to check-in area inside)
Crescent Street parking lot
Check-in will occur on the 1st floor of Engleman Hall between the A-Wing and the B-Wing. Those entering on the Crescent street side will need to climb staircase upon entering the building and follow the hallway down to check-in area.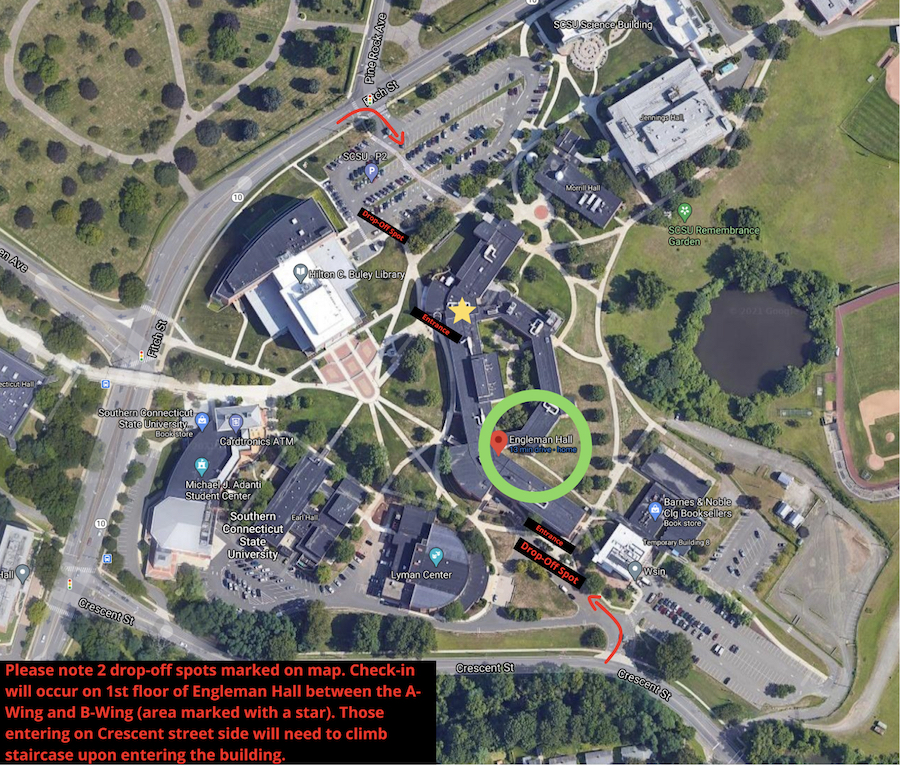 When is the GRE being held at Southern Connecticut State University?
The GRE will be administered at our location on the following dates:
I have more questions – what should I do?
If you have further questions regarding testing day, you are welcome to call or email the Southern Testing Center, where someone will be happy to assist you.  Please see below for contact information: 
Phone: 203-392-8967
Email: scsutestingcenter@southernct.edu