Your Student Can Study Abroad Southern and Expand Their Worldview! Study Abroad on a budget is a "THING," and in some cases, it won't cost you more than studying at Southern!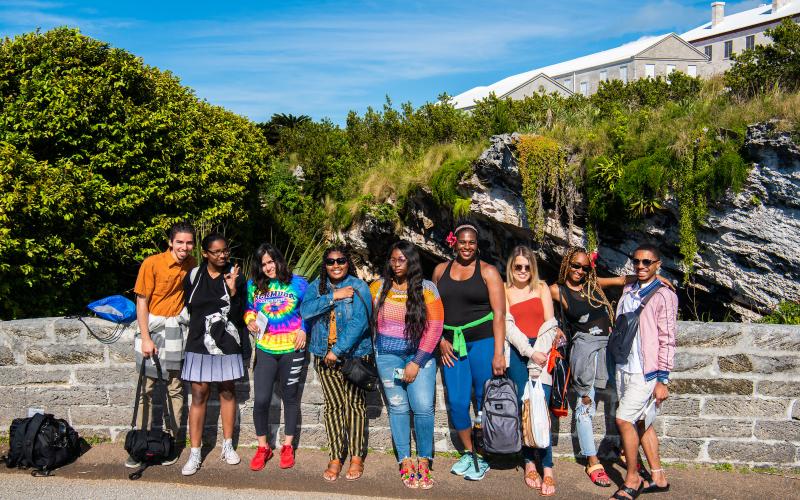 What is Study Abroad?
Study Abroad's "bare-bones" definition is to take classes that count towards your degree requirements at Southern, but in another country – either through a university or an organization with a partnership agreement with Southern.
A much more exciting definition (to borrow from GoAbroad.Com): Study Abroad is more than just sightseeing. It's taking big leaps, going with the flow, thinking in new ways, singing new songs, tasting new flavors, adventuring far and wide, overcoming challenges, raising cultural awareness, marching to your own beat, catching the sunset, and discovering yourself."
A study Abroad experience can last from one week to two semesters, depending on a student's academic goals, personal interests, scheduling considerations, and financial resources.
Why Encourage Your Student to Study Abroad?
Employment edge gain- only one in 10 U.S. students study abroad during their undergraduate career, so students who go abroad stand out from the crowd as culturally savvy and mature.
Enhance soft skills such as communication, cultural awareness, adaptability, self-reliance, curiosity, courage, problem-solving, and leadership.
Students who study abroad are twice as likely to secure a job within six weeks of their graduation day!
How to Encourage Your Student to Study Abroad at Southern?
Maintain a GPA of 2.75 and earn a minimum of 30 credits.
Schedule an appointment with the Office of International Education to complete an application the semester before travel. Our staff will help your student (and you) understand the travel options and complete the pre-approval courses. A study abroad coordinator will meet with your student (and you) frequently to guide you through the entire process, including using financial aid and applying for scholarships to pay for study abroad.
The Office of International Education
Erin Heidkamp
(203) 392-6975
heidkampe1@southernct.edu
General Resources
Website - All Abroad (a website with resources for African American, Asian/Pacific Islander, Latino/a, and Native American Students)     http://allabroad.us/resources.php
Stamped Podcast - Episodes that highlight the study abroad stories of Black/African-American students and students of color  https://anchor.fm/STAMPED
Article - "Red, White, Blue, & Black: Navigating my African-American Identity in London" https://ifsa-butler.org/student-story/navigating-my-african-american-identity-in-london/
E-Book Download – Meaningful Travel Tips and Tales: LatinX Perspectives https://www.goabroad.com/articles/free-ebook-meaningful-travel-tips-tales-latino-travel
Website – Teen Vogue, "Teens of Color Abroad Addresses Racial, Economic Disparity in Study Abroad" https://www.teenvogue.com/story/study-abroad-teens-of-color
Website – Travel Noire (cultivated insights from a community of Black travelers): https://travelnoire.com/
Website – Arcadia Abroad, "Black and Studying Abroad: Tips for Maintaining Your Identity" https://studyabroad.arcadia.edu/about-us/news-publications/details/black-and-studying-abroad-tips-for-maintaining-your-identity/
Website – Diversity Abroad, "Diversity and Inclusion Abroad Guide" https://www.diversityabroad.com/articles/diversity-and-inclusion-abroad-guide
Website – Diversity Abroad, "Managing Black Hair Abroad" https://www.diversityabroad.com/articles/managing-black-hair-abroad
Website – Diversity Abroad, "Realizing my Skin Color" https://www.diversityabroad.com/articles/realizing-my-skin-color
Website – GoAbroad.Com, "Black Students Study Abroad: The Good, The Bad, The Weird" https://www.goabroad.com/articles/study-abroad/students-of-color-study-abroad