Health Services
College can be an exciting but stressful time for both students and parents. At Student Health Services, we want you to know that we take health and safety very seriously. Students are encouraged to visit the Student Health Center whenever they feel it necessary. It is a time of transition for students from being dependent on the adults in their lives to becoming autonomous and independent. Students are taught how to navigate the healthcare system and advocate for their own wellbeing. It is our hope that we can empower them to become proactive and responsible young adults who are prepared to make healthy lifestyle choices.  
We have a team of clinicians including a medical physician, nurse practitioners, and registered nurse who will listen carefully to students, conduct a thorough exam, develop an individualized plan of care, and explain everything clearly. We treat all currently registered students and can provide prescriptions when clinically appropriate. Our goal is to help students understand why they may not be feeling well and give them the tools to care for themselves. 
The idea of having your student seek out healthcare on their own may be intimidating. Please know we are prepared to guide students in becoming independent and proactive. There may be times a student requests for us to speak with a parent or guardian. In those instances, we are happy to communicate with parents, guardians, or collaborating clinicians only after written consent is obtained. We are unable to release any health information, even to parents, without a signed release of information form. 
We are happy to provide educational programming on a variety of important issues including nutrition, mental health and wellness, alcohol and drug use, sleep habits, stress management, and self-care. In addition, we are also happy to assist students in finding a primary care provider or arrange for further treatment with specialists, if needed. 
All students are welcome including graduate students and commuters
Convenient, online scheduling. 
No insurance required
Pharmacy delivery available
   
Available services:
Sick visits and urgent care
Minor injury, aches, sprains
Physicals, health screenings, testing
Women's health and birth control
Sexual health management, STI screening and treatment
Student Health Services
Dorothy Granoff Hall
(203) 392-6300
healthservices@southernct.edu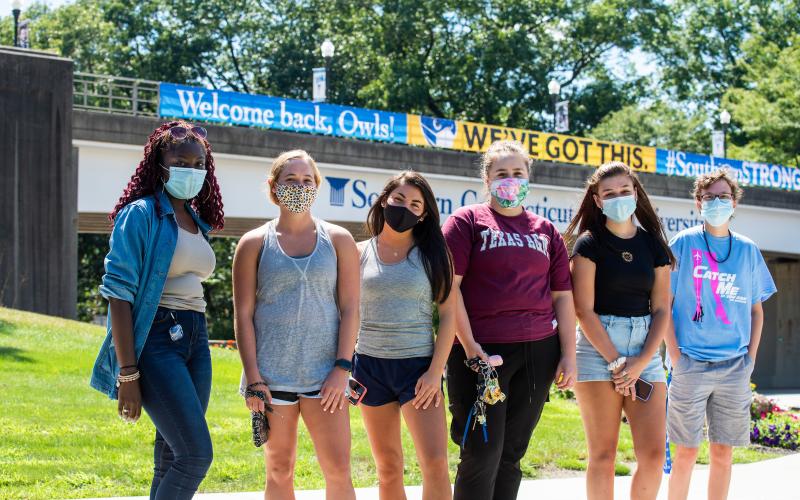 Counseling Services
While we are all excited about our student's growth in college, we also know that sometimes this growth comes with some growing pains, challenges, and setbacks. These struggles are common and understandable, and support is available. Counseling Services has trained professional counselors ready to assist your students in resolving personal problems, improving their mental health and wellbeing, and perform at their best. Counseling Services are free and fully confidential, so students simply need to call 203-392-5475 to schedule an appointment, stop by the office in Engelman B 219, or visit our website for further information at www.southernct.edu/counseling.
Mental Health Support
Mental health is an important part of a successful college experience. Counseling Services is committed to the mental health and well-being of our students. Our services are FREE and confidential to all enrolled students. 
   
Individual Counseling 
Students may schedule a 15-20 minute initial appointment (available daily) in order to obtain a better understanding of specific concerns and how to best help. No cost to enrolled students. 
At the end of this appointment, a collaborative plan will be made for brief, goal directed treatment matched to your needs. 
To make an appointment, call our office at: 203-392-5475 
   
Medication 
We provide assessment, evaluation, and medication consultation for those who are: 
➢ considering medication for the first time 
➢ participating in ongoing counseling at Counseling Services 
Confidential telehealth appointments available from the safety and convenience of your own personal device 
   
Groups & Workshops 
Student Support Groups Grief & Loss Groups Other Therapy Groups AA Meetings Smart Recovery Meetings Stress & Coping Healthy Communication Counseling Services 101 Let's Talk 
Daily, online drop-in service providing informal consultations with counselors. See schedule on our website 
   
Referrals 
For support with finding off- campus mental health and medication providers, use: 
southernct.thrivingcampus.com 
SCSU Marriage and Family Therapy Clinic
(evening & Saturday appts available): 203-392-6413 
Dean of Students
Welcome! We are the Dean of Students Office. Our role is to advocate and support Southern students throughout their time at the university. The Dean of Students Office assists with basic needs (food/housing), technology (WiFi), navigating physical/mental health needs (i.e. surgery, in or out-patient programs), loss of a family member (notifies faculty), and much more! We know your student can be successful and hope you and your student enjoy your time at Southern!
Our Services:
Emergency Financial Assistance
The Dean of Students Office assists students in extreme situations with one-time emergency financial assistance. We have been able to help students who are housing insecure, food insecure, lost work due to illness/COVID-19, cannot make commitments to monthly bills due to loss of income/other financial providers, and many other situations. To inquire about this service, please email deanofstudents@southernct.edu to obtain the financial intake form and to set up an appointment with a case manager. Unfortunately, we are unable to help with medical bills and tuition. Students must be currently enrolled at Southern to be eligible for this program.
     
Students in Need of Desktop Computer (loan) and WiFi (loan) for Commuters Only
If you have a commuter student in need of a desktop computer to help them succeed this semester, please have the student email helpdesk@southernct.edu to put in their request. Unfortunately, there are no laptops available this time. If students are in need of WiFi due to low bandwidth or operating off of a personal hot spot, please email the deanofstudents@southernct.edu. There is light paperwork involved in both processes as each device needs to be returned at the end of the semester.