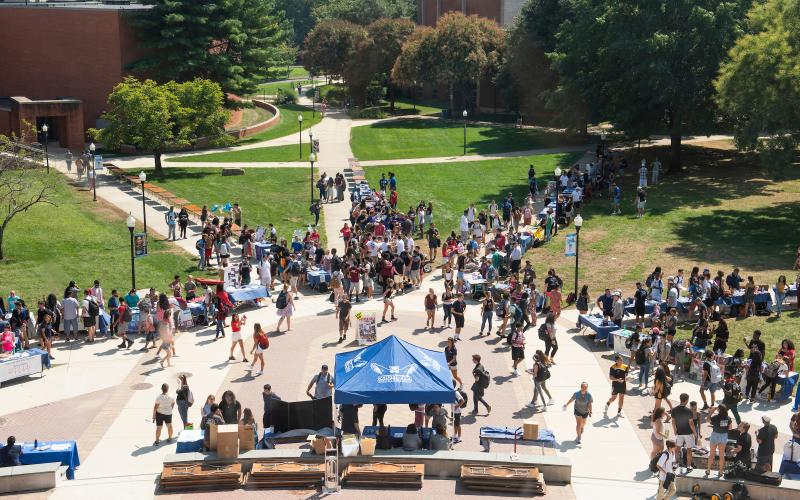 Who are we?
We are the Office of Student Involvement and Leadership Development. You can find us on the 2nd floor of the Student Center in room 212. We have 5 professional staff members that work in our office:
- Denise Bentley-Drobish, Director
- Eric Lacharity, Associate Director
- Daphney Alston, Assistant Director
- Charlene Cammarasana, Assistant Director
- Sedell Hairston-Hatton, Department Secretary
We also have three graduate interns who work for us for about two years as they get their Master's degree, along with a group of student workers, who we call Involvement Assistants, who help us support our students and our programs.
What do we do?
The Office of Student Involvement and Leadership Development creates opportunities for your student to learn and grow outside of the classroom. We want to help them meet new people, learn more about college and what it has to offer, help them learn about themselves, and develop new skills that they will always use after they graduate.
   
We have four areas that we focus on: involvement, service, activities, and leadership.
Involvement
Joining a club is a very important part of the college experience. This is a great way to meet new people, connect with other faculty and staff members, and practice skills like problem-solving and working in a team. Students that are involved in at least club are more likely to have a higher GPA, get internships and jobs, have been connections with faculty and staff, and have long-lasting friendships.
Service
Our office provides different community service opportunities for our students to participate on-campus and in the City of New Haven. Southern believes in giving back and having a strong relationship with the city. Our students go into local schools for reading and math events, they help clean up parks and neighborhoods, work in animal shelters, and serve food in soup kitchens. Some of our students also go to different countries during school breaks to take part in service projects.
Activities
Throughout the academic year, our office hosts big and small events for our students to meet new people, have fun, and make great memories. All of our events are free and open to our students. Our student organizations and university departments also host events throughout the year. Things that may see happen on any given day include concerts, game shows, fashion shows, culture nights, athletic and intramural games, tournaments, lectures, dance parties, pep rallies and so much more!
Leadership
Leadership can look a million different ways on our campus, depending on what the student's interests or passions are. Whether is joining a club, having an on-campus job, playing a sport, or presenting at a conference for your academic department, students have the opportunity to grow their leadership skills through a wide variety of experiences. Right before the academic year starts, our office hosts a three-program called the Freshman Leadership Experience (FLEX). During this program, students will explore and participate in meaningful leadership experiences, interact with student leaders, and learn different concepts of leadership from different faculty and staff. We also have a 7-week program during the semester called the Bronze Certificate Leadership Program. This program helps students learn about their personal leadership styles.
We also provide programming and support for our commuter students. Our commuter events and services include:
Good Morning Commuters- We offer free coffee, donuts, and breakfast sandwiches to commuters once a week.
Commuter Luncheons- Once a month we host a free lunch for all commuter students in the Student Center Ballroom.
Commuter Connection Events- These are events that we host throughout the academic year to give our commuter students an opportunity to meet each other.
Commuter Rentals- We have different essential items that commuter students can rent for free for the day including chargers, umbrellas, lotion, deodorants, etc.
Why do you need to know that?
Getting involved, participating in community service, and learning about leadership are all important experiences our students need to be successful after graduation. Employers want to hire individuals that know how to work with a team, that are prepared to interact with different points of view and can be a global citizen. These are all the skills that students develop while participating in our department's various programs. Yes, it is important to go to class and get good grades, but that's only half the picture. Students need to be able to learn in and outside of the classroom!
What do we do?
The office of Orientation, Transition, and Family Engagement support students through this journey in many ways. Beginning with orientation, we provide opportunities for first-year students (freshmen), transfer students, and parents/families to learn about valuable resources, connect with their peers, and prepare for success. The process of transition continues well beyond orientation. As students continue to explore their connection to the university, OTFE hosts programs, activities, and experiences so that students can successfully navigate their college experience and achieve their goals. We also engage parents and families through regular communication, social media, in-person programs, and virtual experiences so that they can support their students throughout their academic journey.
  
Orientation
First-year students (freshmen) are required to attend an orientation experience prior to beginning their first semester at Southern.
Transfer students are invited and strongly encouraged to attend a TRANSFERmation (transfer student orientation) session prior to their first semester.
All students are enrolled in Digital Orientation (online orientation) via Blackboard. This online orientation program is designed to complement the in-person experience and contains valuable information and resources which can be referenced throughout their first semester.
Parents and Family members are encouraged to participate in Family Orientation.
Transition
The college transition process begins very early in a student's journey and continues until a student feels connected to the university, understands how to navigate the institution and its resources independently, and feels confident in achieving their goals. To support this process we facilitate the following activities and services:
Host New Owl Welcome in the days immediately preceding the fall semester. This two to three-day orientation program is required for all first-year students and encouraged for transfer students.
University Resource Fair during Week of Welcome (first week of the semester).
Several cohort-based experiences (First-Year Fit, Commuter Connections, Explore New Haven) are six-week programs students can register for.
Transfer Student Assistant mentorship and programs.
Sunrise Selection where first-year students can come together to register for the 2nd-semester classes on the day their registration begins
Weekly communication to first-year students and first-semester transfer students
Individual and small group mentoring sessions with professional and graduate staff
    
Family Engagement
When students enroll in college, parents and families may feel both excited and nervous. The academic challenges, new connections, and development of interests and strengths are incredible opportunities, and families are also wondering about university housing, food, campus safety, career opportunities, and financing this educational experience. To support this process we facilitate the following programs and services:
What is important to know?
The college transition will be different for every student. For some, they find their place very quickly. For others, it takes more time. Our goal is to facilitate this process. We are here for students, parents, and families. When questions arrive, we encourage students to reach out to us for support. We also want to hear from our families as well.
Who are we?
We are located on the 3rd floor of Buley Library!
- Sal Rizza, Director
- Devon Wrinn, Graduate Intern
- Kim Allen, Graduate Intern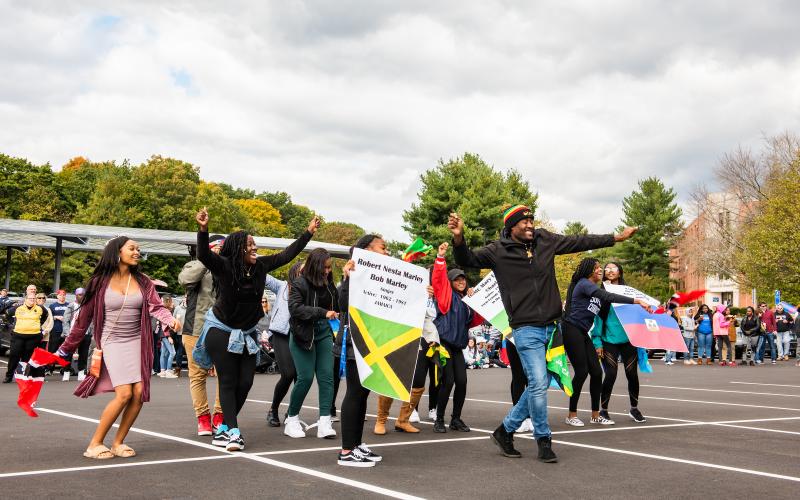 The SAGE Center is committed to providing a positive academic, cultural, and social environment where the LGBTQ+ community at Southern can learn, grow, and thrive. We help to promote inclusion through social and educational programming, advocacy, and support.
The SAGE Center is located in the Adanti Student Center room 324 and is a space for students to do homework, to hang out in between classes, or receive support and resources from the SAGE Center staff, including the SAGE Center Ambassadors. SAGE Center Ambassadors are students who serve as peer educators to promote inclusion in our community around issues that affect LGBTQ+ students, faculty, and staff through a variety of ways, including speaking engagements/facilitations, drop-in hours, and program development.
The SAGE Center is also home to the Open Door Closet which started as a modest wig and clothing drive, that grew into a robust collection or clothing, shoes, accessories, wigs, and toiletries that we are able to make available to students right in the SAGE Center. Students may need to utilize the Open Door Closet for a variety of reasons at various periods during their time at Southern and are always welcome to come to get items, no questions asked. 
The university community is able to stay connected to the SAGE Center staff as well as programming and initiatives through social media, Owl Connect, the SAGE Center Discord Server, among other platforms. For full information to stay engaged with SAGE Center, please visit the contact tab on our website: https://inside.southernct.edu/sage-center/contact
The SAGE Center
Jenna Retort
(203) 392-7126
retortj1@southernct.edu
Welcome!
The Office of Residence Life is your students' "home away from home." The purpose of the Office of Residence Life is to provide a purposeful on-campus living experience that fosters diverse communities, encourages academic growth, and provides the opportunity for your student to building long-lasting relationships. Living on campus not only places students in close proximity to classes and the resources Southern has to offer, but it also opens doors for student involvement and leadership opportunities on campus and provides a chance for students to maximize their overall college experience.
Our residence halls are the perfect place for your student to step out of their comfort zone and meet new people. Making friends and new memories while getting their education offers them an additional layer of support as they are growing into mature, independent and responsible adults.
We, here at Residence Life, want you to know that we are not only here for your student, but we are also here for you too! We understand that while students are making transitions into college life, such as living on campus, parents are also learning and adapting to college life as well. We understand that you may have some questions as well! Therefore, we highly encourage you to reach out to us at any time!
The Office of Residence Life
Robert DeMezzo
(203) 392-5870
demezzor1@southernct.edu