Learn about what COVID-19 is, its risks, and what to do if you have symptoms.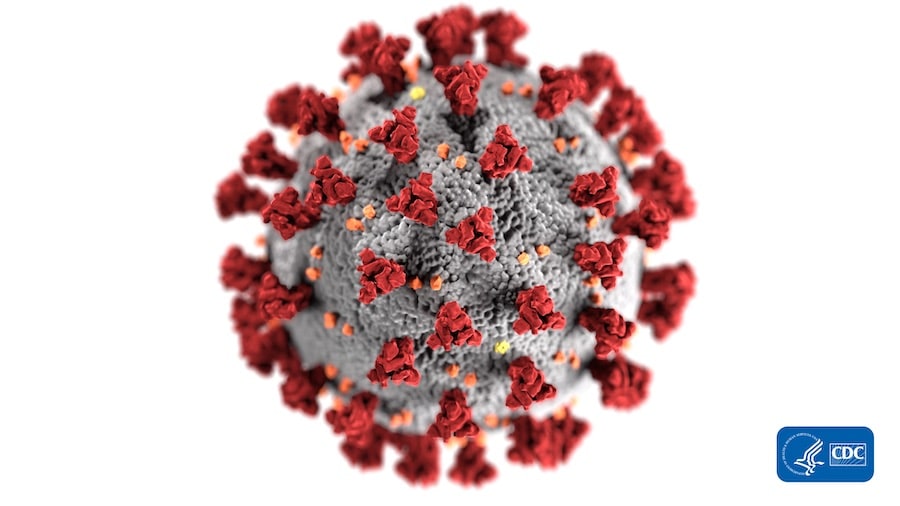 Last updated: August 18, 2021
On This Page
What You Need to Know
Here's what you need to know to stay safe and healthy, and help keep others safe and healthy, too.
What Is Coronavirus Disease 2019 (COVID-19)?*
Coronavirus disease 2019 (COVID-19) is a respiratory illness that can spread from person to person. The virus that causes COVID-19 is a novel coronavirus that was first identified during an investigation into an outbreak in Wuhan, China.
What Are The Risks?*
The potential public health threat posed by COVID-19 is very high, to the United States and globally.
Everyone is at risk of getting COVID-19. Older adults and people of any age who have serious underlying medical conditions may be at higher risk for more severe illness.
At this time, different parts of the country are seeing different levels of COVID-19 activity. The duration and severity of each phase can vary depending on the characteristics of the virus and the public health response.
On March 11, 2020, the World Health Organization (WHO) publicly characterized COVID-19 as a pandemic, or a global outbreak of disease, and on March 13, 2020, the President of the United States declared the COVID-19 outbreak a national emergency.
This is a rapidly evolving situation and the risk assessment will be updated as needed.
Current risk assessment:
People in places where ongoing community spread of the virus that causes COVID-19 has been reported are at elevated risk of exposure, with the level of risk dependent on the location.
Healthcare workers caring for patients with COVID-19 are at elevated risk of exposure.
Close contacts of persons with COVID-19 also are at elevated risk of exposure.
Travelers returning from affected international locations where community spread is occurring also are at elevated risk of exposure.
How Does COVID-19 Spread?*
The virus is thought to spread mainly from person-to-person.
Between people who are in close contact with one another (within about 6 feet)
Via respiratory droplets produced when an infected person coughs or sneezes.
These droplets can land in the mouths or noses of people who are nearby or possibly be inhaled into the lungs.
It can also spread from contact with infected surfaces or objects.
It may be possible that a person can get COVID-19 by touching a surface or object that has the virus on it and then touching their own mouth, nose, or possibly their eyes, but this is not thought to be the main way the virus spreads.
Symptoms*
Symptoms of this illness can range from mild to severe and can include:
Fever
Cough
Difficulty breathing
What to Do If You Have Symptoms of COVID-19*
If you develop a fever and symptoms of respiratory illness, such as cough or shortness of breath, you should call ahead to a healthcare professional and mention any recent travel or close contact with someone showing these symptoms. Your healthcare professional will work with the state's public health department and CDC to determine if you need to be tested for COVID-19. Read about COVID-19 testing in Connecticut. If you do become sick, stay home, except for getting medical care. Do not go to work, school, or public areas. Avoid using public transportation, ride-sharing, or taxis. Patients with confirmed COVID-19 should remain at home until the risk of secondary transmission to others is thought to be low. How long you need to stay home should be a decision made in consultation with your healthcare providers and state and local health departments.
Prevention*
Vaccines that prevent coronavirus disease 2019 (COVID-19) are now available and are being rolled out to different populations in phases. The vaccine rollout is likely to span several months. Read about Connecticut's COVID-19 Vaccine: Phases and Eligibility. The best way to prevent illness is to avoid being exposed to this virus. You can play your part in public health efforts to limit the reach of the virus by taking everyday preventative actions that help stop the spread of germs:
Wash your hands often with soap and water for at least 20 seconds, especially after using the bathroom; before eating; and after blowing your nose, coughing, or sneezing. If soap and water are not available, use an alcohol-based hand sanitizer with at least 60 percent alcohol.
Practice social distancing whenever possible. Avoid crowds and close contact with people who are sick, and put distance between yourself and other people if COVID-19 is spreading in your community.
Avoid touching your eyes, nose, and mouth with unwashed hands.
Cover your mouth and nose with a cloth face cover when around others.
Refrain from shaking hands when greeting others.
Stay home when you are sick.
Cover your cough or sneeze with a tissue, then throw the tissue in the trash.
Clean and disinfect frequently touched objects and surfaces using a regular household cleaning spray or wipe.
Treatment*
There is no specific antiviral treatment recommended for COVID-19. People with COVID-19 should receive supportive care to help relieve symptoms. Call ahead to a healthcare professional if you develop a fever and symptoms of respiratory illness, such as cough or difficulty breathing, and have been in close contact (within approximately 6 feet) with a person known to have COVID-19, or if you live in or have recently traveled to an area with ongoing spread. Tell your healthcare professional about your recent travel or contact. Your healthcare professional will work with your state's public health department and CDC to determine if you need to be tested for COVID-19. Please visit the What to do if you are sick with coronavirus disease 2019 (COVID-19) factsheet.
Delta Variant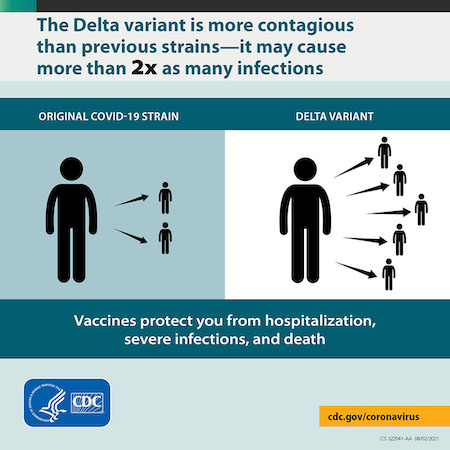 The Delta variant is more contagious: The Delta variant is highly contagious, more than 2x as contagious as previous variants.
Some data suggest the Delta variant might cause more severe illness than previous strains in unvaccinated persons. 
Unvaccinated people remain the greatest concern.
Fully vaccinated people with Delta variant breakthrough infections can spread the virus to others. However, vaccinated people appear to be infectious for a shorter period: Previous variants typically produced less virus in the body of infected fully vaccinated people (breakthrough infections) than in unvaccinated people.
Learn More*
*Information in this section was adapted from the CDC website on the 2019 Novel Coronavirus.