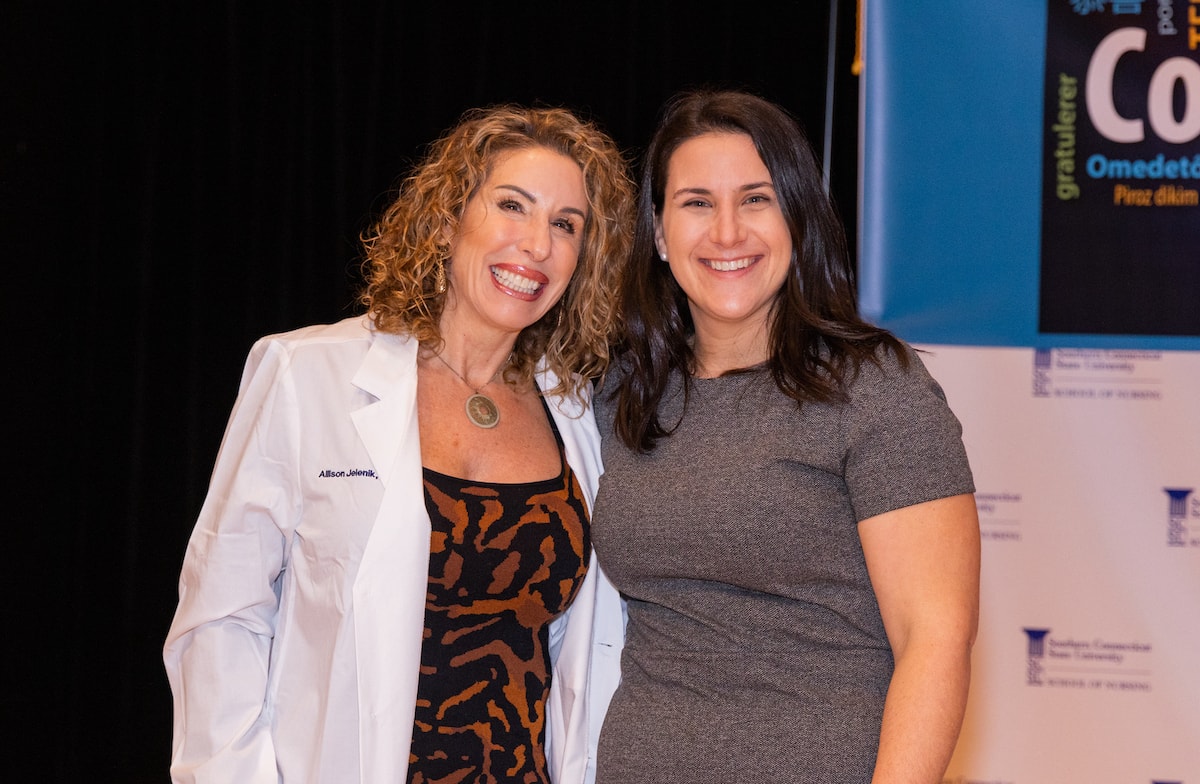 Master of Science Degree in Nursing Education, Clinical Nurse Leader (CNL) or Family Nurse Practitioner (FNP)
Upon completion of the Master of Science Degree or post master 's FNP, Nurse Educator, or CNL Certificate Programs, the graduate will be prepared to:
Use nursing theory and specialized knowledge in the functional roles of Nurse Educator, Family Nurse Practitioner, or CNL.
Synthesize concepts from nursing, education, and other disciplines to influence professional practice.
Provide leadership within nursing and the health care delivery system for the improvement of client care.
Conduct and/or use research which contributes to the development of the discipline of nursing.
Continue professional growth through continuing education, specialty certification, and /or doctoral study in nursing.
All Program applicants are required to be currently licensed as Registered Nurses in the State of Connecticut. Graduates of the FNP program are eligible to sit for the ANCC Family Nurse Practitioner Certification exam and the American Academy of Nurse Practitioner's exam. The FNP program prepares graduates with the necessary number of hours (minimum of 660) of faculty supervised clinical practice required for certification. The FNP curriculum also addresses the content requirements for certification in relation to content in advanced health assessment (3 credits) and advanced pharmacology (3 credits) and advanced pathophysiology (3 credits). Additionally, the curriculum incorporates content in the areas of health promotion, disease prevention, differential diagnosis, and disease management. This content is primarily addressed within the role preparation courses (18 credits). Graduates of the CNL program are eligible to sit for the ANCC Clinical Nurse Leader certification exam.
October 1 for admission into the spring semester and February 15 for admission into the fall semester.
Accredited by the Commission on Collegiate Nursing Education, the School of Nursing offers a graduate program leading to the Master of Science degree with tracks in nursing education, clinical nurse leader and family nurse practitioner. In addition, family nurse practitioner, clinical nurse leader, and nursing education certificate programs are offered for professional nurses who already hold master's degrees in nursing. Full- or part-time study is available.
All master 's program tracks consist of 39-48 credits divided among the following areas: core courses, 24 credits; role preparation, 12-18 credits; and either thesis advisement, 6 credits or special project, 3 credits. The family nurse practitioner certificate is 27 credits. The nursing education certificate program is 9 credits and the CNL certificate program is 21 credits.
Students have the option of completing either a thesis or special project to complete program requirements. The option selected will be determined when initially signing the specific Plan of Study for the program.
Applicants are required to have a 3.0* quality point ratio in their baccalaureate program in nursing and a total cumulative GPA of 3.0 for all post high school education. Applicants must have completed undergraduate baccalaureate level courses in statistics, nursing research methods, and health assessment with at least a "C" in each. The applicant must submit a copy of current Connecticut R.N. license, two letters of reference (one academic and one professional), and an admission essay. A personal interview in the School of Nursing is also required. In keeping with University policy, the program of study is to be completed within six years beginning with the first graduate course applied to the program of study.
Selected students who have a total GPA between 2.8 and 3.0 will be permitted to submit GRE or MAT scores as part of their application for consideration. The MSN committee will determine if a conditional acceptance will be offered.
The Bridge Program is designed to prepare RNs with baccalaureate degrees in fields other than nursing for admission to the Master of Science Degree in Nursing. Applicants must take and successfully complete National League for Nursing multiple choice "challenge exams" in the three content areas of: adult health, childbearing/pediatrics and mental health. Applicants must also submit verification of undergraduate courses (3 credits each) in each of the following: Statistics, Nursing Research, and Health Assessment. Alternatively an RN with a BA/BS in an area other than nursing may elect to take the RN/BSN courses and earn a BSN prior to applying to the MSN Program. This remains an option if passing scores are not achieved in the NLN challenge exams.
The student must maintain a minimum 3.0 grade point average each semester to remain in the program. All other University policies with regard to retention and graduation are applicable to the Nursing program. A grade of "B" or above must be achieved in each nursing course or the course must be repeated. Only one course within the program of study may be repeated and a grade of "B" (3.0) or better must be achieved on the second attempt. A student cannot withdraw more than once from the same course. If a student withdraws from more than 2 courses in the program, the student must petition the MSN committee to request permission to continue in the program. All prerequisite requirements must be strictly adhered to for all courses. Each grade is included in the grade point average. Failure to receive a grade of "B" or 3.0 or higher when a course is repeated will result in dismissal from the program. If at any time the grade point average falls below 3.0, the student will be placed on academic probation.
As sequencing changes, it is highly recommended that students meet with their program advisor to finalize a list of requirements for graduation.  
Core Requirements
NUR 500 – Nursing Theories and Conceptual Models (must earn a grade of "B" or better) – 3 credits
NUR 514 – Transforming Nursing Practice through Leadership, Policy and Advocacy (must earn a grade of "B" or better) – 3 credits
NUR 540 – Legal Issues in Healthcare (must earn a grade of "B" or better) – 3 credits
NUR 516 – Healthcare Informatics for Nursing Practice (must earn a grade of "B" or better) – 3 credits
NUR 519 – Evidence-Based Nursing Practice (must earn a grade of "B" or better) – 3 credits
NUR 526 – Advanced Health Assessment (must earn a grade of "B" or better) – 3 credits
NUR 521 – Advanced Pathophysiolog (must earn a grade of "B" or better)y – 3 credits
NUR 524 – Advanced Pharmacolog (must earn a grade of "B" or better)y – 3 credits 
Clinical Component and Role Functions
NUR 530 – Nurse-Managed Quality Outcomes (must earn a grade of "B" or better) – 6 credits, 220 clinical hours
Prerequisites: Completion of Core Nursing courses, including NUR 521, 524 and 526
NUR 523 – Advanced Nursing Practice (must earn a grade of "B" or better) – 6 credits, 180 clinical hours
Prerequisites: Completion of Core Nursing courses, including NUR 521, 524 and 526
Choose One of the Following:
Special Project
NUR 592 – Special Project in Nursing (must earn a grade of "B" or better) – 3 credits 
Thesis (6 credits)
NUR 590 – Thesis Seminar (must earn a grade of "B" or better) – 3 credits
NUR 591 – Thesis Guidance (must earn a grade of "B" or better) – 3 credits
Other Requirements/Conditions
*Students may elect to complete a thesis or do a special project. This is to be determined at the time of signing the Plan of Study 
*It is understood that continuance in the Nursing program is contingent upon on-going faculty evaluation of my academic performance, performance in real and/or simulated professional training situations, and ethical and appropriateness of responses and behavior. Any modification must be approved in writing by the MSN coordinator.