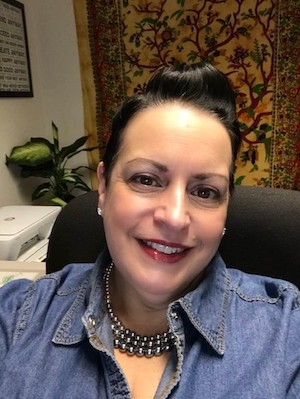 Christine Thornton, MSHCM, LSSGB
Office Coordinator
Pronouns:  She/Hers
   
A proven administrator with 30+ years' experience; Christine felt the urgency to make a career change focused on helping others, and returned to her "first love" of mental health and wellness after years of working in corporate America and small business.  Receiving a BA in Leadership and Organizational Studies from Bay Path University in 2019, she is currently enrolled in the MS program in Health Care Management at BPU, with an expected graduation date of Fall 2022.
Prior to joining SCSU, Christine has worked at CCSU, Rushford Center, Inc., Community Health Center, Positive Choices Therapy, Recovery at Wildwood Farm, and DHMAS/Hartford Office of Forensic Evaluations.  Enjoying 14 years of experience in mental health and recovery, her fondest memories are working with university students, young adults, and teens.
She approaches each day with a positive energy and collaborative spirit, always looking for the win/win. She draws on her easy-going sense of humor to bring out the best in everyone, instill pride, and engage and mobilize colleagues and students to make their university the best it can be.
She believes strongly in multi-dimensional living – mind, body, and spirit – and the importance of balance. She believes that as we are mindful of our journey and self-exploration, we will evolve into our best and truest selves and impact our world in a positive way. This understanding of ourselves places us in a better position to understand others. This creates a culture where colleagues and students can thrive. This creates the win/win.